The United States and Canada have played two of their six pre-Olympic match-ups so far, giving a pretty good idea of where each team stands right now. The Canadians won both games, beating Team USA 3-2 in Burlington, Vt., on Saturday, Oct. 12, and defeating them 6-3 in Boisbriand, Que., on Thursday, Oct. 17. Though Canada had the obvious edge in both contests, there were positives for both teams, and there are a few things that each can work on.
Team Canada
The Positives
Establishing Themselves Effectively
Canada was clearly the better team in each of these two games, and that's because they were able to successfully implement their game plan. They were winning races to pucks and winning battles in the dirty areas. The Canadians play a physical style, and they definitely were on top of their game in that aspect. Though the Americans were able to fight back in the third period of the tilt in Burlington and actually control play at the end, the second game was never really in doubt for Canada. They dominated all three periods, and that's because they were able to overpower Team USA all over the ice to get to the puck and make plays.
Defensive Play
The Canadians haven't just done a great job of establishing their own game; they've also been able to really limit the United States offensively and take away their strengths. In the first game, the Canadians muddled things up enough for the Americans to only put up 17 shots on goal, and in the second game, they put up 27 shots, though quality scoring chances and offensive pressure were few and far between. Team USA has a lot of speed up front and likes to move quickly in transition but the Canadians for the most part were able to negate their efforts to do both, resulting in two pretty convincing victories.
Veterans Scoring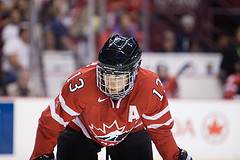 Of the nine goals Canada scored in these two games, two came from Hayley Wickenheiser, two came from Caroline Ouellette, and one came from Jayna Hefford. All three are veterans and, though still talented, past the primes of their careers. There are no guarantees for anyone to make the roster, but it would be very difficult to imagine any of these three not making the final Olympic roster based on reputation and skill. That being said, all three are scorers; they've been scorers their whole careers, and their roles aren't going to change now, so in order for Team Canada to be successful, they're going to have to produce. It's a good sign that they're making an impact up front so far.
What Needs Improvement
Penalties
The Canadians took 15 penalties in both games combined. Team USA took 12, which is also a pretty notable amount, but the fact that Canada outplayed the United States and still took more penalties is surprising. A lot of it is due to the fact that they like to play a more physical brand of hockey, but the Americans are bound to be much sharper in the future, so the Canadians are going to have to show more discipline. The more concerning thing about the penalties is when they occurred. In the second game, they took five minors in a row; when the U.S. is on their game, they're probably going to be able to use that to force a momentum shift, and moving forward, letting them back into a game is not something Canada really wants to do.
Quantity and Quality of Scoring Chances
There's no need for Team Canada to make any radical adjustments offensively, as they've clearly been the better team so far. But despite two pretty dominating efforts, they didn't hit 30 shots on goal in either game. Not to take away from the fact that they scored six goals in one night, but a couple of their tallies could probably be considered soft and/or due to bad bounces. They earned everything they got in both games, but with the U.S. expected to improve, the Canadians too will want to create more, and more dangerous scoring chances in order to remain the better team.
Team USA
The Positives
The Play of Jincy Dunne
There weren't too many great individual performances for the United States, but the 16-year-old defenseman was definitely a bright spot. She showed that she's not on this team just for kicks, or to make headlines, or any other reason like that; she's the real deal, and not only does she have a legitimate shot to make the Olympic roster, but it looks like she's going to get every opportunity to do so. She didn't really make any glaring mistakes, which is a huge plus. What I really liked about Dunne is she wasn't trying to rush force things; she instead took her time with the puck when she had to and, though that didn't make her immune to turnovers, she wasn't trying to connect on impossibly long passes. Eventually, she will take more risks as she gains confidence, but for right now she's playing within her limits and doing a really good job of it.
The Play of Meghan Duggan
Team USA has got to be happy with the way Duggan's played in both of these games. After missing a significant amount of time, including the 2012 World Championships, with a concussion, she now seems to be playing much closer to the level of a former Patty Kazmaier Award winner. The bottom line is, with the players the United States has up front, their top-six is going to improve and they're going to get goals out of their top players. It's the quality of the third and fourth lines that's going to decide just how well the team does in Sochi. If Duggan, who's one of the best two-way players in the world, can produce offensively on top of that, it will really help bolster the Americans' depth.
Limiting the Canadians' Firepower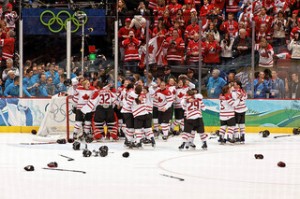 One of the downsides for Team Canada is, to me, a big plus for the United States moving forward. Team USA was outplayed for the better part of two games, and so their offense was way out of sync and couldn't muster up much of anything consistently. The Canadians, on the other hand, were the dominant team, and yet their offense didn't look incredibly frightening. A lot of that has to do with the style that they play, and that's fine. But I think it's inevitable that we'll see the Americans improve offensively because of the players and skillsets that they have, and if they do improve enough and reach their potential, they'll most likely be able to best Canada in that area.
What Needs Improvement
Transition Game
A big part of Team USA's game plan is being able to move the puck out of their own end and through the neutral zone. That all starts on defense, and Canada did a really good job of pinning the U.S. defensemen in their own zone and forcing turnovers along the boards. The Americans were without Anne Schleper and Gigi Marvin, two of their most proficient puck-movers, in that second game, but the unit as a whole has to do much better in that area. The Canadians also did a great job of limiting the United States' speed through the neutral zone, but Team USA will have to open things up with a good passing game. If Canada is going to be successful in taking the U.S.'s speed away from them, it will severely hurt their chances to win gold.
Special Teams
The Americans weren't awful on special teams, but there's definitely a lot of room for improvement here too. There seemed to be some experimenting going on; Dunne saw some pretty notable time on both the power play and penalty kill, and at one point when the Canadians had a 5-on-3, the U.S. had two forwards and one defenseman trying to kill it off. Still, the execution has to get better. The U.S. penalty kill is normally excellent, but they gave up three power play goals on ten chances in these two games. When Canada took five penalties in a row in Boisbriand, Team USA didn't score until the very end of the last power play; they have to make them pay a bigger price than that. They also gave up two shorthanded goals, which they really can't afford to keep doing.