It was a meltdown of epic proportions. Even the 2014 San Jose Sharks would have been impressed.
The Canucks looked like they were about to salvage a forgettable road trip in Carolina. Heading into the third period with a 5-2 lead, it looked like this team was about to right the ship and head home on a high note.
Then, the floodgates opened.
Carolina scored four goals in less than five minutes and sent Ryan Miller to the locker room, while the Canucks ended up losing in dramatic fashion to a mediocre Carolina Hurricanes team.
The Canucks made Carolina look like the Chicago Blackhawks. Ironically, the Canucks have blown three-goal third period leads to both of those teams this season.
It was a loss so shocking, that some were saying the Canucks' season is already finished, and that there is no coming back from this collapse. It might be foolish to ever think they had a chance when the season began.
Still, there are more than 50 games left on the schedule, for better or for worse. How the Canucks respond to their loss to the Hurricanes over the next couple of games will define their season. The Canucks play five games before the Christmas break, and they will either inspire hope going into the second half of the season, or fans will be calling for a teardown faster than you can say, "Fire Willie."
Willie Watch Back On?
The "Fire Willie" comments were dominating Twitter following the Canucks' loss on Tuesday. Having your team give up six goals in the third period is a death sentence for a coach who is already on the hot seat. Even though postgame Desjardins looked like he would rather sit in an electric chair than talk to the media, he still remains with the Canucks.
[irp]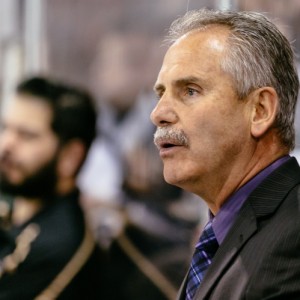 The irony of all the heat Desjardins took is that had the Canucks held on for a win, Desjardins would have been praised for his efforts. After 40 minutes the Canucks were up by three goals and the power play was clicking. Desjardins' benching of Sven Baertschi in their previous game seemed to have paid off, with Baertschi scoring twice and adding an assist after forty minutes.
However, it all fell apart for Desjardins in the third. He tried challenging the Hurricanes' fourth goal, maybe in part to give his team a break. It clearly didn't work, with the Hurricanes scoring two goals shortly afterwards.
Throughout the season, Desjardins has been criticized for putting together odd line combinations. Putting Brandon Sutter with the Sedins clearly hasn't worked, although Desjardins only split them up with Jannik Hansen's return. He's kept the Erik Gudbranson and Ben Hutton pairing together in hopes that they would create chemistry, even though they haven't. He's constantly deployed Bo Horvat as a defensive centreman, even though he is one of the team's best offensive players.
Are these questionable deployments really enough to get the coach fired? Probably not. Although, his insistence on putting Gudbranson out on the ice for the final minute of the game when they're looking for a goal might be the most mind-boggling decision. He did that again on Tuesday night, and it directly led to a Hurricanes empty net goal.
However, these mistakes from Desjardins should not have allowed his team to allow six third period goals. By looking at the goals, it looked like most of these were a product of too many mistakes by the Canucks' young defencemen.
Young Defence Needs to Gel
This was not a good game for Gudbranson, or Nikita Tryamkin. In the third period, both defencemen were on the ice for two goals against, each.
On the Canes' third powerplay goal, Gudbranson lost track of Jeff Skinner, who buried the 5-3 goal. Gudbranson followed by burying Skinner into Ryan Miller. The same Miller who just returned from injury.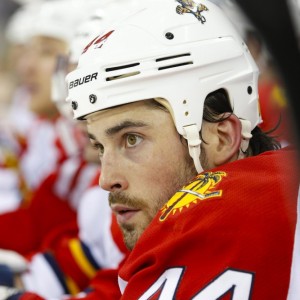 Tryamkin turned over the puck in his own zone, leading to the fourth goal. Gudbranson one-upped Tryamkin when he got stripped of the puck by Skinner, leading to the fifth goal. However, Tryamkin and Alex Biega were both on the ice for the sixth and seventh goals.
The only Canucks defenceman not to be on the ice for a goal against? Luca Sbisa. However, he had a team-worst Corsi at 28%, so perhaps Sbisa was more lucky than good.
This defence sorely misses Alex Edler, and especially Chris Tanev. The latter has only played seven games this season. Without them, the 24-year-old Gudbranson and 23-year-old Hutton are leading the way. Troy Stecher has been a revelation, but he should grow as a bottom-pairing defenceman on this team instead of averaging 21 minutes per night.
[irp]
With a defence as young as the Canucks have, maybe it isn't a surprise that an eight-goal blowout was on the way. Now that it's in their rearview mirror, it's about how they respond over these next couple of games. The Canucks are unlikely to battle for a playoff spot, but they could prove us wrong by putting forth a strong effort before Christmas.
If they don't, all that Desjardins might get for Christmas is are his leaving papers and a plane ticket back to Climax, Saskatchewan.