The 2015-16 Washington Capitals' NHL season was supposed to lock in place all the puzzle pieces needed for the franchise's first Stanley Cup win. Of course, that did not pan out as planned and – to rub salt to some already festering wounds – the Caps were eliminated by arch-rival – and eventual Stanley Cup winning – Pittsburgh Penguins.
So, what will it take in 2016-17 to get the Caps over the finishing line? Will superstar Alex Ovechkin finally trade an appearance in the World Championships for an appearance in the Stanley Cup Final? Let's take a look at a few key variables that factor in to a Caps season that ends after May 2017.
Braden Holtby
When Braden Holtby first appeared as a Capital, everybody knew that he was something special – a goaltender with the same potential as some of the all-time greats between the pipes. Last season, he delivered. His regular-season performance was the number-one reason why the Caps took home the Presidents' Trophy.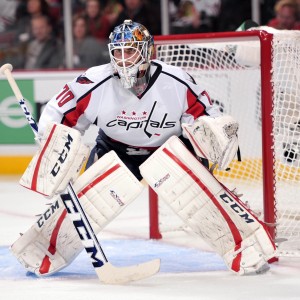 Holtby, 26, tied the NHL record for most wins in a season (48) on his way to a 2.20 GAA and .922 save percentage. Not surprisingly, he took home the coveted Vezina Trophy last month as the NHL's top goaltender. The best part for the Caps is that Holtby isn't even in his prime yet. The organization shrewdly signed him to a long-term contract last year, and they'll continue to get their money's worth in the years that follow. Holtby is vitally important to a longer postseason run next year.
Alex Ovechkin and Nicklas Backstrom
One might say that Ovechkin and Nicklas Backstrom deserve their own individual sections. However, like any well-oiled bicycle, it takes both wheels to get anywhere.
Ovechkin, 30, is running out of calendar months to fulfill his hopes of getting his hands on the Stanley Cup. Let's face it – he should have won one by this stage of his outstanding career. Over 79 games played last season, Ovechkin scored 50 goals and had 21 assists and tallied a plus-minus of +21. The Capitals lost only eight games in which the Great 8 scored at least one goal. He is the team's leader and has all the attributes to continue in that role. However, behind every great goal-scorer is a great assist man. Enter 28-year-old Backstrom.
While Ovechkin is overstated, over-zealous and all-powerful, Backstrom is unassuming, calm and cunning. The NHL's Odd Couple get the job done year after year. Ovechkin entered the NHL two years ahead of Backstrom and had scored 98 goals before Backstrom took the ice as a Capital, but since that time – Backstrom assisted on 182 of Ovechkin's next 403 goals. In effect, half of Ovi's goals came from Backstrom since the latter's debut.
There is talk that Evgeny Kuznetsov may be permanently promoted to the top line alongside Ovechkin and T.J. Oshie. That would be a mistake. Ovechkin and Backstrom are the best offensive duo in the NHL and they belong on the ice together.
The Capitals' Young Guns
If only Kuznetsov, Andre Burakovsky, and Tom Wilson had just a tad more experience. They have the talent to be among the best ever, but the street cred isn't there just yet. That said, Kuznetsov, 24, topped the Caps scoring charts last season with 77 points including 20 goals. However, the question lingers –  how would he do without a superstar alongside him? Burakovsky, 21, had the best season of his fledgling Capitals career and clocked 17 goals, 21 assists for 38 points. However, he lacks consistency and needs to develop an all-around game. And Wilson – well Wilson knocked the stuffing out of anybody who breathed on him wrong. The 22-year-old's PIM last term was 163 – more than three times more than the next Cap on the team's PIM list. In fact, he was third on the NHL player penalty minutes chart behind only Derek Dorsett and Chris Neil. Wilson needs to bring more to his game than just fights – and quickly.
These three players represent the future of the Capitals. They had good seasons last year (Kuznetsov had a great season) but he and Burakovsky and Wilson need to all excel in 2016-17.
The recipe is there for a Capitals' Stanley Cup win next season – as long as all the chefs show up.
Glynn Cosker is based in the Washington D.C. area. A professional writer and blogger, Glynn brings insightful news and information on all things related to the Washington Capitals for THW. Follow Glynn @DCPuckDrop