The Washington Capitals kicked off development camp at Kettler Capitals Iceplex Tuesday, showcasing their prospects and newer draft picks for the first time this offseason.
With this year's camp comes a wave of returning players and newcomers, and each of them come with something to prove. While big-name prospects like Madison Bowey and Christian Djoos are not in attendance, there are other up-and-coming prospects who are trying to make the jump to the next level. Here are some of the big names to look out for this week.
This year's pool of prospects features a lot of defensemen, all of who are trying to prove their worth to the Capitals, a team that is currently losing a lot of blue line depth. Here are the top five prospects to watch this week.
Connor Hobbs
With the 2015 NHL Entry Draft came a lot of strong, promising defensemen and Hobbs is one of them. Drafted 143rd overall by Washington, Hobbs had a breakout year with the WHL's Regina Pats, posting 31 goals and 85 points in 67 games to lead all WHL blueliners in scoring through the regular season. This of course came after he signed a three-year entry-level deal with Washington last July.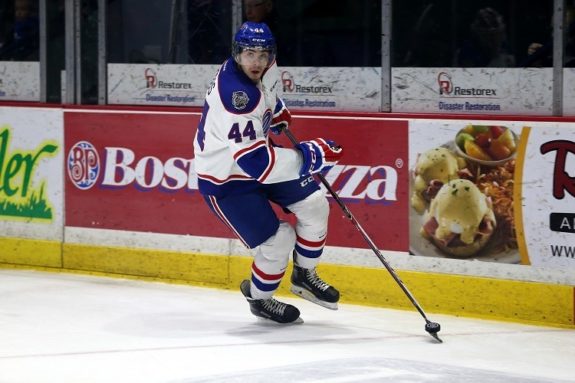 His regular season success carried over into the playoffs. He finished with six goals and 24 points through the postseason and helped the Pats reach the WHL championship, where they eventually fell to the Seattle Thunderbirds. Still, Hobbs finished the year strong and was the runner-up for WHL Defenseman of the Year.
The 20-year-old defender showed puck-moving potential this past season and is a right-hand shot. Not only can he contribute offensively and help start the breakout, but Hobbs also possesses the perfect frame for the blue line. At 6-foot-1, 202 pounds, Hobbs can play a strong physical game, win battles for the puck and do a great job when it comes to starting the play.
Hobbs will likely move up to the AHL this season, earning playing time with the Hershey Bears. If he carries over his offensive acumen from this year and overall ability to the minors, he will likely see top-four minutes and a potential call-up to the Capitals sooner rather than later.
Lucas Johansen
Washington's first-round pick in 2016 is perhaps the biggest name at camp this June, but also shows a lot of potential. The younger brother of Ryan Johansen, Lucas is a puck-moving blueliner who again proved to be a huge asset to the WHL's Kelowna Rockets this past season.
In 68 games, he finished with six goals and 41 points and was a plus-23, a career high. He finished second in scoring among Rockets blueliners this year in assists and points and made his presence known.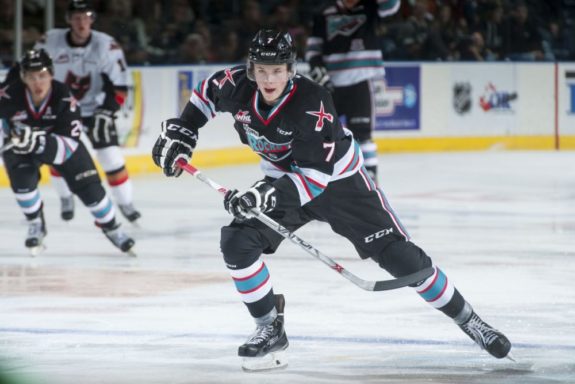 Johansen is an outstanding skater and plays a solid 200-foot game. He is able to help out on offense and is also a very strong defender. The 6-foot-2, 177-pound defenseman could put on more weight, but overall, plays an intelligent game and knows how to take care of the puck.
Perhaps a little far from the NHL, Johansen could start the season with the Rockets but should see some time with the Bears this season. With his speed, strong skating and ability to play a two-way game, Johansen proves himself as a versatile, all-around player who can adapt to any role on the ice.
Beck Malenstyn
Another 2016 draft pick, Malenstyn went in the later rounds but had a breakout year in 2016-17. The Calgary Hitmen center finished with career numbers this past season, scoring 32 goals and 56 points through 70 games. He also led Calgary in shorthanded goals and game-winners and finished second on the team in scoring.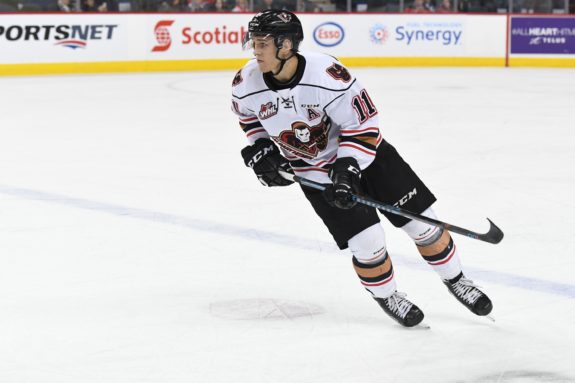 With an outstanding season under his belt, Malenstyn continues to trend in the right direction. The 6-foot-3, 191-pound forward possesses an outstanding frame for the NHL level. Malenstyn balances offensive ability with remarkable backchecking, as he plays a solid two-way game. His size makes him a physical force on the ice, but with his skating ability and vision, he is able to look after the puck and start the rush as well. In addition, Malenstyn makes himself an asset on special teams.
In past years, however, Malenstyn hasn't been the best point-producer, but this past season packs a lot of promise and a step in the right direction. He signed a three-year ELC with Washington in April, and though the 19-year-old still has ways to go, he is definitely showing promise. If he can have another high-scoring, productive year this season, he will certainly become a big blip on Washington's radar, and end up in Hershey sooner rather than later.
Jonas Siegenthaler
Siegenthaler is perhaps closer to the NHL than most prospects, and it is because of his overall ability. Not only is an effective, smooth skater, but he is known for playing a simple and reliable game. And though that is calmer than the high-stakes puck-moving defenseman, it will be a huge asset in this organization.
The 6-foot-3, 230-pound blueliner posted a goal and seven points with the Swiss league's Zurich Lions this past season and also got to play seven games with the Hershey Bears. Siegenthaler also represented Switzerland at the 2017 IIHF World Junior Championship this year, finishing third in scoring among all tournament blueliners with eight points through 10 games.
Siegenthaler is not only a big, well-rounded defenseman, but he shows a bit of puck-moving potential. He is a remarkable passer, as he is quick and accurate; however, with his size, his passes and shots need to have more power and momentum behind them. When it comes to defense, his game is solid, as he is big enough to win battles and match up with anyone, and he is not afraid to be physical.
The 20-year-old will likely earn a full-time gig with the Hershey Bears this season, and with Washington's defense lacking strength and reliability, Siegenthaler could be a stand-out option when it comes to call-ups, or even (with a tremendous showing at training camp), a spot on the opening night roster.
Benton Maass
Washington's sixth-round pick in the 2017 NHL Entry Draft was a late gem. The 6-foot-1, 185-pound defenseman was the third blueliner the Capitals drafted this year, and though he went in the later rounds, he shows upside.
Maass was a force for Elk River High School in Minnesota last year, recording six goals and 29 points through 25 games this year. The right-hand shot also got the opportunity to play 26 games with the NAHL's Fairbanks Ice Dogs, where he registered seven goals and 16 points.
Committed to play NCAA hockey at the University of New Hampshire next season, Maass plays an offensive-driven game. Maass knows how to take care of the puck and play a solid game on defense, but also isn't afraid to take the puck and run with it. Though more of a pass-first player, Maass also has an underrated shot.
Maass is likely to spend some time in the NCAA before making it to the NHL, but his ability to move the puck, he is a player who could become a power-play quarterback and an asset that many teams around the league aspire to have on their roster.
Sammi Silber covers the Capitals beat for The Hockey Writers and is an NHL contributor with Sporting News. She has also contributed to USA TODAY College, Huffington Post, FanSided and the Nation Network. Silber has written four books and recently worked on graphics for the film, The California Golden Seals Movie.