Following Game 4, head coach Barry Trotz settled by the podium for his post-game interview. The questions that were about to come from the media were obvious: it would all revolve around next game, the game that could potentially clinch history for Washington. So, when a reporter asked Trotz if taking the series on Thursday crossed his mind.
"Nope," he said bluntly after looking at him for a few moments.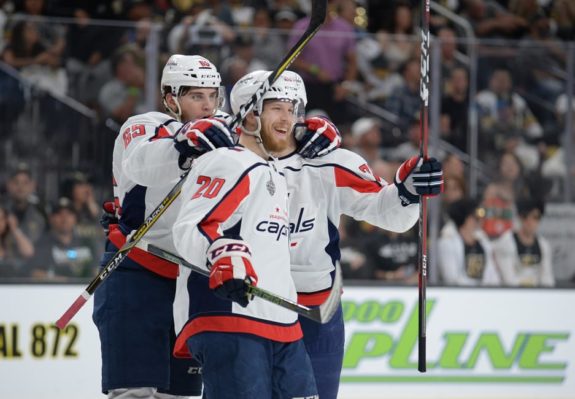 Washington leads Vegas 3-1 in this series and with a victory Thursday, they will capture their first Stanley Cup in franchise history. However, Alex Ovechkin said he and the team are by no means getting ahead of themselves.
"It feels nice, but it's not over yet," Ovechkin said.
Capitals Remaining Collected
Washington is well aware of the circumstances. They know one of these three upcoming games has to be their best game yet, and that even though it's a big game with a lot on the line, they are aware it can be hard to remain focused but know they can stay calm, thanks to the group in the dressing room.
"Obviously, it's easy in a game where you can clinch to get a little bit ahead of ourselves, but we got a good group of leaders and some young guys that have jumped on board and we'll be focused on the start."
While the Capitals have exorcised quite a few of their demons this postseason, with the second-round defeat of the Pittsburgh Penguins and their advance to the Cup Final, the team is aware that the franchise has faced a lot of adversity since joining the league in 1974. This is a goal that the team has been working for now for 20 years since the team's last Cup Final appearance.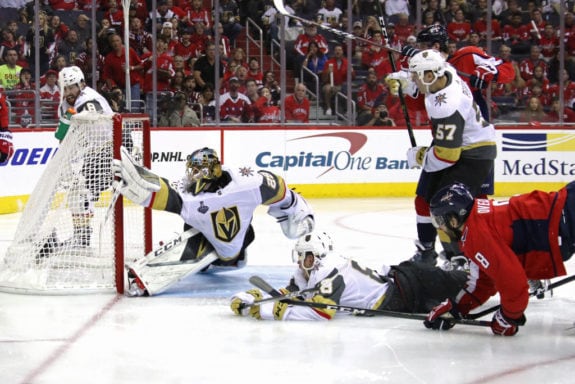 And while Washington is familiar with the team's past struggles, they carry on and move forward, putting all of that behind them. The past is not something that crosses their minds too often.
"I think we realize and we appreciate the guys who were here before us and the groundwork that they laid for us, but we're trying to write our own story here and it seems like the rest of the city is on board with that," Oshie said. "We're going to go about our business. We don't dwell too much on the past… there's been heartbreak here, we know that, but I think that's scarred over and has made us a little stronger for it."
Ovechkin joked with reporters that he's been trying to focus on things like "hotels, cars" among other things in Vegas to take his mind off the circumstances, though he did admit it has been hard not to focus too much on the game.
Capitals Look to Improve in Game 5
While the Capitals find themselves up 3-1, they acknowledged that Game 4, despite the 6-2 victory, was not their best effort. The Golden Knights came out with pressure, but a lot of bounces ended up going Washington's way, and thanks to key goals at key moments, the Capitals were able to come up with a win. With that in mind, Ovechkin said the team will go into Game 5 with a different approach.
"We just have to play much better over there if we want to win," Ovechkin said, later adding, "Again, for us right now, every game is like last game."
Holtby agreed, citing puck luck as a big factor in Game 5 but ultimately saying "we're going to do everything in our power that we don't need breaks to win."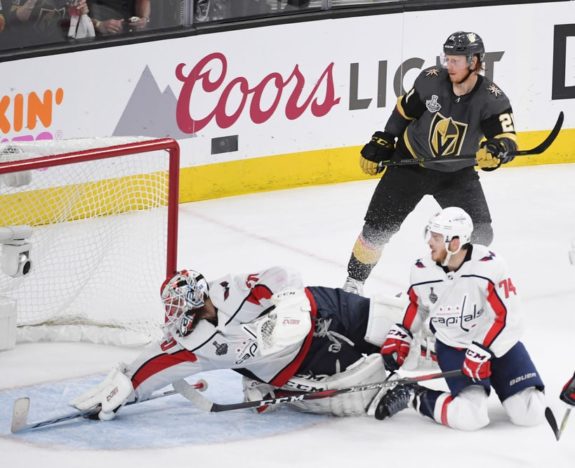 Another important focus from the get-go will be the Capitals start; they need to stop Vegas from starting with a lot of pressure and having plenty of scoring chances; instead, Washington needs to come out with a lot of momentum to keep the tempo in their favor.
"It's maybe more important, now more than ever before, to focus on just the first period," T.J. Oshie said. "We've done a great job of not getting ahead of ourselves. We haven't been getting too high or too low if the other team scores or we score… we've been pretty level-headed through this whole thing and seems like everyone's just really excited to go out for their next shift and get the job done so we'll take that same approach."
Regardless of the result, Game 5 will carry a lot of weight, one that will stick with both franchises after the buzzer. For the Capitals, however, they plan to treat it like any other game, with the entire lineup playing their best game.
"I think everybody efforts is pretty high," Ovechkin said. "It doesn't matter if it's [Kuznetsov], [Beagle], [Eller], we all on the same page and we try to do our best, and it's huge."
Sammi Silber covers the Capitals beat for The Hockey Writers and is an NHL contributor with Sporting News. She has also contributed to USA TODAY College, Huffington Post, FanSided and the Nation Network. Silber has written four books and recently worked on graphics for the film, The California Golden Seals Movie.