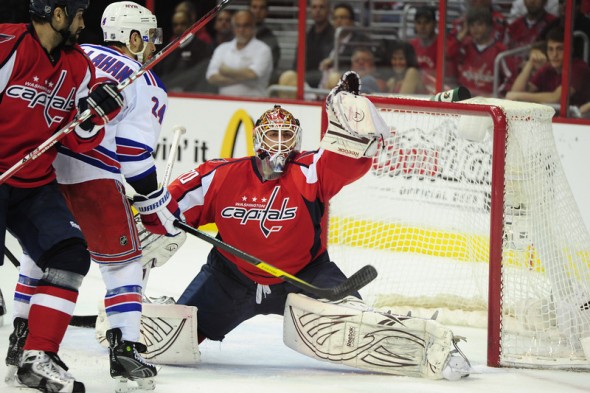 For Hershey Bears goalie', Braden Holtby it was the same old stellar performance in net Bears' fans have grown accustomed to and Capitals fans got a chance to witness last spring. The 23 year old goalie stopped 35 shots on goal by the Albany Devils Saturday Night, earning his first win of the season. Washington's fourth round selection from the 2008 NHL entry draft has spent time between the AHL and NHL over the past few years, learning how to carry the same focus to wherever he plays.
"I was pretty excited after last year thinking I was going to be in one place for the year," Holtby said following his shutout effort. "It's an unfortunate situation not for myself, but for the game of hockey. I'm lucky I get to play hockey as a professional with the Bears, I'm not looking at it as a negative."
Braden Holtby made some big saves in the first period during the Bears 3-0 victory over the Devils, helping boost the Hershey Bears confidence level for the rest of the game.
"I felt comfortable for most of the game," Bears' goaltender, Braden Holtby said following his shutout effort. "Got a couple lucky bounces in the first which always helps the momentum, we got those today and it was a win we needed."
It's a luxury to have an NHL goalie on your AHL roster even during the lockout, something the Hershey Bears could ride all year long, if the lockout lasts a whole season. Holtby has a swagger in net that is unmatched almost every night on the other side of the rink. He made some enormous saves helping give confidence to his teammates, plus changing the mental focus of both teams in the game.
"I thought he was excellent throughout, but probably more importantly he was good early to allow us get our fitting in the game," Bears coach, Mark French said following Holtby's shutout performance.
He made some big saves early especially on the power play, but stayed composed following his return from an undisclosed injury.
"I was just trying to hold my ground as much as I can today," Holtby said. "After a long layoff, I think the biggest thing you usually do wrong is get too ahead of yourself and too aggressive."
With his experience in the NHL, Holtby got to face Adam Henrique and Adam Larsson on Saturday night, two future stars for the New Jersey Devils that Washington's goalie of the future will see quite often at the next level. He talked about facing star players and how he approaches that opportunity.
"I think it's more of a challenge than anything," Holtby stated. "I think you don't want to let those guys beat you because most guys went to get up and play against the best."
Holtby also shed my some light on the NHL lockout. "It's definitely tough to swallow for a fan."
Holtby manned the Bears' bench during Hershey's Sunday night win over the Wilkes-Barre Scranton Penguins, but should be back between the pipes next weekend when the Capitals' AHL affiliate hits the ice again.
You can follow Matthew on twitter @m_speck and email him at mspeck21@yahoo.com with any questions or comments.