The Pegula Ice Arena is going to be an attraction for college hockey recruits and fans at Pennsylvania State University as the Nittany Lions look to build off their first year in their new home. The 90 million dollar facility donated by Buffalo Sabres owner Terry Pegula features many amenities for the team's hockey players and staff including a team lounge, video and study room and a 5,000 foot strength and conditioning center.
Washington Capitals defensive prospect Patrick Koudys experienced Penn State's first year at the Pegula Ice Arena and PSU's first season in the Big Ten last year and is set to finish his collegiate career in the 2014-15 campaign as a senior at State College.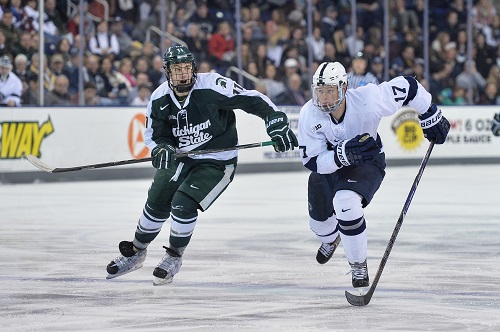 "It was a great experience for me, great opportunity, it worked out really nice," Koudys told The Hockey Writers about his first year at Penn State. "We have a great group of guys here, a great coaching staff and obviously unbelievable facilities. It really worked out better than I thought and obviously the school is a great aspect as well. I was really happy with it and I'm looking forward to having another year here."
"It's a great atmosphere, we have a great bunch of guys here, the coaching staff is phenomenal and the facilities are out of this world. It's a great spot for school. Just kind of everything, when I came home after this year everything seemed to fit just right for me." -Patrick Koudys
Koudys hopes to bring his leadership qualities to the locker room as Captain of the Nittany Lions this season, taking over for senior forward Tommy Olcyzk. At 6'3", 210 pounds, Koudys is an imposing presence from the blue line and plays to his physical dimensions. He's a shutdown defenseman who finished fourth in Big Ten with 79 blocked shots.
"Personally it's my last year so I'm looking to have the best year that I can," Koudys explained when asked what he's looking forward to. "As a team I think we showed a lot of people what we have being a new team last year. It's all about growth this year and building off what we had last year with the Big Ten, it's a great league. The plan is to go and win a Big Ten Championship and continue on from there. Right now we just got to make sure everyone comes in healthy and working hard, winning one game at a time and from there we'll see what happens."
The Ontario native recently participated in his second development camp with the Washington Capitals as he nears the jump from the NCAA to the pro game. The bruiser from the PSU defense saw pointed changes in the strategy from new head coach Barry Trotz and Capitals management compared to last season's development camp, led by former Capitals star and head coach Adam Oates.
"It was a great camp," said Koudys. "I thought this year versus other years there was a lot more focus on development, whether it was on or off the ice, the weight room, nutrition, there was a lot more emphasis on development and getting better, preparation to play in the NHL. I thought they did a great job, the coaching staff there was phenomenal. The organization has always been top notch, especially to me. It's great to see they're continuing to build in the right direction."
While there's no certainty of where he'll play next season, Koudys isn't looking too far ahead. He wants to improve on his skating among other aspects of his game as he enters his senior year at the collegiate level.
"The biggest thing for me has obviously been my foot speed. I need to get faster. The biggest thing for me is to keep working on my game and improve the way I have been."
Koudys was selected by the Capitals in the fifth round of the 2011 NHL entry draft and has produced 13 points (four goals, nine assists) in 94 collegiate contests. He played two seasons at Rensselaer Polytechnic Institute (RPI) prior to transferring to Penn State University.
https://twitter.com/alex_prewitt/status/487586413961957376
"I had talked to them a little bit," he said of discussions to the draft prior to being selected by the Capitals. "I didn't really know where I was going to end up, but man I glad I ended up there. They're really a top notch organization and I have nothing to say but great things about them."
The Capitals have many young talented offensive defensemen in their system including Madison Bowey, Connor Carrick and Nate Schmidt, but there's a lack of shutdown blue liners. Koudys could sign an AHL deal with the Hershey Bears like Garrett Haar did for the 2014-15 campaign if the Capitals are reluctant to give him an entry level contract after this season. Koudys understands that and is focused at school right now.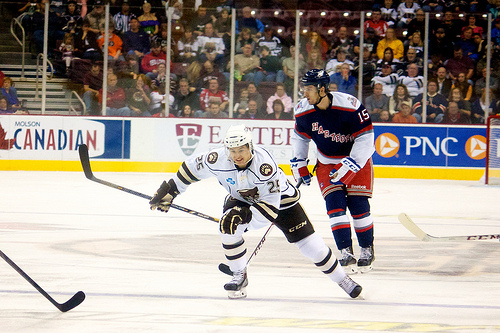 "It's going to depend on how well I do and how well the team does," Koudys said of a future NHL contract. "I'm not really looking too far at the end of the year right now, obviously the goal is to play in the NHL, but there's stepping stones to get there. For me right now I just got to have a good year next year, hopefully things will work out, but I'm more focused on right here, right now and being able to bring this program to the next level."
There's a culture of community already at Penn State in their hockey program, which will continue to grow and attract talent as their time goes on in the Big Ten. Having a state of the arc facility like the Pegula Ice Arena and a strong academic background doesn't hurt either.
"I've been here the whole summer, I'm taking some classes and working out with the guys. It's nice to have a pretty solid group of guys working hard and taking classes. It's a lot easier than being back home and training by yourself. You get to be with the guys every day and we love to get to work every day."
Matthew Speck covers the Washington Capitals organization for The Hockey Writers. He provides coverage of both Washington at the NHL level and prospect related content. Matthew also covers local sports for the Lebanon Daily News in Central Pennsylvania. You can email him at mspeck21@yahoo.com with any questions or comments.