The Washington Capitals roster is set for the most part heading into the 2014-15 season. Their defense will be the best on paper it has been in years, barring any unforeseen mishaps or injuries during training camp. The defensive foundation includes Matt Niskanen, John Carlson, Karl Alzner, Mike Green, Brooks Orpik and Dmitry Orlov. Having blue liners John Erskine and Jack Hillen as alternatives throughout the season that can play minutes on the last defensive pair and help on the penalty kill is an advantageous situation to have.
The forward situation is considerably murkier than the defense. The Capitals lost top possession forward Mikhail Grabovski to the New York Islanders this summer and power forward Dustin Penner is doubtful to re-sign with Washington, although he's still available in free agency as the season draws near. There are uncertainties on who will play the role of second line center and how the bottom two forward lines will fill out.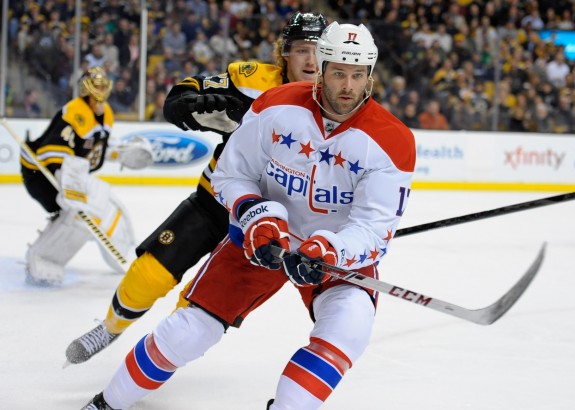 One area the Capitals need to recuperate is their fourth line play. Tom Wilson played on what was a seemingly revolving door on Washington's fourth line last season with Aaron Volpatti and sometimes Jay Beagle at the center position. Chris Brown and Casey Wellman additionally saw time with the Capitals last season.
The fourth line didn't drive the play at all or create offensive opportunities last campaign. Volpatti was the poorest Capitals forward possession wise according to Hockey Analysis, posting a 39.5% corsi-for percentage last season. Washington doesn't have a projected forward for the upcoming season that recorded a CF% above 50% last season. That illustrates a reoccurring problem that has appeared in each season since Bruce Boudreau's departure from the nation's capital, puck possession.
There are better options for the fourth line even if talented prospect Andre Burakovsky is an addition to the Capitals forwards next season, regardless of the time of his potential promotion. Fighting is reducing at the NHL level and with Tom Wilson in the fold along with a few other tough customers on the roster, there's no need to have a player on the roster like Volpatti that doesn't bring value to the ice.
Of the 14 Capitals forwards who played over 200 minutes during even strength play (5-on-5), Volpatti finished dead last with 3.61 shots per sixty minutes of play. Jay Beagle (5.25 shots/60) and Tom Wilson (5.82 shots/60) were 2014-15 fourth line options that outperformed Volpatti in that regard.
With a cap hit of $575,000 for next season, Volpatti should be sent to the AHL to play for Hershey. Augmenting a quicker forward that can play minutes on the penalty kill should appeal to new head coach Barry Trotz and first-year General Manager Brain MacLellan. Below are options for the Capitals to replace Volpatti with.
Tim Kennedy
The Capitals signed Kennedy to a one year, two way contract for next season earlier this summer. The 28 year old winger played for the Phoenix Coyotes last season and manufactured two goals and six assists in 37 games. He has substantial NHL experience and has played in 162 career NHL contests, accumulating 15 goals and 24 assists.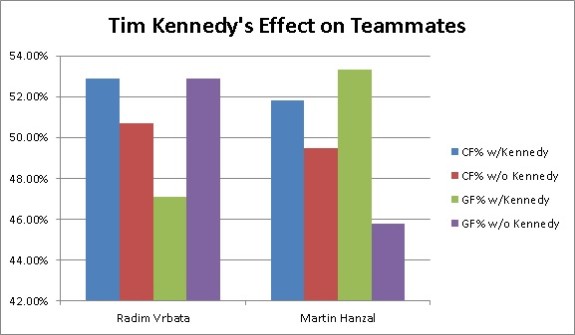 He posted a solid 50.6% corsi-for percentage last season with the Coyotes, playing predominantly with Radim Vrbata and Martin Hanzal. When on the ice, Kennedy's line scored 48% of the goals. Only Joel Ward, Jason Chimera, Tom Wilson and Eric Fehr performed at a better clip last season of the expected Capitals forwards for the upcoming year. Kennedy isn't going to help out on the penalty kill, but he'll help with possession play which is huge for bottom six forwards. Limiting goals against during five-on-five play would be a great asset for the Capitals to behold and a player that could help Tom Wilson produce more offensively is an important thing to have.
Michael Latta
Latta saw his first cup of coffee in the NHL last season with Washington, recording four points including his first NHL goal in 17 games. He's a physical forward who can play at the center position and had some success at winning face-offs (52.2%) albeit at a small sample size of 115 draws. Latta is capable of playing on the penalty kill and he averaged just over a minute per game playing shorthanded last season.
The Capitals signed Latta to a two year, one way contract this offseason, meaning he'll have to clear waivers in camp to join the Hershey Bears at the AHL level. He was part of the trade that sent Martin Erat to Washington from the Nashville Predators in what was a deal that transformed a whole lot for the Capitals both short term and long term. Latta needs to play smarter to become an effective bottom six forward at the NHL level, but he holds several tools that make him valuable, including the edge he plays with.
Ryan Carter
After playing for the New Jersey Devils the past three seasons, Carter is still available in free agency coming off a two year deal. He's regarded as one of the better fourth line players in the game and finished last season with ten points and 35 penalty minutes over 62 games last year.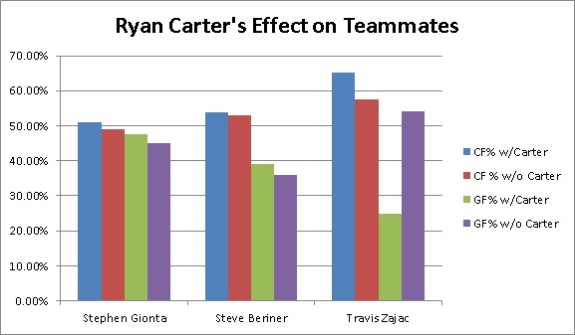 Carter posted a very respectable 51.7 CF% playing with Stephen Gionta and Steve Beriner and New Jersey's fourth line last season, but only scored 38.7% of the goals during five on five play when on the ice. If he can be had on a one year deal for around one million dollars, Carter is an optimal player for Washington's fourth line.
Stay tuned at THW for more Capitals news and commentary as training camp approaches.
Matthew Speck covers the Washington Capitals organization for The Hockey Writers. He provides coverage of both Washington at the NHL level and prospect related content. Matthew also covers local sports for the Lebanon Daily News in Central Pennsylvania. You can email him at mspeck21@yahoo.com with any questions or comments.