Let us know how you think Zach Parise will do this year in the comments below.
In the ridiculously strong 2003 NHL Entry Draft, Zach Parise was looked at as the steal of the 1st round, chosen 17th overall by the New Jersey Devils. He was projected to be in the Top 10. Coming out of the University of North Dakota, Parise was noticed for his electric speed, soft hands, and exceptional drive and effort in each and every play. Drafted by the defending Stanley Cup Champions, he had more than enough veterans and mentors by his side to make sure he would develop to his best potential. Zach did develop, and quickly. Within 4 years he was one of the top goal scorers in the NHL. However, an injury in 2010-11 set him back and he has seemed like a different player ever since. No longer are the days of the Zach Parise highlight reel goals. But, in 2014, we may have seen a glimpse of the good old Zach returning.
Beginning Years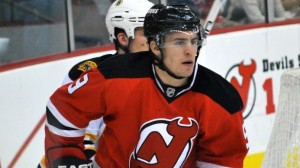 Zach Parise made his NHL debut on October 7, 2005 against the Pittsburgh Penguins and also scored his first career NHL goal in the same game. He put up fairly average numbers for a rookie, posting 14 goals and 18 assists for 32 points in an 81 game season. The next season, Parise had a breakout. He recorded his first 30-30 season, totalling 31 goals and 31 assists. He was also named to the YoungStars Game, being awarded the game MVP for his 2 goal and 4 assist effort. The 2007-08 season was another very solid year for Zach and another 30-30 campaign, upping his totals to 32G and 33A. This was what the Devils saw in Parise when they drafted him. A very solid 2-way player who can put up points on a mostly defensive team. With a second consecutive 30-30 year, New Jersey thought he had reached his potential. Boy, were they wrong.
Breakout Season
The 2008-09 season was definitely one to remember for Zach Parise. He exploded for 45 goals, good for 3rd in the league, and added 49 assists for a total of 94 points, putting him 5th in the NHL point race. He didn't sacrifice his defensive game to do so either, he simply became more effective and more efficient in his play. He had become strong enough to not only dangle through the opposition, but also push through them when he wanted. He didn't cross the physical line either, as he only 24 PIM in the season, placing him as a finalist for the Lady Byng Trophy, for sportsmanship and gentlemanly play, at the end of the year. It was safe to say, Parise had blown most people's expectations of his abilities. At the rate he was developing and with his consistent level of play, the Devils thought they had one of the best point producers in the game locked up for a long time. The following year, Parise dipped down in his point totals but was still a force to be reckoned with, putting up 38 goals and 44 assists, and remaining over a point per game player, a hot commodity in the league today.
The Injury
The moment that may have changed the course of his career forever. In November of 2010, Zach Parise tore the meniscus in his right knee. After undergoing successful surgery, he was expected to miss the remainder of the season. He managed to come back for one game in April, but the Devils were eliminated from the playoffs during that game, so he sat out the remainder of the year. The season after, there was a noticeable setback in his game. His looked worried to engage in puck battles and getting in front of the net, some of the best aspects of his game. He still recorded another 30-30 year, but it was obvious he wasn't the same player. He was able to lead his Devils to the Stanley Cup Finals as captain, but came up just 2 wins short and recorded 15 points in 24 playoff games.
Free Agency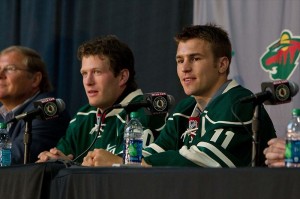 After 7 seasons with the New Jersey Devils, Zach Parise hit unrestricted free agency in July of 2012. There was rumours that he would stay in the 'Swamp' until either the end of his career or until he won the coveted Stanley Cup. However, there were also rumblings that he wanted to go to a powerhouse Penguins team, or return home to Minnesota. In the end, he left the only team he had ever known to return home, alongside fellow UFA Ryan Suter, to change the direction of the Wild. Each player signed a 13 year deal worth $98 million. In 2 seasons since joining the Minnesota Wild, Parise has shown very little signs of returning to the once 40- goal scorer the league had become accustomed to. Until last season that is. In the 2013 portion of the season he was still the 'more leader, less production' player he had been since his injury. Then he sustained another injury in late December, a foot contusion after blocking an Alex Steen slapshot. Once he returned a month later though, he seemed to have an extra jump in his step.
Is the Old Zach Parise Back?
In the 30 regular season games Parise played after returning from injury, he recorded 14 goals and 15 assists for 29 points. At that pace through an 82 game season, he would total 38 goals and 41 assists for 79 points. That would be good for 8th most points in the NHL last season. Although this isn't a realistic comparison, Zach kept proving that the possibility was real through the playoffs. Parise put up 14 points in 13 games, leading the league in points after 2 rounds. He was playing with the drive that we remember from before his knee injury. Could this be a sign that the promising Parise we once knew back in 2009 may be returning to form? Or was it simply a very good 44 games? In my opinion, Parise will have his best season in a Wild uniform this season, but nothing like his '08-09 campaign, not yet at least. My projection for the 2014-15 season is 34 goals and 38 assists for 72 points in 80 games.
Let us know how you think Zach Parise will do this year in the comments below.