When the San Jose Sharks selected Matt Nieto in the second round of the 2011 NHL Draft, the hope was that the speedy winger would develop into a versatile top-six scorer. Five years later, we're still waiting for that to happen.
Nieto registered 23 points in 32 games in his draft year with Boston University. He nearly doubled his offensive production the following season, posting 42 points in 37 contests. In his third and final campaign with BU, Nieto potted a career-high 18 goals and added 19 assists for 37 points. He immediately made the jump to pro hockey following the conclusion of the 2012-13 NCAA season, suiting up for 11 games with the Sharks' AHL affiliate and posting six points.
With a track record of offensive success in college and a strong first impression in the AHL, Nieto made San Jose's roster out of training camp in the fall. The Long Beach native tallied a respectable 24 points in 66 games as a rookie playing alongside Logan Couture and Patrick Marleau. During a brief two-game stint in the minors, Nieto tore up the stat sheet with five points. He contributed another five points during the Sharks' infamous first-round playoff series against the Los Angeles Kings in which San Jose was reverse-swept after blowing a three-game series lead.
Sophomore Slump
Nieto had succeeded in making a strong first impression and showing glimpses of top-six potential. He appeared worthy of being selected 47th overall in his draft class, and Sharks fans were excited to see what he could do in his sophomore campaign.
The answer? Not as much as many may have hoped.
In his second season with the Sharks, Nieto registered 27 points in 72 games. His points per 60 minutes dipped despite an increase in power play ice time. The high-end speed and reliable two-way game were still there, but no strides were made offensively. By the end of the year, Nieto had lost his spot in the top six and been passed over on the depth chart by rookie winger Melker Karlsson.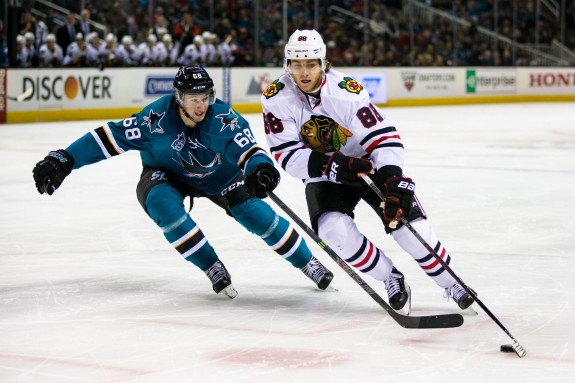 Where Things Stand
Now in his third year with the Sharks, Nieto's offensive decline continues. He has just 17 points in 62 games to go along with a plus/minus rating of -7. Nieto's ranked dead last among Sharks forward in 5-on-5 points per 60 minutes, and his on-ice corsi has plummeted from 6.06 last season to -4.99 this year.
There's no denying Nieto's contributions on the penalty kill and in his own zone, and he's excellent at carrying the puck through the neutral zone with his speed, but he was brought aboard to contribute more than that. We've seen flashes of the playmaking abilities he so adeptly displayed at Boston University. It's time to see that on a more regular basis.
The clock is ticking for the 23-year-old forward, who will be a restricted free agent this summer. Management will likely offer him a short-term bridge contract to see what more he can offer, but the hopes of Nieto contributing as a top-six scorer are fading by the day. With talented forwards like 2015's ninth overall pick Timo Meier, Russian winger Nikolay Goldobin and OHL leading scorer Kevin Labanc knocking on the door, Nieto could soon find himself on the outside looking in.