The Toronto Maple Leafs made big news on Wednesday by signing both Morgan Rielly and Nazem Kadri to six-year contracts. Rielly's new deal carries a cap hit of $5 million while Kadri has a cap hit of $4.5 million.
Everyone knew that a deal would happen with Reilly eventually. There were reports that contract talks were ongoing between the two parties. However, the Kadri signing came out of nowhere and it does raise some questions about what will happen in the offseason.
The Leafs now have nine forwards under contract for next season. Now that Kadri has signed, Peter Holland remains as the only restricted free agent of the Leafs forwards. Six of the Leafs' forwards make north of $4 million, including deadline acquisitions Brooks Laich and Milan Michalek. You have to think that someone is going to be traded during the offseason.
They'll get some relief with Stephane Robidas probably going back on LTIR, with Joffrey Lupul possibly joining him. If they are both on LTIR, that is a total of $8.25 million. Add that to the $5.3 million that Nathan Horton contributes to LTIR and the Leafs have the option to go over the cap by a large margin. They still might have to make moves.
Someone Has To Go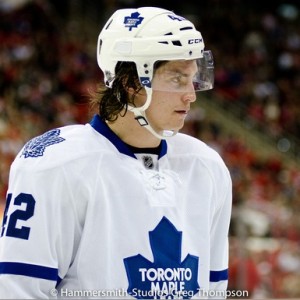 For one, if the Leafs do want to go after and sign Steven Stamkos, it would be smart to move one of the forwards, preferably a center, that makes more than $4 million. While it might be smart to move one of Laich or Michalek, it might be Tyler Bozak that is the first one moved.
The Leafs have two prospects that are centers that will or should make the team next season. William Nylander is sure to be on the team after being called up after the deadline and never being sent down. The other is Mitch Marner. Since Marner can't play in the AHL next season and he showed that the OHL doesn't exactly challenge him anymore, it might be prudent for him to at least start the season with the Leafs. Both of them can move to the wing if needed, but Nylander is more likely to play center.
Then if the Leafs win the lottery and draft Auston Matthews, that's another center to add to the group. So let's just say everything positive happens for the Leafs this season and they get both Stamkos and Matthews. It's safe to say that those two could be the Leafs No. 1 and 2 centers. So now with Kadri signed long-term, you have to assume that he's the next one in line. So where does Bozak fit?
Bozak has a cap hit of $4.2 million and might be the player that could get the Leafs the most in a trade. His cap hit isn't horrible and he was playing pretty well before his injury. There were definitely teams interested in him at the trade deadline. Maybe they still have some interest in the center.
We already knew that this offseason was going to be an interesting. With the signing of Rielly and Kadri, it promises to be even more intriguing than we thought.
Toronto Maple Leafs Writer At The Hockey Writers.