Among the regularly dressed Philadelphia Flyers forwards, there are four undrafted free agents (Matt Read, Michael Raffl, Pierre-Edouard Bellemare and Roman Lyubimov) plus former late draft picks in Chris VandeVelde (97th in '05) and Dale Weise (111th in '08). Sitting in the press box most nights, dressed in a suit rather than equipment is Scott Laughton, the 20th overall pick in 2012, who has played in just two NHL games this season.
The 22-year-old has always shuffled in and out of the lineup, but last year he appeared in 71 games and in 2014-15, 31. This year, he's hardly gotten the chance to become a regular.
Laughton spent the first month on the injured reserve due to a knee injury, but his spot was hardly locked down before he suffered the injury in preseason. In the past year, Bellemare, VandeVelde, Lyubimov, Nick Cousins and new arrival Boyd Gordon have passed him in terms of importance and ice time.
The Ontario native has never been a producer at the NHL level. He has 27 points in 109 games, but he won the third-line center role to start the 2015-16 season and the team obviously saw something in him to take him 20th overall.
All of that combined, begs the question: What has happened to Scott Laughton?
Prospect Years
When the Flyers selected Laughton in June of 2012, they already had Claude Giroux and Sean Couturier. If he was making the team as a center down the road, it would be in a third-line role, which was fine. Championship teams have proved how important depth is, especially in strong two-way centers, and Laughton's stats and scouting made it seem like he could become that.
In his draft year, Laughton scored 53 points in 64 games with the Oshawa Generals and then-general manager Paul Holmgren commended him for his leadership and defensive ability:
We really like Scott. I've seen him play a couple of times and he kind of reminds me a little bit of Mike Richards, a little bit of Adam Henrique; he's a good, solid, hard-nosed two-way player.

– Paul Holmgen, NHL.com
A Bleacher Report article from 2012 described Laughton as "a potential team leader" and "a solid forechecker who can take the puck away and put opponents on their heels." It was common for the then-18-year-old to be compared to former Flyers captain Mike Richards.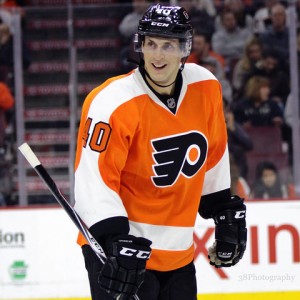 Laughton surprised many by earning a five-game tryout with Philly at the end of the lockout-shortened 2012-13 training camp and while he showed plenty of promise, it wasn't quite his time for the NHL. He was returned to the Generals where he scored three more points in 15 less games than the previous year.
The Flyers signed Vincent Lecavalier that offseason, adding depth down the middle and while Laughton was actually on the Flyers roster at the start of the 2013-14 season, he was reassigned to Oshawa after being a healthy scratch in the season opener. But it was then that his many skills were shown the most.
Not only was Laughton selected for Team Canada in the 2014 World Junior Championship, he was also named captain of the team. The group struggled to a medal-less finish, but back in Oshawa, Laughton scored 87 points in 54 games.
[irp]
With four seasons of junior hockey under his belt and at 20-years-old, Laughton was eligible to play in the American Hockey League if he didn't make the Flyers for the 2014-15 season. His leadership, defensive play and willingness to play the body had Philadelphia fans hoping for a quick NHL transition.
First & Second Pro Years
But Giroux, Couturier and Lecavalier were still in Philadelphia, along with newcomers Bellemare and Ryan White, which created center ice depth and forced Laughton out of a role. He started the 2014-15 season with the Phantoms.
The 6'1″ center made quick work there though, scoring 11 points in the first 13 games and earning a recall by Nov. 13 due to an injury to Giroux. By Nov. 19, Laughton was a regular in the lineup.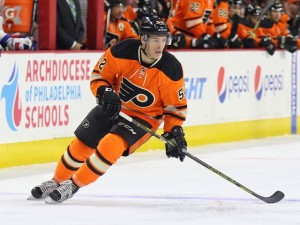 He showed the normal tendencies of a rookie player. A good game here, a rough game here with mistakes. He wasn't exactly the defensive player Flyers fans had dreamed up, but he at least showed potential, which was to be expected.
However, in a surprise move, GM Ron Hextall returned Laughton to the Phantoms in February. The Flyers were having a bad year and Laughton had a chance to help Lehigh Valley make the playoffs instead of playing bottom-six minutes in Philly.
Laughton finished the NHL season with six points in 31 games and a postseason-less AHL year with 27 points in 39 games. At that level, he showed he could bring an offensive game along with a defensive one.
That helped him earn the third-line center spot out of 2015-16 training camp. But the beginning of the year was similar to his rookie year. He wasn't ready for matchups against offensive players and still made mistakes.
In February, Cousins was recalled and immediately made more of an impact in the center of the ice than Laughton did. That wasn't all bad though. Laughton played a stronger game on the wing and the line of him, Cousins and Read actually formed a strong defensive trio.
Laughton spent a good portion of the season filtering in and out of the lineup and was healthy scratched at the beginning of the playoffs. An injury to Couturier opened up a spot for him in Game 2, though.
He only ended up playing parts of three games. In a scary incident early in Game 4, Laughton went careening into the end boards after John Carlson cleanly knocked him off the puck.
Laughton had to be stretchered off the ice and spent a night in the hospital. He recovered, but the injury put an early end to his postseason.
This Year and What's Gone Wrong
The playoff injury wasn't the only one to hit in 2016. Laughton's knee injury in the preseason accounted for a second serious injury in mere months.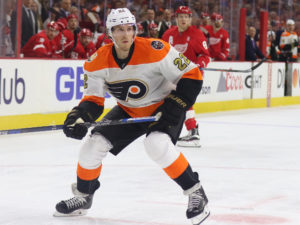 It's probably a fair statement to say that injuries have slowed him down this season, especially in getting ready in the offseason and training camp. However, this isn't the first year where Laughton has had issues.
The pattern through his years in the NHL seem to avert back to defensive issues. Although Laughton was predicted to become a two-way center, he hasn't shown that at the highest level and his offensive game isn't enough to earn him playing time.
He can't be trusted against teams first or second lines and head coach Dave Hakstol and the team think that Cousins or Bellemare are better in that role.
Laughton looked his best at wing last year, but even though he has decent size, he can be knocked off the puck easily and his board work could be improved. It doesn't help that Dale Weise was brought in to fill that role this past summer.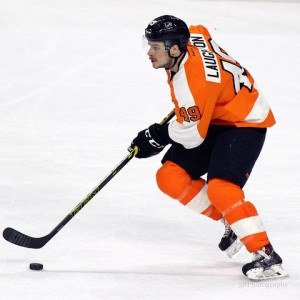 This season, Laughton has eight points in eight games for the Phantoms. He has none in two contests with the Flyers. Although it hasn't been seen in the NHL, it's believable that an offensive game could be there.
It's important to remember that Laughton is still only 22-years-old. He's easily young enough to get his career on track.
Laughton's role as an NHL player in Philadelphia is very far from clear. Where he may excel is one where he can blend more of his offensive skills without a focus on defense. And a place where that may happen is a team with less depth or a start-up one in Las Vegas.
Wes Herrmann graduated from Penn State with a bachelor's degree in journalism in 2014. He used to write hockey for Cardiac Cane and Broad Street Buzz and has loved the game since birth. Follow him on Twitter at @Wes_Herrm or contact him at wherrmann421@gmail.com