Growing up 24 miles from New York City in New Rochelle, New York, Kevin Shattenkirk grew up, naturally, as a Rangers fan. Currently 27 years old, Shattenkirk rumors to the Rangers have been consistently swirling, with many rumors being thrown around about his future with the St. Louis Blues.
While all Rangers fans would love to have Shattenkirk join his hometown team and help them get closer to a Stanley Cup caliber team, there hasn't been anything really concrete yet rumored to be close to happening. Realistically, what would it take to bring Shattenkirk to the Rangers? There are a few options that have been rumored multiple times.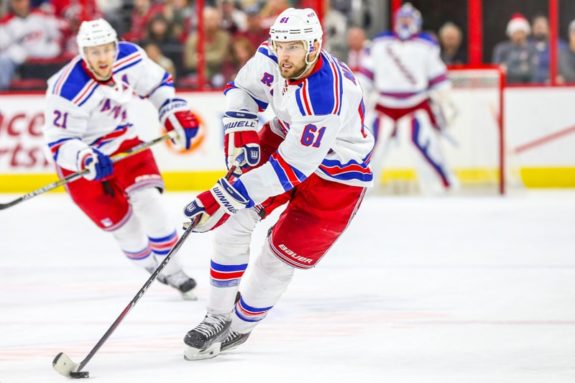 Rick Nash
While many Rangers fans find a Nash for Shattenkirk trade to be extremely appealing, there are a few reasons why that just isn't beneficial for the Rangers right now. With an elite goalie who is going to be giving his last few years to the Rangers in the next few years, the Rangers will need all the scoring they can get.
Nash is one season removed from an elite scoring season that landed him third in goals above John Tavares, Tyler Seguin, Max Pacioretty, Joe Pavelski, and other elite names.
Now, Nash has regressed since then due to injury and if he can get back to that level the Rangers will have a definite chance at going above and beyond prior expectations and doing some damage in the Eastern Conference.
Acquiring Shattenkirk would help the Rangers in many ways, but it would be strictly invalidated if Nash was moved for him. The Rangers are already not a team that blows teams out putting up many goals a night and trading one of the few players on the team who can turn around a game single-handedly for a defenseman who is a great player but not one of tremendous offensive impact would likely hurt the team more than it would help them.
Kevin Klein, Second Round Draft Pick, and Oscar Lindberg
While this deal may seem a tad bit off, there are more positives than negatives for both sides. Kevin Klein is on an extremely friendly 2.9 million dollar contract for two years and Lindberg makes just $650,000 with RFA coming up in which he will likely receive a low two season bridge deal.
With the Senators second rounder available to be moved after the Brassard trade, this would get proper value out of Shattenkirk while keeping the Blues defensive core extremely strong while giving them an above average, NHL-ready prospect in Lindberg and a second round draft pick in which they can use to draft a replacement for Shattenkirk.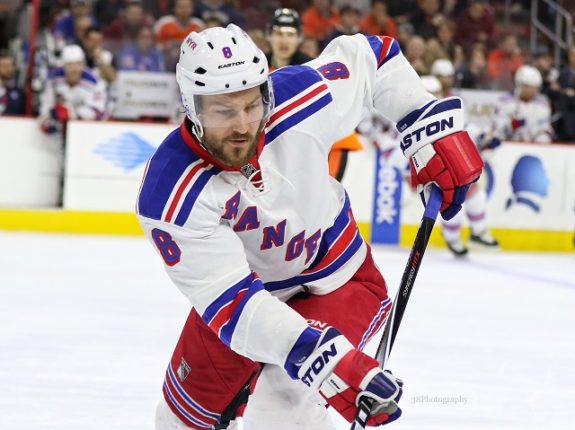 The Rangers have no explicit need for Lindberg at this point and flipping Brassard, Klein, and Lindberg for Zibanejad and Shattenkirk would be absolutely wonderful return from Gorton. The Blues have been faced with cap issues and with a seemingly big need for scoring, adding Lindberg would help get their bottom lines going.
Chris Kreider?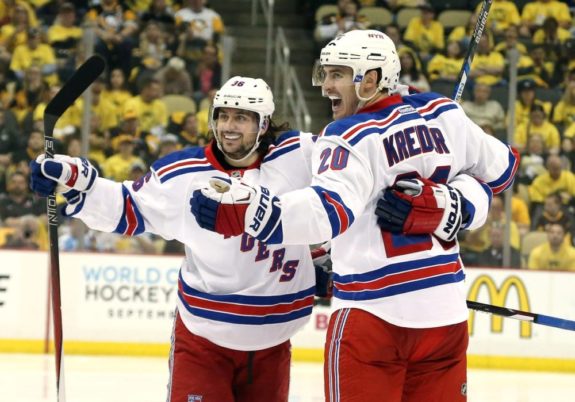 This is the most doubtful of any of the three specifically because of the Rangers signing Kreider long-term. Kreider is still young and will be looking to put himself into top-tier contention with a great season.
The Rangers aren't likely willing to give up a player like Kreider on an extremely fair contract to receive Shattenkirk while still having both Dan Girardi and Marc Staal on the team. It makes little to no sense for the Rangers to involve Kreider in any trade but his name has been floated multiple times, both before and after the contract negotiations were completed.
On the other hand, the Blues would make this trade in a heartbeat. It's no secret that Shattenkirk has been consistently rumored to want out and with the Blues likely regressing out of the form they were in this season, there's a large chance that he will want to find a new team to spend his prime with. With the Blues allowing Backes to walk and trading Brian Elliott to Calgary, there will be a likely serious decline to the Wild Card and likely a first round exit at the hands of one of the NHL's Western Conference powerhouses.
I'm a college student at Robert Morris University. I'll be covering everything Rangers as well as some gaming news as it comes out! Follow me on twitter at THWDonovan!