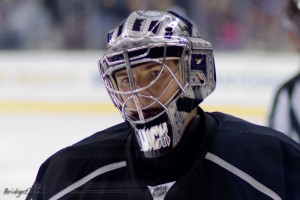 He sports a career record of 134-91-27 in nearly four full NHL seasons, along with a very solid G.A.A. of 2.31 and save percentage of .916. A winner of 35 or more games in each of the last three seasons, he posted a goals against average of 1.95 and save percentage of .929 in 2011-12. Fresh off a Stanley Cup run, he was even better in the playoffs last year, registering a 16-4 record, 1.41 G.A.A./.946 stat line. As recognition for his outstanding play, he finished second in the Vezina voting behind the Rangers' Henrik Lundqvist. To top it all off, the Kings inked him in the off-season to a 10-year contract extension worth a cool $58 million.
With all that said, what's wrong with Jonathan Quick?
A slow start to this season
Of course, the Kings have played a mere ten games. If judging by such a short stretch were actually fair, journeyman Chris Kontos would be in the Hall of Fame after scoring nine goals in eleven games during the 1988-89 playoffs — also, ironically, for Los Angeles. And yet as Kings fans, we're just not used to seeing Quick this mediocre for such a long period of time. So far this season, he has allowed three or more goals in four out of his nine starts, and in-game save percentages of .903 or lower in five. In 69 games played last year, he had 22 games of three or more goals allowed, and 20 with the aforementioned in-game save percentages. In 2010-11, it was 24 and 24, respectively.
Maybe it's just because the Kings (3-5-2) are fresh off a heartbreaking loss to the hated Detroit Red Wings. After having just tied the game 2-2 on an Alec Martinez backhander with 53 seconds left in the game, Jonathan Ericsson broke the hearts of Los Angeles fans with this slap shot that trickled past Quick and into the net with five seconds remaining:
Granted, the Wings were at home in front of 20,066 loutish, screaming fans. Yes, Ericsson is a big man with a big shot. Sure, there was traffic in front of the net and indeed, Quick got some of the puck, just not all. Still, with opposing netminder Jimmy Howard having literally stood on his head to keep Detroit in the game, the last-second loss hurts — especially when Quick within a whisker of stopping the puck.
Injuries on the blue line
Every team is bitten by the injury bug to some extent, but it certainly hurts when two of the Kings' best defensive defensemen — Willie Mitchell and Matt Greene — have missed the entire season. Mitchell underwent off-season surgery to remove cartilage from his knee and isn't quite ready yet, and Greene suffered a back injury during the team's opener against Chicago and is out for up to three months. Newcomer Keaton Ellerby (obtained in a trade with Florida) and his 6'5″, 217 pound frame may help fill the void in physicality created by the Greene injury, but it's tough to replace the long-time King defenseman. Likewise, Davis Drewiske has done yeoman's work in the place of Mitchell, but it's also just not the same thing.
From a team perspective, the Kings are allowing an average of just 25.2 shots per game, second in the league. However, shots alone don't measure the quality of scoring opportunities, and it seems as if the Kings are giving up too many good chances this early in the season.
Gripping things too tightly
A problem for most of last year, the Kings' offense has been tepid once again to start the 2012-13 season. As of today, the team ranks tied for 25th in goals scored at 2.10 per game, despite being 8th in shots at 30.8 per game. Furthermore, the dreaded Stanley Cup hangover may have descended over the team like smog over the L.A. basin. These factors could be playing a part in some of the struggles the team has had during the early part of this year, including the lackluster goaltending.
Gunning for the champs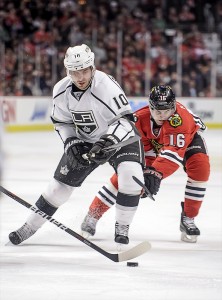 To a long-time Kings fan used to disappointment, it still seems beyond comprehension to say that the Kings are the defending Stanley Cup champions. As such, they have ascended to the pantheon of the NHL elite, at least until they are knocked off the pedestal. With big names such as Quick, Anze Kopitar, Jeff Carter, Mike Richards, Drew Doughty, Justin Williams, Simon Gagne and captain Dustin Brown, the Kings are in the crosshairs of every opponent each and every night.
Upon observation, the Kings aren't playing poorly. At the end of the day, however, they just aren't quite getting it done.
Jonathan Quick will be fine
I realize that I asked what was wrong with him at the beginning of this piece, but consider that a rhetorical utterance at this point, due to all of the reasons mentioned above. At just 27 years old, his best years are still likely ahead of him, not in the rear view mirror. He's got unbelievable agility and reflexes, so much so that he was aptly nicknamed "the Spider" during last year's playoffs. There is nothing that indicates the first ten games is more than an aberration, both for Quick and the Kings.
As most side mirrors say, "objects in mirror are closer than they appear." Right now, Quick might say the very same thing about the puck.