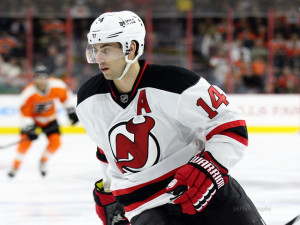 There are a lot of questions going on with the Devils. Especially after taking a brutal 43-14 shot differential in their OT loss to the Pittsburgh Penguins Friday night. One question I believe is beginning to form is internal leadership.
Now we all know that New Jersey has a plethora of leadership, whether it's from Patrik Elias, Andy Greene, or Dainius Zubrus etc. But what I'm referring to is core, young players, who will soon become the future leadership group of this team. Even more to the point, team captain, Bryce Salvador, hasn't played since November 10th, and some are wondering if he's already played his last game as a Devil.
It's unfortunate, and it should have ended on a better note for Salvador considering all the hard work he's put into this team. However, someone needs to garner that captain's "C" eventually, so here are my three candidates of taking over the captain's mantle.
#3 Travis Zajac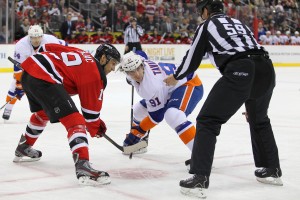 This is probably a long shot, but Zajac is 29 years old, and has the biggest cap hit of anyone on the Devils other than Schneider.
Zajac already wears the "A" but the transition to captaincy is a big leap. The problem is his production hasn't been nearly what the Devils were hoping for since he signed his 8-year $46 million contract. In 41 games, Zajac only has eight goals, 16 points, and is a minus six. Those aren't the types of numbers your highest paid player should be producing.
On the flip side, it's not the stats Zajac is known for. He's known for being a guy a coach can trust in all situations. He wins face-offs, and is great in the defensive zone. No question in my mind that if he produced points similar to the Jonathan Toews' and Anze Kopitars of the world, he's be a candidate for the Selke Trophy for best defensive forward.
Zajac isn't the team's best choice, but in retrospect, he's probably not a bad one either.
#2 Andy Greene
Like Zajac, Andy Greene also wears an "A", but for all the right reasons. Not that Zajac doesn't deserve a letter; its more that Greene has been the model of consistency for a team that has struggled in recent years. He's the matter-a-facto number one defensemen, he's a minute-muncher, and his smooth skating makes Greene a valuable asset on the ice.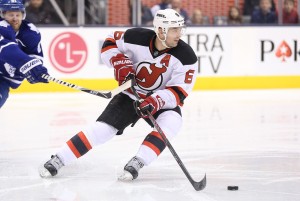 What makes Greene a great candidate for captaincy though, is he has a great relationship with the media. Greene is a very well-respected guy from all aspects of the game because of the way he's got here. He knows how to answer questions in a courteous fashion, but obviously not go overboard. New Jersey isn't anything close to Toronto in terms of media pressure, but I feel Greene would fit in well just about anywhere he plays.
Mentoring is a big part of being a captain. It's about being a guy who others look toward for guidance. Now Greene isn't the rah-rah kind of guy in the locker room, but his attention to detail on the ice, that makes him an easy guy to follow. Furthermore, he's brought it on himself to teach Adam Larsson how to become a prime-time defensemen. It's still a work-in-progress, but from what we've seen in recent games, it looks like it's working pretty well.
Greene is still just 32, so he's got a lot of game left. I wouldn't be surprised if he's named captain in the near future, and neither should you.
#1 Adam Henrique
Henrique kind of seems like the obviously choice because he is the obvious choice. Andy Greene would certainty make a great captain, but were seeing so many teams name captains early in their career, and then the team gets built around them.
At the same time, the argument can be made that the only reason Henrique is such an obvious choice, is because the Devils don't have many other young players to choose from. Certainty Josefson won't be up for captaincy in the near future, and other prospect are too far away to be considered. It's a bad problem to have; but the good thing for them is even hypothetically if the Devils did have a lot of talented young players around Henrique's age, I'd still take Henrique as may captain any day of the week.
Now that's from a hypothetical standpoint, but Henrique has proven he's near ready to take the mantle by his style of play. Henrique leads the team in scoring, although that's not a hard accomplishment on this team, but he's continually shown signs of progression since his rookie season. Not only on the ice, but also in the way he presents himself.
New Jersey can make whatever decision they want when it comes to captaincy. I just hope they make the right one so we're not talking about this again two years from now.
Who do you think will be New Jersey's next captain?