The talk around Sabres prospects is usually how great the talent in the system is.  It's fun to discuss the players who are doing well in the prospect pool around the world.  With the good though, there's also bad.  Among the Buffalo prospects having great seasons, a few players with high expectations are struggling this season.  Working through struggles is part of player development and these players are by no means lost causes.  However, Tim Murray and the Sabres scouts will look for a better 2nd half from these players.
Andrey Makarov-Rochester Americans (AHL)
Makarov was expected to take over the starting job in Rochester this season and lead the Amerks into a playoff run. Unfortunately the Amerks have been a disappoint this season as a team.  The Amerks sit in 14th place in the Western Conference and 13 points out of a playoff spot
Makarov has had his struggles this season.  He is 13-12-1 with a 2.84 GAA and a .907 save percentage.  In his second full pro season, the Sabres looked for Makarov to take a step this season and perhaps compete for a roster spot in 2015-16.  Instead the 21-year-old Russian has taken a step back.
Makarov will show flashes of great goaltending, but will then let in the soft goal only minutes later.  Consistency is the biggest thing for a developing goaltender to attain.  In his few appearance with the Sabres last season and training camp, Makarov has not looked out-of-place at the NHL level.  The former Saskatoon Blade will almost certainly begin next season in Rochester.  To maintain his status as a top goaltending prospect in the organization, Makarov will need to have a good 2nd half even if the Amerks are not in the playoff race.  With Linus Ullmark likely to come to North America next season, Makarov may thrive from the direct competition.
Johan Larsson-Rochester Americans (AHL)
Larsson was a key piece in the Jason Pominville trade with Minnesota two years ago.  The Swedish forward has played well in Rochester with 28 points in 34 games, but this season was supposed to be the year Larsson stuck in the NHL.  Larsson has been given a few chances to come up to the Sabres this season, but he's failed to show any sign of being an NHL contributor
Larsson is not the guy who going to pile up points at the NHL level, but I his 12 NHL games this season, he only registered two points.  He disappeared for long stretches and was unnoticeable most nights.  When he was returned to Rochester after his last call up, he's expressed that he believed his chances with the Sabres may be gone.  This is not the type of attitude the Sabres were hoping for from Larsson.
It has become obvious that Larrson's status in the organization has dropped.  He's fallen behind players like Schaller, Grigorenko, Varone, and Ellis.  Larsson is set to become a RFA at season's end, an interesting offseason may be on the horizon for the 22-year-old.
William Carrier-Rochester Americans (AHL)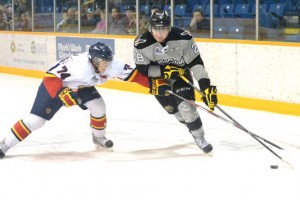 Carrier, was acquired last season from the Blues in the Ott and Miller trade.  Carrier is a big bodied winger who has a great shot.  In his first pro season, Carrier is struggling to adjust to the pro game.  He has 9 points in 40 games for the Amerks this season.
Carrier was expected to make a bigger impact this season as a power forward.  He's having trouble finding consistency and being noticeable during games.  The 20-year-old Quebec native will look to have a good 2nd half of the season and ride the momentum into next season.  Carrier still has a lot of potential and is an intriguing prospect going forward with his size.  Instead of being potentially an impact player for the Sabres next season, Carrier will likely return to Rochester for another season of development.