The fall from penthouse to outhouse for Mike Richards has been well-documented, with pundits and fans everywhere scratching their heads trying to figure out what exactly went wrong.
Four years ago, Richards' status as one of the NHL's near-elite players was cemented. He was in his mid-20s, a perennial 60+ point producer, and had an impressive number of achievements during his still-young career, including:
– Memorial Cup (2003)
– Calder Cup (2005)
– World Junior gold medal (2005)
– NHL All Star (2008)
– Olympic Gold medal (2010).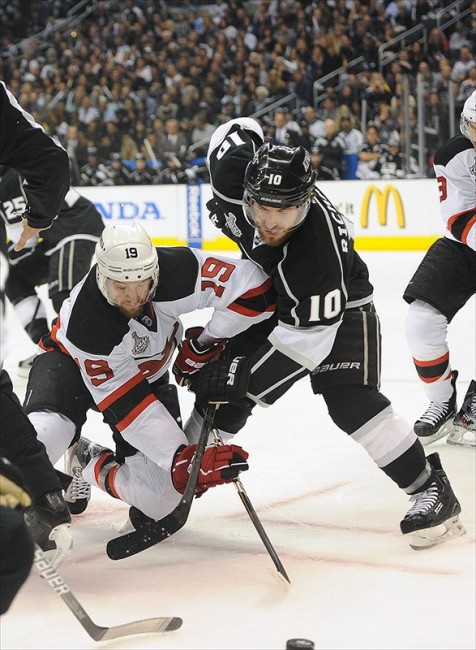 He was a winner, the type of heart-and-soul player every team needed to lead them to the promised land. Those factors unquestionably played into the Kings' decision to go after him, as their up-and-coming team had earned 98 points during the previous regular season but lost in the opening round of the playoffs to the San Jose Sharks — the second straight year they had failed to advance. They needed a skilled two-way forward who knew what it took to win, especially during the playoffs.
The Kings traded for Mike Richards in 2011
On June 11, 2011, Kings general manager Dean Lombardi closed escrow on a blockbuster trade for Richards, surrendering in return winger Wayne Simmonds, prized prospect Brayden Schenn and a second round pick in the upcoming draft. By acquiring Richards, Lombardi obtained a player universally considered the perfect second-line pivot with the ability to do it all: score goals, set up teammates, play defense, kill penalties and provide veteran leadership.
Reactions were mixed, with some Philadelphia fans celebrating the players and prospects received in the deal. Others, not so much:
Still legitimately upset about the Mike Richards trade. First time I've wanted to cry a little over a trade #Flyers #Richie

— Allison Shanus (@ajshanus) June 24, 2011
Over 24 hours now and I still don't like it. Nobody has convinced me that u trade mike Richards. Love schenn but….. #Flyers

— Danny Macdonald (@Jedithrowstacos) June 25, 2011
Mike Richards Trade Reminiscent of Joe Thornton Deal, Signals Rough Time Ahead for Flyers http://bit.ly/lHaY7j

— NESN (@NESN) June 26, 2011
The thinking behind the deal at the time was detailed by former L.A. Kings Insider reporter Rich Hammond, who wrote about it as follows:
This is certainly one of the more fascinating deals done by the Kings in years. In comes Mike Richards, a 26-year-old center who has already reached the 30-goal mark twice in six NHL seasons. Out goes Brayden Schenn, arguably the Kings' top prospect and the player the Kings had resisted trading despite countless offers that basically started the day he was drafted, as well as Wayne Simmonds, a player assumed to have great potential who took something of a step backward last season. Privately, the Kings were concerned that Simmonds, due to be an unrestricted free agent, might draw an offer sheet if he was not re-signed by July 1.
In June 11, 2012, almost one year after coming to Los Angeles, Richards finally achieved hockey's greatest prize: the Stanley Cup.
Richards' early play with the Kings was solid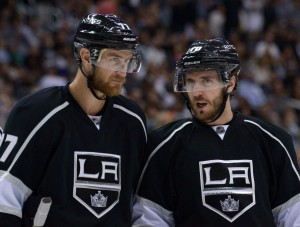 Although Richards was never able to approach his previous 60-80 point levels during his 3 1/2 seasons with the Kings, it's only been during the past 1 1/2 years that his numbers declined to the levels which forced Dean Lombardi's hand.
Richards put up a pedestrian 44 points in 74 games during his first year in L.A., but the adjustments to a new team and more defensive-oriented system were clearly factors. Richards elevated his game play in the playoffs, recording 15 points in 20 games. His efforts helped lead L.A to its first Stanley Cup, a 4-2 series victory over the New Jersey Devils.
In 2012-13, he had a bounce-back campaign, with 32 points in a lockout-shortened 48 games. The Kings advanced to the Western Conference Finals but lost to the Chicago Blackhawks 4-1. Richards was highly effective in the playoffs, putting up 12 points in 15 games.
His decline since 2013-14 has been dramatic
It was the 2013-14 campaign which saw the wheels start to come off the wagon. Admittedly out of shape in December due to an illness, Richards finished with just 41 points, finding himself shuffled up and down the lines as Darryl Sutter struggled to find the right combinations. There were whispers that Richards also reported to training in less-than peak condition, a fact which Dean Lombardi alluded to in 2014:
"The biggest thing in the meeting with Michael – the important thing – is that he realized he's going to have to make some adjustments in his offseason training," said Lombardi in a Los Angeles Times interview.

"He's 29. In his prime. So it's not as though the drop-off should be related to age. But players need to realize when you start getting 27, 28 — you can't train, can't prepare like you use to when you were 22 or 23."
This year, even Richards' most ardent supporters would concede that his play on the ice hit rock bottom. Having been slotted on the fourth line for much of the season was obviously a factor, but no Stanley Cup winning coach would relegate a player with a $5.75 million cap hit (with four years remaining) there unless he wasn't earning his keep. The situation continued to deteriorate until Richards was finally placed on waivers this past week. He cleared waivers and was assigned to the Manchester Monarchs, the Kings' AHL affiliate.
What went wrong?
Although just 29 years old, Richards has hard mileage on his skates, especially when considering all the playoff games (124) and a generally fearless style of play. Although the Kings inherited his massive contract, Dean Lombardi certainly knew the risks of doing so when considering pulling the trigger on the deal. Always a calculated gamble, I recently discussed the risks of long-term contracts, particularly as they impact Los Angeles over the next few years.
Many will argue Dave Bolland's brutal hit on Richards during the 2013 playoffs — not to mention the cumulative effects of previous concussions — was a huge contributory factor in his decline. Coincidental or otherwise, he's never been quite the same since then:
Reflecting on his demotion, Richards demonstrated a stiff upper lip:
"It's not easy. That's for sure. But, at the end of the day, I'm a hockey player. I [did] what I was told in LA," he told Mayors Manor. "Whether it was third line, second line, fourth line, I do what I was told. I got told to come down here and play, so I do what I'm told. It's what being a hockey player is all about.

"It is what it is. You play hockey. That's what I'm here for is to play hockey. I liked LA, I liked the team, but I'm in this position now. I'm a big believer in everything happens for a reason, from being drafted to Philly to being traded to LA. Everything happens for a reason. You just try to make the best out of whatever scenario you're put in."
What's next?
Assuming Lombardi is unable to pull off a trade, Richards has little choice but to produce in Manchester in order to resurrect his career. Lamented as too slow for today's NHL in certain corners and beset with questionable workout methods, Richards would do well to work on his skating and get into the best shape of his career. Ironically, his still-keen veteran guile and leadership, two of the reasons he was so coveted by L.A. back in 2011, just aren't enough for the defending champions this time around.
Los Angeles needs a consistent, point-producing Richards at full strength. Justifying his decision to place Richards on waivers, Lombardi said:
"The way I look at this, Mike's, in his career, he's shown he can be a .330 hitter and get you 80 RBIs as an All-Star player. So, maybe at this stage, maybe it's not there. But I still assume he's capable of being a .280 hitter and doing a lot of those things for you that only he can do. Let's face it – right now he's batting .200, but I don't see any reason why he can't get back to that. He's got to do what he's got to do. The only analogy too, you can come up [with] – there's a lot things that I saw that reminded of where Teemu Selanne was at this stage. I remember when he had fallen off the map, it looked like, in Colorado. It looked like he was done, and then he started changing some things and then went on to two great 10 years, for crying out loud. It's up to Mike. There's no [doubt] in my mind, I believe that if he wants to, that he can get back to that. But it's going to be up to him."
Despite varying opinions as to how he ended up where he is today, nobody would dispute that last point. It is indeed all up to him.