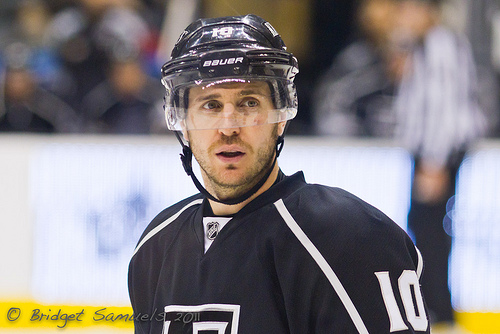 To the average fan, management's general strategy of locking up key players to long-term contracts is not only pleasing, but often downright exciting.
Witness this ESPN.com report from 2011:
The Los Angeles Kings agreed to terms with Drew Doughty on Thursday after the star defenseman skipped the first 13 days of training camp, the team announced via Twitter.
Fans across the Southland rejoiced. The 22-year old Doughty, already widely considered one of the best defensemen in the NHL, was now under contract for eight years. Not only were there celebratory posts on message boards as well as throughout social media, but some (presciently, as it turns out) went so far as to declare that the Kings were now primed to win their first Stanley Cup:
Doughtys 8-year contract means that in the next 8 years Stanley Cup will visit LA! http://t.co/az2aiRm via @addthis #NHL #LAKings #Doughty

— Juuso Karlström (@iuuso) September 30, 2011
After hoisting the Cup in 2012 and again in 2014, there is no question that the decision to lock Doughty up to a long-term contract was the right one by Dean Lombardi and the Los Angeles Kings.
Long-term contracts in the NHL carry considerable risk
As Henry Wadsworth Longfellow once wrote in his poem The Rainy Day, "Into each life some rain must fall." To put it mildly, not every decision works out as intended.
Witness the terrible contracts of the following NHL'ers:
– Alexander Semin: Once a 40-goal scorer with the Washington Capitals (2009-10), the 30-year old Hurricanes forward carries a $7 million cap hit through the 2017-18 season. Not only has he been inconsistent and injury prone, but is now a shell of his former self with just one goal and eight points in 26 games this year.
– Dion Phaneuf: Hey, I like Dion. He was a monster on my NHL '09 division-winning team, although just like the real version, he was a bit underwhelming when it really counted. That being said, when Leafs fans were decrying his 7-year, $49 million contract extension about ten minutes after he inked it in 2013, you know it's an overpayment.
– Brooks Orpik: At 34 and arguably in decline, Orpik's $5.5 million cap hit is an anchor around the Capitals' necks for the next 3.5 seasons.
– Kris Letang: Don't get me wrong — Letang is good. He's just not $7.25 million for eight years good.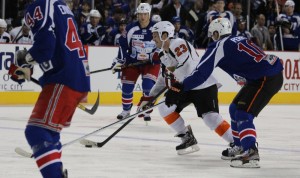 – David Clarkson: Perhaps the quintessential 'Exhibit A' of bad contracts, Clarkson was never a prolific producer and not surprisingly, has just 14 goals and 24 points in the 106 games since signing a gigantic 7-year, $36.75 million deal with Toronto in 2013.
The list of bad contracts goes on and on, and unfortunately for the Kings, includes a number of their very own players.
Los Angeles has little salary cap flexibility
To preface this discussion, it should be noted that Dean Lombardi has clearly placed a priority on locking up key players to very long deals. When considering the acquired long-term contracts of Jeff Carter and Mike Richards and counting this season, L.A. has nine players under contract for at least five years: Carter (8), Richards (6), Marian Gaborik (7), Dustin Brown (8), Drew Doughty (5), Slava Voynov (5), Alec Martinez (7), Jake Muzzin (6) and Jonathan Quick (9).
Notice one name conspicuously absent: Anze Kopitar. The Kings' center will need — and certainly get — a new long-term deal before the end of the 2015-16 season.
With several extensions kicking in starting next year, the combined cap hits of those nine players will be in excess of $53.5 million. As of today, the NHL's salary cap is $69 million.
Other teams have substantially greater flexibility. Division-rival San Jose has just three contracts of that length or greater, and cross-town foe Anaheim two. The Pittsburgh Penguins carry four such contracts, Detroit five, the Rangers five, Boston three and Montreal three. In fact, as of this writing the Kings have the most five+ year contracts of any NHL franchise.
The bad contracts
Since the Kings have more long-term contracts than anyone else, it stands to reason that they have more high-profile bad long-term contracts than anyone else. Funny how that works, right? A few borderline ones won't be included below, but the contracts that should be inarguable are as follows:
– Mike Richards: As stated above, Richards has six more years at a cap hit of $5.75 million. 3.5 years removed from his last 20-goal season and even with his veteran savvy and leadership, there's no way Richards' contract can be looked at as anything other than a financial albatross for Los Angeles. Rumors of the team shopping Richards have made the rounds, but quite obviously money is a huge hurdle.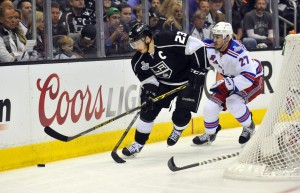 – Dustin Brown: Admittedly one of my favorite players, Brown's production has fallen off the table over the past year and a half, not long after he agreed to an eight-year extension.
– Slava Voynov: It couldn't have been foreseen, but Voynov's legal troubles put his deal on the "bad" list, at least for now. Depending on the outcome of his case, it's possible Voynov's deal will ultimately be voided.
What to do about it?
Assuming the above players don't pick up their games, there is no easy solution to the problem. The compliance buyout windows are now closed, and although the new CBA allows for a team to retain some of a traded player's salary, there are strict limitations. The salary cap should continue to rise, of course, but only to a projected $73 million in 2015-16.
Furthermore, although the other six long-term contracts appear acceptable for now, it's possible (if not likely) that at least some of those will be considered problematic within the next few years. The Kings have traded cost-certainty and core stability for inherent contract risk, which decreases salary cap flexibility going forward, especially when a player isn't earning their deal.
Granted, with two of the last three Cups on their mantle, long-term overpayment on a number of contracts might be down the list of problems for Dean Lombardi to worry about, at least for now. And yet, for Los Angeles to continue their impressive run over the past five+ seasons and even though it's an issue of his own creation, it's one he'll probably be forced to confront head on.
What do you think? Should the Kings try to trade Mike Richards and/or Dustin Brown? Are the long-term deals that Marian Gaborik, Jonathan Quick, Jake Muzzin, Alec Martinez and the others currently enjoy worrisome to you?
Post your thoughts below, or send me a message @McLaughlinWalt.
Walter McLaughlin is a Los Angeles Kings correspondent for The Hockey Writers. He is an avid sports fan, having followed the Kings since living in L.A. in the mid-1970's, as well as suffering through Seattle sports teams' general futility. He has a Bachelor's degree in Finance and has worked in community banking for over 25 years, specializing in SBA loans. He is married and has two daughters.