Over the past day, reports have spread across the NHL regarding Boston's interest in Colorado left-winger Gabriel Landeskog. As the middle of the season approaches, the Bruins defense has performed at a higher level than expected. That leaves the wings as Boston's biggest weak spot.
Landeskog would be a very welcome addition to a Bruins offense that could use a boost, but how much should they be willing to give up?
What Landeskog Could Bring to Boston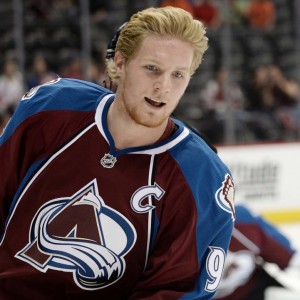 Landeskog, the second overall pick in the 2011 NHL Draft, has been a pretty consistent producer since breaking into the NHL in 2011. He's tallied a total of 258 points (106 goals, 152 assists) in 384 games for the Avalanche. He was also the recipient of the Calder Memorial Trophy as the NHL's top rookie in 2011-12.
At just 24 years old Landeskog is still entering the prime of his career. He's expected to develop even more and has additional leadership qualities that make him even sweeter to Sweeney's tastes (he currently serves as Colorado's captain).
The Bruins could use Landeskog's offensive boost on the left side. He could slide into Boston's second line alongside David Krejci, adding a powerful threat by himself, as well as opening up some space for Krejci.
Deal 1
Adrian Dater of Bleacher Report tweeted on Thursday that the B's were in talks with Colorado regarding Landeskog, but Avs GM Joe Sakic wanted Boston's young defenseman Brandon Carlo as part of the package, and the Bruins said no.
Hearing Boston has had talks with Avs over Landeskog. Sakic wanted Carlo, and B's said no

— Adrian Dater (@adater) January 5, 2017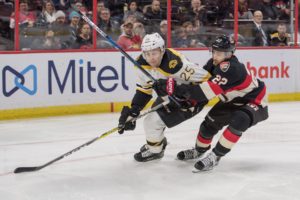 For starters, this is a smart move by Bruins GM Don Sweeney. Carlo has been extremely impressive in his first NHL stint and the Bruins have big plans for his future. Ideally, Boston would like to make a deal without giving up Carlo or fellow defensive prospect Charlie McAvoy, who has impressed during the World Juniors Championship while serving as an alternate captain for Team USA. Carlo and McAvoy look to be the answer to Boston's defensive questions that have become prominent over the past few seasons.
So, if the Bruins won't budge on Carlo (and if they don't want to budge on McAvoy, which they shouldn't), then who could Boston piece together that would be good enough for Colorado to accept?
The Bruins have another promising defensive prospect in Jakub Zboril, who they drafted in the first-round of the 2015 NHL Draft. Boston could package Zboril with one of their other first-round selections from the 2015 draft (Jake DeBrusk, LW, or Zachary Senyshyn, RW) for starters. Colorado would probably like a current NHLer in the deal as well – many people have speculated that B's defenseman Joe Morrow could be moved as part of the return. To finish things off, the B's would most likely give up a draft pick (probably a first rounder) to seal the deal.
If the Bruins could pull this off, they'd have very solid depth at left-wing, with a one-two-three punch of Brad Marchand, Gabriel Landeskog, and Ryan Spooner.
Deal 2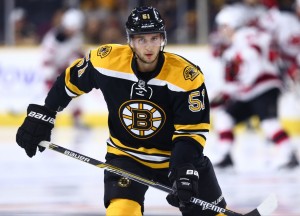 However, Colorado may have their eyes set on Spooner. Since breaking into the NHL, Spooner has been at the center of trade rumors regarding the Bruins. While a Spooner for Landeskog trade straight up wouldn't work, the Bruins certainly wouldn't need to give up as many future assets for Landeskog if they include Spooner in the package.
Theoretically, Boston could package Spooner with one of their three 2015 first-round picks, as well as a 2017 draft pick (second round would be ideal). There's no saying for sure what Joe Sakic would require in order to trade away his captain, but one of the two deals mentioned would certainly make him think.
We'll see in the coming days whether or not Carlo was a make-or-break piece of the package for Sakic and company, or whether they can negotiate another deal with Sweeney.
Cam is a Broadcast Journalism student at the University of Maryland. He's the Boston Bruins Beat Writer at The Hockey Writers, and is an avid college hockey fan. Find him on Twitter @CamHasbrouck!