It's not often that we big trades happen between the trade deadline and the draft.
Yesterday, however, during the Sharks and Blues Game Six, news broke that the Panthers had traded defenseman Erik Gudbranson and a 5th round pick to Vancouver for Jared McCann, a 2nd rounder and a 4th round pick.
Before the trade last night, it was widely assumed that Gudbranson and McCann were both large parts of their respective teams' futures.
Although I am still doing my homework on McCann, I will do my best to explain who won the trade, as well as why both teams would have made the deal.
Filling Needs
On the surface, the trade was a head scratcher, but thinking more about it, both teams actually fill holes with this trade, and both dealt from a position of strength.
On the Panthers' side of things, their defensive core remains fairly full, even after the trade, with prospects like Ian McCoshen, Michael Matheson and newly signed Linus Hultstrom pushing to make the Big Club next season.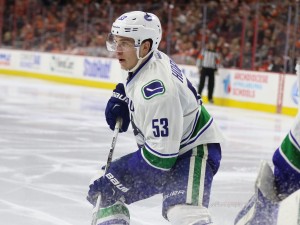 On top of that that, that Panthers right side had both Gudbranson and Alex Petrovic playing similar minutes and almost the exact same style, with Petrovic providing more offense, at a much cheaper cost.
From Vancouver's perspective, it's more of the same.
Down the middle, Vancouver has Henrik Sedin, Brandon Sutter and Bo Horvat going forward. There was just no room for McCann to continue to grow to his full potential, especially in a bottom-six role.
McCann projects to be a goal scoring two-way center, and he will not be able to develop into that role playing with third-line teammates, while playing third-line minutes. It's as simple as that.
The weird thing for Vancouver, to me, is that they already have a better version of Gudbranson in Chris Tanev.
While it was smart of Canucks' GM Jim Benning to trade McCann while he's young and at full value, it is unclear to me why he decided to trade McCann for a position that is virtually filled on Vancouver's blueline, espeically while adding the 33rd overall pick to McCann, who was the 24th overall pick in 2014. It is also important to note that Gudbranson will be an RFA come next summer, and will likely command a large raise.
In terms of filling roster needs, edge goes to Florida.
Immediate Impact
Since neither team is playing still, this has to go to Vancouver.
Gudbranson has established himself as an effective NHL defenseman and will surely play over 1,000 games in his career.
He will fit in seamlessly with Vancouver's top-four Dmen alongside, Tanev, Alex Edler and Ben Hutton, and plays a game that is far better suited for the NHL's Western Conference. Here's an example of what Gudbranson likes to do,
McCann on the other hand is valuable because of his potential. Here's a look at the work McCann likes to do,
What this trade does, in my eyes, is move Nick Bjugstad from center to right-wing, which is a long time coming.
This past season, Panthers fans saw Bjugstad surpassed by Vincent Trocheck on the depth chart, which is not a bad thing for the Cats. With McCann now in the mix, Bjugstad can shift to the wing. He will likely play with Lawson Crouse and McCann on the Panthers third unit next season.
McCann will give Florida three lines that can score at any moment, that is assuming he reaches his potential.
Although McCann has a far higher ceiling than Gudbranson, right now, Gudbranson will make a bigger Day One impact than that of McCann.
The Long-Term
Rather talking more about potential, floors and ceilings, I think we should look at the long-term financial aspect of this deal.
As I pointed out earlier, Gudbranson is a pending RFA. While he may not be lost to free agency, he could be lost to an upcoming expansion draft. Would the Cancuks choose to protect him? Can they sign him to a lengthy deal? Obviously those cards are in Benning's hands.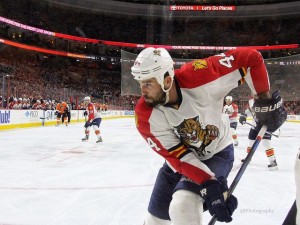 Although Gudbranson is known for his character, there are plenty of questions surrounding him, and if he doesn't want to sit through another multi-year long roster overhaul, he could look to be traded again next summer, or he could sign an offer sheet too large for the Canucks to match.
McCann on the other hand, still has two years remaining on his entry-level contract. As a 19-year-old, he, alongside Crouse, will offer the Panthers two cost controlled players that are likely to produce in the NHL sooner rather than later.
The Panthers will also receive that Cancuks second pick from this year's draft, which is like receiving a late first round pick.
This may not be the strongest draft class we've ever seen, but the Panthers will have a chance to grab a really good prospect with this pick
McCann's potential, the second round pick and the financial stability that this move brings tips the scale heavily in the Panthers favour when it comes to the long-term scope of this deal.
Concluding Thoughts
In my eyes the only way the Panthers lose this deal is if McCann does not become a regular NHLer.
He is a fast, two-way center with great hands and an elite shot and has plenty of time to add to his six-foot-one, 186 pound frame.
Gudbranson is a good player and this cannot be forgotten. Panthers fans all over social media were not happy to hear he was being traded, and many thought of him to be the future captain of the team.
Of course, time will tell just like any deal, who really won, but for now I give a slight edge to Florida, with the Canucks getting a very steady player.