As many of you know, this past summer was a rather interesting one for fans of the Boston Bruins.
Thanks to the Bruins organization for the last 8 years of my life and most of all thank you fans. I will miss you dearly. #bostonstrong

— Milan Lucic (@27MilanLucic) June 26, 2015
General manager Don Sweeney parted ways with winger Milan Lucic, sending him to the Los Angeles Kings for the 13th overall pick (Jakub Zboril), defenseman Colin Miller and goaltender Martin Jones. Jones was then shipped to San Jose for their first-round pick in 2016 just days later.
On the first day of free agency, Sweeney signed one of the hottest commodities of the 2015 class in former Anaheim Ducks forward Matt Beleskey to a five-year contract worth $19 million. Coming off a career-high 22 goal season, the 27-year old was thought of by some Bruins fans as the "replacement" for their recently departed star.
With almost half of the 2015-16 campaign completed, it is an ample sample size to look at what both players have done for their new teams. The statistics say one thing yet the intangibles say another.
What The Numbers Say
Let's start with a comparison of the statistics.
In 42 games with the Kings, Lucic has put up 11 goals and 26 points this season while compiling a plus-10 rating on LA's top line alongside Anze Kopitar and Tyler Toffoli. The Vancouver native is averaging 16:45 of ice time per game and sports an impressive Corsi-For of 57.6 percent.
In 39 games with the Bruins, Beleskey has scored seven goals and 20 points with a plus-eight rating. Spending most of his time alongside David Krejci (when healthy) and Loui Eriksson, the Ontario native is not afraid to score dirty goals and is often found in front of the net looking to pounce on rebounds.
Beleskey averages 16:10 of ice time a night and is one of only eight Bruins players to sport a Corsi-For above 50-percent.
At face value, it seems that the numbers say both players are on par with each other in terms of production. Beleskey projects for a career-high 40 points at season's end while Lucic is on pace for 48.
The Teams Around Them
It's pretty clear that Lucic's Kings have enjoyed their season more than Beleskey's Bruins.
Things are looking brighter in the City of Angels as coach Darryl Sutter has his club sitting pretty at the top of the Pacific Division with a 27-12-3 record. After an 0-3 start, the Kings have found a groove and now one of the best records in the league thanks to a stingy defense (2.14 goals allowed/game) led by 26-year-old Drew Doughty and the stellar play of goaltender Jonathan Quick.
Interestingly enough, in the 22 games Lucic has scored a point this year, the Kings are 19-1-2. Furthermore, they are 9-0-1 when the former second-round pick has scored a goal. It's impossible to ignore the correlation between his scoring and LA's success.
The Bruins also started 0-3 and have recovered to find themselves in a wild-card spot, but have struggled to find the consistency to contend for an Atlantic Division title. Their prolific offense (3.03 goals/game) and equally potent power play (28.3 percent) is somewhat tempered by the fact their defense and goaltending has been somewhat porous.
Captain Zdeno Chara and Dennis Seidenberg, Boston's two best defensemen, are not getting any younger while goaltender Tuukka Rask has looked average overall this season, though he's been better in the last six weeks.
What's The Verdict?
Now we come to the million dollar question: who's been better?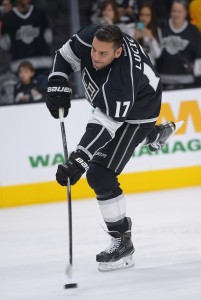 Lucic is in a contract year and has not used that to his advantage as most players would. The 6-foot-3 forward has been pretty consistent and done what the Kings need him to do: be a physical presence on the ice (team-high 141 hits) and chip in offensively.
Unlike in Boston, he has not been the focal point of the Kings. Lucic has the freedom to play his game without the added pressure that was on him during his time with the Bruins.
The reports of a potential contract extension last month suggest Lucic may be willing to take a "hometown discount" from his $6 million salary to stay in Los Angeles. Whether he actually does remains to be seen given that Kopitar is due for a new deal this summer as well.
As for Beleskey, he's locked up for another four years with a modified no-trade clause each of the next three seasons. The cap hit is a modest $3.8 million and has similar numbers to his counterpart in LA. The winger leads the Bruins in hits (138) and, as mentioned earlier, is on pace for a career-high in points.
The Kings knew they would have to give up a lot to acquire the services of Lucic. Colin Miller has looked good in his rookie season with 14 points in 31 games, while Jones was traded for what has the potential to be a top-five draft pick in June if the Sharks continue to struggle. If Kings' GM Dean Lombardi cannot find a way to sign Lucic long-term, it will be a decisive victory for the Bruins.
It's tough to ignore the similar production and contributions both players have made to their respective teams. I give the slight advantage to Lucic due to the team surrounding him and how his production has directly contributed to LA's success. Beleskey has been good but has not been as impactful as his counterpart.
However, how the Kings handle Lucic's contract talks the rest of the season could play a major role in determining who's better come summertime.
Joe is a writer covering the Boston Bruins. He is a lifelong native of Massachusetts and is currently a content writer/manager for a newsletter at a Human Services Agency. Joe can be found on Twitter: @JoeCherryTHW