In November of 2015, the Edmonton Oilers struggled to a 4-7-2 record, not much better than their October mark of 4-8. Come the end of November, the Oilers found themselves in a tie for sixth place in the Pacific Division, with the team once again failing to live up to their lofty expectations.
Related Edmonton Oilers Monthly Analysis:
Come December, the Oilers had a number of specific areas in which they needed to see continued improvement, most notably, yet not at all surprisingly, defense and goaltending.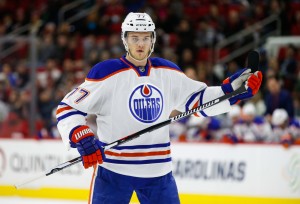 On one hand, the Oilers did see improvement, in particular in goal, with both Anders Nilsson and Cam Talbot providing Edmonton with solid, often sensational performances in order to secure wins. However, they did fail to be consistent, producing poor performances on occasion; yet in all, provided much better goaltending.
On defense, the Oilers were hampered by a number of injuries, in particular those to Oscar Klefbom and Brandon Davidson. Klefbom, who had been one of Edmonton's most dependable defenders in averaging nearly 22 minutes per game, suffered an injured hand on December 11th, and has not played since. Further, Davidson, who has been a pleasant surprise for the Oilers this season, was injured during the Oilers' 5-1 loss to Colorado on December 19th.
These injuries forced the Oilers into a number of roster moves, in particular the re-call of both Nikita Nikitin and Mark Fayne throughout December, players who thus far had failed to illustrate their true importance on the Oilers roster.
Yet, despite these setbacks, the Oilers did show improvement in December, best defined by their winning record in November despite battling a number of incredibly skilled teams. Although defense remained a weakness, Oiler goaltending improved drastically, and as a result, so too did Edmonton's team record.
---
By The Numbers – December Totals (Season Total)
December Record: 7-6-1 – 15 Points (7th in Pacific Division)
Goal Leader – Hall: 6 (16)
Assist Leader – Draisaitl: 12 (23)
Point Leader – Hall: 15 (41)
Wins – Nilsson: 5 (10)
December MVP – Hall
December Under-Achiever – Anton Lander
Active Scoring Leader – Hall: 16G, 25A, 41 Pts


---
Game by Game Recaps
Wed, Dec 2nd: Bruins vs Oilers (3-2 Win SO)
Edmonton began the final month of 2015 in style, topping the Boston Bruins on a shootout goal by Jordan Eberle. Within the game itself, Anders Nilsson was spectacular, allowing just two goals on 40 shots against, ultimately keeping the Oilers in the game. Mark Letestu and Matt Hendricks both scored for the Oilers, who held off a late Bruins surge for a hard fought win.
Fri, Dec 4th: Stars vs Oilers (2-1 Win OT)
Once again, goaltending stole the show for the Oilers, as Nilsson put forth a tremendous performance in defeating the high-powered Dallas Stars. Despite being out-shot 43-24, Nilsson surrendered just a single goal. Taylor Hall opened the scoring for Edmonton, with call-up Jujhar Khaira recording his first NHL point, an assist on the play. In overtime, Jordan Eberle sealed the Oilers win.
Sun, Dec 6th: Sabres vs Oilers (4-2 Win)
For only the second time in their young season, the Oilers extended their winning streak to three games, defeating the Sabres 4-2. Despite allowing the first goal off the stick of Jack Eichel, the Oilers stormed back with three unanswered goals. Purcell, Eberle and Hall all found the net, while Luke Gazdic scored his first of the season to seal the win. Once again, Nilsson was solid, stopping 32 of 34 shots faced.
Wed, Dec 9th: Sharks vs Oilers (4-3 Win OT)
An overtime goal by Taylor Hall, his 12th of the year, allowed the Oilers to skate away with a 4-3 victory against the Sharks. Draisaitl opened the scoring in a see-saw affair, while Eberle and Nugent-Hopkins also bulged the twine. Yet again, Nilsson was solid in net, recording his fourth straight victory by making 25 saves on 28 opportunities.
#OILERS GOOAAAAAL! OVERTIME WINNERS! #SJSvsEDM pic.twitter.com/1WdsZAqCeS

— Edmonton Oilers (@EdmontonOilers) December 10, 2015
Fri, Dec 11th: Rangers vs Oilers (7-5 Win)
In what was a tremendous display of offence, the Oilers battled with, and defeated the high-firing New York Rangers 7-5. Although Edmonton blew two separate two goal leads throughout the game, Hall and Lauri Korpikoski both scored late to seal the victory. Korpikoski had a fantastic game, recording a hat-trick, while both Hall and Draisaitl recorded four points.
Waking up with five straight wins… ? pic.twitter.com/nkMlZ2vmM7

— Edmonton Oilers (@EdmontonOilers) December 12, 2015
Mon, Dec 14th: Oilers at Bruins (3-2 Win OT)
The Oilers continued their season high winning streak with a 3-2 win over the Bruins. Andrej Sekera scored the overtime winner, while Eberle and Nugent-Hopkins also scored, allowing the Oilers to hang on despite losing a two-goal lead. Cam Talbot, receiving the start in place of the fatigued Nilsson, put on a tremendous goaltending display, stopping 47 of 49 shots.
Tue, Dec 15th: Oilers at Rangers (4-2 Loss)
Edmonton's six game winning streak came to an end in the Big Apple, despite enduring a hard fought affair. The Oilers pushed New York late in the third period, yet Henrik Lundqvist was solid when necessary, allowing the Rangers to pot an empty net goal.
Thu, Dec 17th: Oilers at Blackhawks (4-0 Loss)
Cam Talbot played an exceptional game in Chicago, yet the Oilers simply could not beat a sharp Corey Crawford, drooping a 4-0 decision. Despite the score, the Oilers in fact played quite well, peppering the Blackhawks net-minder with quality chances yet failing to supplant a far superior Chicago team.
Sat, Dec 19th: Oilers at Avalanche (5-1 Loss)
It was a rough night for the Oilers in Colorado, where they failed to compete for a full 60 minutes. The Avalanche gained a 3-0 lead mid-way through the second period, yet the Oilers ran into tough goaltending in the form of Semyon Varlamov, who made a number of incredible saves amongst his 40 shots against. Andrej Sekera scored the lone Oilers goal, while Nilsson was saddled with the loss.
Mon, Dec 21st: Jets vs Oilers (3-1 Win)
The Oilers got back into the win column with a 3-1 victory over the Winnipeg Jets, largely in part to the superb goaltending of Talbot, who made 44 saves while allowing a single goal. Teddy Purcell scored two goals in the opening period within two minutes, while Justin Schultz recorded his first of the season to secure victory.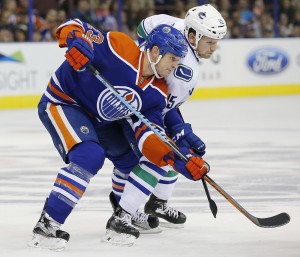 Sat, Dec 26th: Oilers at Canucks (2-1 Loss OT)
Unfortunately for Edmonton, their victory over the Jets would not be the start of another long winning streak, as they lost their first game following their short holiday break. Letestu opened the scoring in the first period, yet Jannik Hansen scored twice, first in regulation, then in overtime to give the Canucks their first overtime win of the season.
Sun, Dec 27th: Oilers at Flames (5-3 Loss)
In what has become an unfortunate routine for the Oilers this season, they once again surrendered two separate two-goal leads, dropping a 5-3 decision in the latest installment of the Battle of Alberta. Benoit Pouliot scored two first period goals, yet the Flames roared back, scoring four goals in the second period.
Tue, Dec 29th: Kings vs Oilers (5-2 Loss)
The Oilers came up short against a red-hot L.A Kings teams, who jumped on the Oilers early and often, marked by four second period goals. Both Pouliot and Letestu scored for Edmonton, yet Jonathan Quick was sensational, refusing to allow another goal by making 42 saves on 44 shots. Darnell Nurse took on Milan Lucic in a spirited affair late in the first period after a hard hit by Lucic. Although Nurse did not win the fight, he received well deserved praise in sticking up for a teammate.
Thu, Dec 31st: Ducks vs Oilers (1-0 Loss)
The Oilers ended 2015 on a sour note, losing their third consecutive game while being shutout by the Anaheim Ducks. Ryan Getzlaf's third goal of the season, which came in the first period, stood up as the eventual game winner, as the Oilers failed to beat John Gibson who stopped all 21 shots he faced. Cam Talbot was solid for Edmonton once again, allowing just one goal on 35 shots against.
---
Instant Analysis
Although the Oilers were able to put together a winning record in December of 2015, there remains a number of areas which still require major improvement. Of course, we all know that defense and goaltending have been the Oilers' Achilles heel for years now, and they once again were of detriment to team success.
However, there were fair reasons behind these issues in December. On defense, both Oscar Klefbom and Brandon Davidson, the latter of which was a welcome surprise this season, both suffered injuries and missed considerable amounts of time. As a result, the Oilers defensive depth, or perhaps lack thereof, was thoroughly tested.
In goal, there was notable improvement once again. In November, Nilsson emerged as the Oilers' go-to starter, and he carried his solid play into December, where he picked up five of the teams seven wins. He was also instrumental to the Oilers' six game winning steak, stealing a few wins which the Oilers surely did not deserve. On the other hand, Cam Talbot also played well, as he was given considerable playing time towards the end of the month. Sure, both goaltenders had a select few poor outings, but in general, both were essential to the Oilers success in December.
One major issue which continues to plague Edmonton however has been their compete level. Throughout December, the Oilers put together a few games in which they played their best in all 60 minutes, and as a result, they were able to defeat teams such as the Bruins, Stars and Rangers. However, they also failed to compete throughout entire games, an as a result, dropped lop-sided decisions to teams of lower caliber.
In the New Year, the Oilers must resolve to compete from the start, straight through to the end of all of their games. If they are able to produce a consistent compete level on a nightly basis, they should be able to once again post a winning record, especially so considering five of their 11 games in January come against the Eastern Conference, where they have had a surprising amount of success in recent history.