The decision by Sharks head coach Peter DeBoer to split up regular linemates Patrick Marleau and Logan Couture is without a doubt the wisest move he's made this season. While only one game has been played thus far with Marleau, Couture and Joe Thornton each centering their own line, it was as successful of a game as you could ask for. The Sharks spanked the Toronto Maple Leafs 7-0 and essentially every depth forward that needed to break out of a slump, scored.
By spreading out three top-six caliber centers on three different lines, the Sharks make it much tougher for opposing coaches to match up their defense pairs. Clearly, Thornton and Joe Pavelski will see the top defense pair but do opponents use their second pair against Malreau and Joel Ward or against Couture's line? In a league with ever improving parity, and a Western Conference essentially void of an easy two points anywhere on the schedule, depth scoring is increasingly crucial to success. Just a few days before the move to split up Marleau and Couture, yours truly suggested the Sharks make such a change.
#SJSharks might want to consider Thornton, Marleau, couture down the middle. 12 was good at C with 39 out. 68-19-8, 83/48-39-42, 83/48-12-27

— Andrew Bensch (@BenchWarmerView) January 6, 2016
Sharks Far Better When They Spread the Wealth
While Deboer went with different wing combinations, the three-deep center formula is the big change. Going with forward lines of this nature has been the key to arguably every single significant winning stretch the Sharks have enjoyed over the last six seasons. As noted prior to last season, the Sharks have been far more successful when Pavelski was playing third-line center behind Thornton and Couture. Last season and thus far this season with Pavelski, Marleau, Couture and all the top guns playing on the top two lines, the Sharks haven't been nearly as successful. They missed the playoffs a year ago and currently find themselves on the outside looking in this year despite playing in a terrible Pacific Division.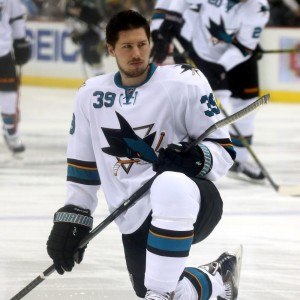 If the Sharks are going to be able to make any noise come playoffs, they are going to need to stick with this three-deep center attack. They may make the playoffs with their customary overloaded top-six, but they haven't had any postseason success in recent years without an elite player as their third line center. In the 2012 playoffs they had their worst playoff ever, just five games played with Michal Handzus and Dominic Moore as the 3C. In 2013-14, they became just the fourth team ever to blow a 3-0 series lead, losing in the first round to the Kings. In that series, the Sharks were 2-1 with the three deep formula and just 1-3 with an overloaded top-six. And finally, last season they missed the playoffs altogether without having a strong player in the third line center role.
To put it more simply, the Sharks are 15-11 in the playoffs since 2011 with a three-deep center attack. With an overloaded top-six, they are just 5-10. These records are no accidents. The more scoring depth a team has, the more successful they will be. Yet for some reason the Sharks, whether under Todd McLellan or DeBoer, have always seemed reluctant to spread the wealth over their top three lines. A combination of moving Brent Burns back to defense (all data suggests this to be a major mistake) and being too stubborn to move Pavelski/Marleau away from Thornton/Couture has caused a team to be overly reliant on their top players and top-six lines for offense.
This isn't rocket science. Overloading has been largely unsuccessful in recent years. On the flip side, while spreading out the talent hasn't gotten them a Stanley Cup, it has consistently gotten them much closer to the ultimate goal. The three-deep formula of forwards must become the Sharks default line combinations if they want to compete deep into the postseason.