Despite a multitude of changes made throughout the offseason, the 2015-16 Edmonton Oilers began their season in familiar fashion, falling to a losing record in the opening month. Although there has been obvious improvement, and as a result legitimate reasons for optimism, there remains a considerable amount of work to be done before the Oilers can realistically compete for a playoff spot.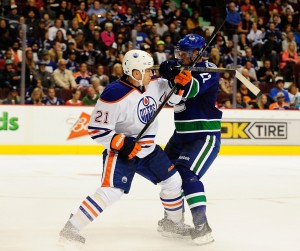 In October, there were glaring weaknesses, in particular on defense, an area which has been the Oilers' Achilles heel for a number of years now. Despite the newfound depth on the back-end, the Oilers were unable to draw consistent efforts from a number of their defencemen, an issue which cost the team dearly on numerous occasions throughout October.
However, there were a fair share of surprises early on in Edmonton, most notably so in-goal, where both net-minders, especially Cam Talbot, provided the Oilers with the opportunity to win games on multiple occasions.
Further, there has been the surprisingly strong play of highly skilled, yet young players, namely Connor McDavid and Nail Yakupov. On a line alongside Benoit Pouliot, the pair enjoyed incredible success in October, establishing and illustrating incredible chemistry in their very short amount of time as teammates.
One unforeseen issue which hampered the play of the Oilers throughout October was injuries, as Justin Schultz, Matt Hendricks, Rob Kilnkhammer and Griffin Reinhart all suffered injuries and were placed on the Injured Reserve.
---
By The Numbers – October Totals
October Record: 4-8-0 (8 Points, 5th in Pacific Division)
Goal Leader – McDavid/ Hall (5)
Assist Leader – Yakupov/ Hall (8)
Point Leader – Hall (13)
Wins – Talbot (3)
CF% Leader – Hall (53%)
CF% Low – Korpikoski (35.2%)
October MVP – Hall
October Under-Achiever – Lander


---
Game by Game Recaps
Thu, Oct 8th: Oilers at Blues (3-1 Loss)
Facing one of the Western Conference's strongest teams is how no team wishes to start the season, however the Oilers played well despite a 3-1 loss. Ryan Nugent-Hopkins was credited with the Oilers first goal of the season, which was in fact an own goal by the Blues, while Talbot stopped 28 of 30 shots in his Edmonton debut. Troy Brouwer added an empty-net goal to seal the win.
Sat, Oct 10th: Oilers at Predators (2-0 Loss)
In their second game of the season, the Oilers' offensive woes continued, as they were shutout for the first time. However, the Oilers did out-shoot the Predators 31 to 26, yet failed to beat a razor-sharp Pekka Rinne, who recorded his first shutout of the season. Again, Talbot was sharp, stopping 24 of 26 shots in the loss.
Tue, Oct 13th: Oilers at Stars (4-2 Loss)
The Oilers finally got on the board in Dallas, with both Oscar Klefbom and McDavid registering their first goals of the season, yet it was for not as Edmonton dropped a 4-2 decision. The Stars were led by Jason Spezza, who recorded a hat trick, while Kari Lehtonen was sharp when necessary. Anders Nilsson received his first start with the Oilers and stood on his head, stopping 48 of 51 shots, although there were a few goals which he certainly would like to have had back.
Here it is, folks! @cmcdavid97's first NHL goal! ?pic.twitter.com/MiF4rMWYqS

— Edmonton Oilers (@EdmontonOilers) October 14, 2015
Thu, Oct 15: Blues vs Oilers (4-2 Loss)
The Oilers wasted no time getting to work in their final home opener at Rexall Place, scoring a mere minute into the game on their first shot. Korpikoski beat Brian Elliot to give the Oilers a 1-0 lead, yet the Blues stormed back to a 4-2 win. Taylor Hall scored his first goal of the season in the third, while Talbot made 25 of 29 stops in the defeat.
Sat, Oct 17th: Oilers at Flames (5-2 Win)
In the first Battle of Alberta of the 2015-16 season, the Oilers silenced the Flames faithful with a 5-2 win. It truly was the McDavid show on Hockey Night in Canada, as the rookie scored two goals and added an assist in his first career three-point game. Nugent-Hopkins and Hall scored their second goals of the season and Yakupov netted his first as Talbot turned away 22 of 24 shots. The win snapped a four game losing skid to open the Oilers season.
Sun, Oct 18th: Oilers at Canucks (2-1 Win OT)
In his second start of the season, Nilsson out-dueled Ryan Miller, stopping 33 of 34 shots for his first win as an Oiler, and was named the first star of the game. Yakupov scored in his second consecutive game, while Korpikoski netted his second of the season in the Oilers first taste of 3 on 3 overtime, pushing the Oilers winning streak to two games.
KorpiCLUTCHski for the win! ?#EDMvsVANpic.twitter.com/bd1O8DjCh5 — Edmonton Oilers (@EdmontonOilers) October 19, 2015
Wed, Oct 21: Red Wings vs Oilers (3-1 Win)
The Oilers won their third game in a row, and their first against an Eastern Conference opponent in a 3-1 victory over Detroit. Edmonton received sound goaltending from Talbot, who earned his second win of the season by stopping 28 of the 29 shots he faced, while Mark Letestu and Teddy Purcell both recorded their first goals of the season. McDavid continued his strong play with an incredible goal, his fourth, while his line mate Nail Yakupov picked up two assists in the win.
Fri, Oct 23: Capitals vs Oilers (7-4 Loss)
After an incredibly strong performance two nights prior, the Oilers dropped a dud against the offensively laden Washington Capitals. The 'Caps chased Nilsson mid-way through the second period, having put six pucks past him on a mere 17 shots, who was replaced by Talbot to finish the game. Evgeny Kuznetsov did the majority of the damage, scoring three goals and five points in the game. On the other hand, both McDavid and Nugent-Hopkins recorded a goal and assist in the disappointing loss.
Sun, Oct 25: Kings vs Oilers (3-2 Loss)
In a much greater effort, the Oilers came close, yet ultimately fell to the Kings in a highly competitive affair. Jonathan Quick stole the show for the Kings, stopping 26 of 28 shots, including an incredible glove save on McDavid with mere seconds remaining in the third period. Talbot was also on his game, and deserved a much better fate after stopping 31 of 34 shots. However, a late Kings power-play goal was the difference maker, and the Oilers departed Edmonton with their second straight loss.
Tue, Oct 27: Oilers at Wild (4-3 Loss)
In their first trip to Minnesota, the Oilers once again found themselves on the wrong side of the scoreboard, falling 4-3. Edmonton took the lead early in the third period thanks to the first NHL goal of Darnell Nurse, yet failed to hold the Wild at bay, who scored two goals in under a minute mid-way through the third period. Taylor Hall scored a goal and assist, while Liro Pakarinen scored his first of the season in the defeat.
Earlier this period @drtwofive sent a howitzer past Dubnyk for his first @NHL goal | VIDEO > https://t.co/1EYljl4kd2 pic.twitter.com/QeIUTxNk1G

— Edmonton Oilers (@EdmontonOilers) October 28, 2015
Thu, Oct 29: Canadiens vs Oilers (4-3 Win)
In what was quite possibly the most promising game of the Edmonton's young season, the Oilers charged back from a 3-0 deficit against the league leading Montreal Canadiens, securing a 4-3 win with a minute remaining in the third period. Leon Draisaitl, called up earlier in the day, scored two goals including the game winner to steal a much-needed win for the Oilers. McDavid added two assists, while Talbot was sharp, stopping 18 of 21 attempts for his third win.
VICTORY! #Oilers beat Montreal 4-3! #MTLvsEDM pic.twitter.com/apmqstIRYL

— Edmonton Oilers (@EdmontonOilers) October 30, 2015
Sat, Oct 31: Flames vs Oilers (5-4 Loss)
Following a late game winning goal in their prior game, the Oilers were on the opposite end of a tough result against the Calgary Flames, as Michael Frolik's third goal of the game with nine seconds remaining silenced a hard-fought comeback. Both Taylor Hall and Leon Draisaitl recorded three-point performances, while Brandon Davidson scored in his second consecutive game to help threaten overtime. Cam Talbot allowed five goals on 32 shots against in the loss.
---
Instant Analysis: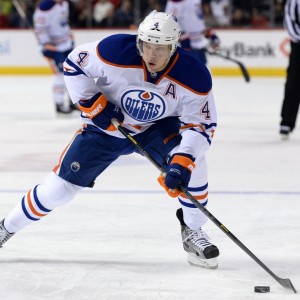 The Oilers' opening month of the 2015-16 season can best be described as incredibly inconsistent. After opening the season with four consecutive losses, the Oilers strung together three straight wins against tough competition. However, the Oilers then struggled once again, winning just one of their final five games in the October.
Although they received great production from their top forwards, the majority of which assembled impressive point streaks, the Oilers have yet to solve their seemingly perpetual issues on defense and in goal. Fortunately, Nurse has played exceptionally well since his re-call, so too has Davidson.
However, the Oilers' depth defenders, namely Mark Fayne, Andrew Ference and Eric Gryba have struggled to find consistency, an issue which has resulted in numerous, typically unnecessary goals against.
Realistically, if not for a few bed decisions and weak late goals, the Oilers could have undoubtedly emerged from October with a .500 or greater record.
Moving into November, the Oilers must continue to add further focus to their defensive game. Offense will never be an issue for the current roster in place, and such was displayed in October. However, if the Oilers wish to see improvement in November, they will need to cut down their goals against; their 39 in October was the third most in the NHL.
Here is the Oilers' schedule for November: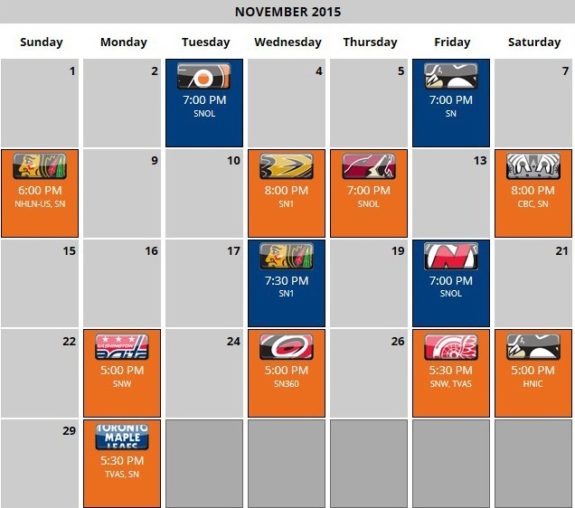 Eight of the Oilers' 13 games come against Eastern Conference teams, an area in which Edmonton has played extremely well in recent years.
Brett Slawson is a four-year veteran of The Hockey Writers who covers the Toronto Maple Leafs, NHL prospects, and the OHL's Mississauga Steelheads.
Contact Brett on Twitter @brettslawson92, or by email at brett_slawson@hotmail.com.