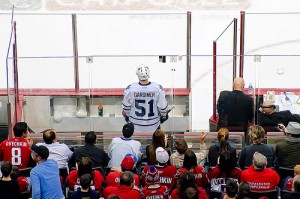 The Calder Trophy is awarded by the Professional Hockey Writers' Association each season to the NHL's top rookie. Since its creation in 1936, the Calder Trophy has always been one of the most interesting of all the NHL awards.
This year, several players are vying to be named the league's top rookie.
Names such as Ryan Nugent-Hopkins, Gabriel Landeskog, Adam Henrique and Matt Read have been mentioned as potential candidates time and time again during the course of the 2011-2012 regular season. All four of them, as well as many others, are certainly worthy of the award, but there is one name that has hardly been brought up once.
That name: Jake Gardiner.
Gardiner is quietly having and outstanding rookie season with the Toronto Maple Leafs. His offensive numbers are impressive; two goals and 17 points in 47 games always jump off the page for a rookie two-way defender. It's his play without the puck and with the puck in his own end that has really impressed just about everyone, though.
Of all Leaf defencemen, Gardiner has arguably been the most consistent and reliable this season. He never seems to panic when under pressure and almost always makes the smart play to relieve it. Perhaps one reason why he has this ability is his tremendous skating. Some have even compared him to Scott Niedermayer in that, as well as many other regards.
This has all made Gardiner a tremendous asset to the Leafs' special teams. His offensive abilities can wow you, while the intelligence that he displays in his own end is second-t0-none. He has been rewarded with playing time on both the power play and penalty kill; he has played a total of 84:43 shorthanded minutes and 87:04 power play minutes, both of which put him third out of all Leaf defenders.
Take a look at some of what Gardiner has been able to accomplish statistically through the first 47 games of his NHL career:
Fifth on the Maple Leafs in blocked shots with 58.
Averages 20:59 of ice time per game.
Tied for the team lead with a plus-nine rating.
Leads all rookie defencemen in points with 17.
A 21 years of age, Gardiner has accomplished all of this and more after playing collegiate hockey last season. People must also keep in mind that you would have been hard-pressed to find anyone before training camp who would tell you that they expect Gardiner to make the Leafs' roster. Now past the halfway point of the regular season and officially into the second-half drive, not only did Gardiner make the team, but he has stayed on it.
So it's clear; Gardiner has been outstanding this season for the Maple Leafs and should be considered for the NHL's Calder Trophy. The only question is, why hasn't his name been mentioned? Probably because, despite his well above-average play this season, the odds aren't all that great.
Since the 1997-1998 season, only two defencemen (Barret Jackman and Tyler Myers) have won the award. Now put him against the likes of Nugent-Hopkins, Landeskog, Henrique and Read this season, and you should be able to understand why he isn't likely to take the Calder Trophy at the end of the season.
Nugent-Hopkins has been tearing it up offensively for the Edmonton Oilers, Landeskog has been more solid both ways for the Colorado Avalanche, Henrique came out of nowhere to gain top-line minutes at times with the New Jersey Devils and Matt Read has somehow managed to put up 32 points in 50 games on a stacked Philadelphia Flyers team.
"Unlikely" isn't "won't," though, meaning Gardiner still has a shot. He certainly deserves to be one of the finalists, but will he even gain consideration? Maybe with a strong playoff run and a few more points, but until then, no matter how well he plays defensively, it looks like it's going to be a different outstanding rookie who will take home the honours.
Twitter: @LukasHardonk | Email: lukas.hardonk@gmail.com | Lukas' archive
For every Leafs article on THW, follow @THW_MapleLeafs on Twitter.