Jeremy Roenick deserves to be known universally as one of hockey's most admirable figures. As an NHL analyst for NBC Sports, Roenick and his passionate persona has been both embraced and criticized. But with all things considered, the Boston native warrants applause and praise for being the human being that many might be unaware of.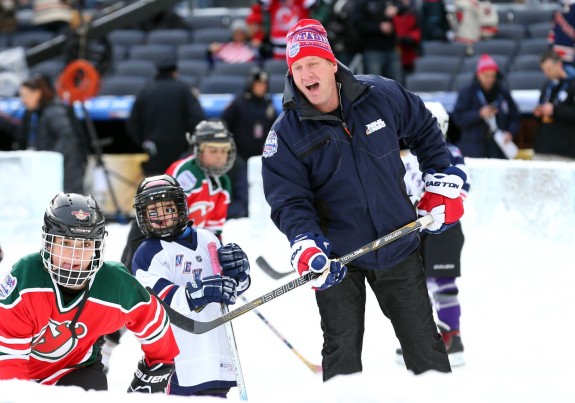 Fan Interaction
Although fan support is vital for any professional league's success, it doesn't change the fact that they're businesses. And with players growing in popularity, privacy is valued by high profiled individuals, and rightly so.
Nobody understands this better than Jeremy Roenick. Since becoming the third U.S.-born player to score 500 goals, Roenick has become one of hockey's most recognizable names throughout a career that spanned two decades. The former center finished an illustrious career with 566 goals and 772 assists for 1,338 total career points. But even with a Hall of Fame career under his belt, Roenick has remained one of the game's most down-to-earth figures.
Roenick's character was shaped early in his life as his mother, who was active in local charities while Jeremy was growing up, was a steady influence throughout his life.
"My mom was always big with giving to charities and donating and I was always tagging along and helping her put together gift bags or gift baskets for charities and fundraisers," said Roenick. "My mom was very charity friendly when I was a child. She gave back like crazy and did everything for everyone else except for her."
While Roenick was being shaped by his mother, a small gesture from a hockey great also left a lasting impression. While attending a Hartford Whalers game at the age of seven, an encounter with Hall of Famer Gordie Howe stuck with Roenick, and has lasted to this day.
"Gordie Howe picked up a whole bunch of snow on his stick and dumped it on my head," recalled Roenick. "I thought that was the coolest thing that ever happened in my whole life. Then he skated around and he looked at me again and he winked.
"For those three seconds, it was me and Gordie Howe and nobody else. … That's a gift that was given to me that I made sure I did every single day."
Roenick's fan friendliness did not end with his career, however. While corresponding for this past season's Stadium Series festivities in Los Angeles, Roenick gave a certain group of kids a memory similar to the one Gordie Howe gave him. The playful events were captured on video, as the children swarmed the playful Roenick to the ground.
"Jeremy Roenick has, by all accounts, become the star of the NHL Stadium Series game in Los Angeles on Saturday. Between interviewing Brian Wilson and hanging out with KISS, Roenick has stolen the spotlight numerous times.

"Unfortunately his night ended terribly when he was assaulted by young hockey fans." — SB Nation
While being playful with children is noble and praiseworthy, Roenick deserves our admiration for the way he relates to everyone else. On several different occasions, Roenick took time out of his golf game to oblige fans with odd requests; oddly enough, these inquiries involved "punching," and not the kind that involve getting a golf ball out of the woods.
On one occasion, Roenick agreed to allow an eager fan to punch the esteemed figure in the face as his buddies recorded it. Strangely enough, this wasn't the first time Roenick willingly allowed someone to punch him in the face. Both instances can be seen below.
The other occasion shows a fan who asked Roenick to do the punching. While the request may seem odd, especially since Roenick made his living in an environment where punching was as common as applying deodorant daily, the fan received his wish as Roenick gave him a love tap on the chin. The punch was later documented with a video as well on Deadspin:
"Roenick has made a game out of this on the Dan Patrick Show, but he's usually the one taking the punches. On Saturday, when he was walking off 17, we yelled "Jeremy please punch our friend in the face!" and he lunged, but didn't throw the punch. On 18, as he was walking to his drive, we asked him again, and he motioned for my friend to come over. We hopped under the rope and this happened. We're hoping to make this into a tradition, at least until my buddy develops CTE."
Enhanced Involvement
Jeremy Roenick deserves to be cheered for not only connecting with fans in a one-on-one setting, but also through means of social media as well. While it may be tempting to lash back at the negative words that are hurled at every member of the public spotlight, Roenick takes time out of his busy schedule to give thanks for those who have nice things to say to him.
Here is a Twitter conversation, which begins with yours truly poking fun at the charismatic personality.
Roenick on Fleury, "He doesn't like to let his team down." Gee, I guess that sets him apart from those who do. #Pens #NYR #NHLonNBC

— Andy Dudones (@ADudones) May 5, 2014
@ADudones @bubblezdapirate thx Andy. Nice thing to say

— Jeremy Roenick (@Jeremy_Roenick) May 5, 2014
Anyone who isn't likable could've seen the initial jab as reason enough to ignore a person engaging them in a conversation, especially on social media. But not Roenick, who lamented his label as a genuine figure who cares about people.
But for those who will point out to Roenick's criticism of certain players or fan bases on Twitter, or even on television, it's important to understand that he's an analyst, and that's what analysts do; they analyze the game, including players and fans. Roenick has even done his share of criticizing the NHL officials, especially throughout this year's Stanley Cup Playoffs. But whether you agree with his opinions or not, it shouldn't sway one's opinion on Roenick being the likable people person that he is.
Entertaining on Television
Roenick's mini-feud with colleague Mike Milbury is well documented, and has turned to anything but serious. While the two are subjected to a multitude of negative judgements from fans, Roenick's working relationship with Milbury, as well as other associates, such as Keith Jones, shows an accomplished athlete who enjoys having fun with those around him.
Although Roenick and Milbury engaged in a past debate that would make The O'Reilly Factor discourse look cordial, the two have developed a playful and pleasant working relationship. Here is a segment where the two passionately interrupted each other on the topic of hits resulting in concussions in the NHL:
Roenick's authenticity was also seen after the Chicago Blackhawks captured their first Stanley Cup in 49 years. Roenick became emotional as he congratulated the Blackhawks, a team he was a member of for six seasons.
When Dan Patrick asked why he was emotional, Roenick responded, "It's the Chicago Blackhawks, man. I didn't get to do that. It's pretty unbelievable."
While many criticized or laughed at Roenick for tearing up on live television, the emotion that was demonstrated exhibits how badly he wanted to deliver a Stanley Cup to the city he once played for. Where I come from, a person who is genuinely happy for others who experience success is a good person; and that's exactly what Jeremy Roenick is. Like all of us, he's not perfect. But Jeremy Roenick deserves recognition for being one of the game's most energetic and favorable personalities.
NBC Sports is as lucky as we are to have him.