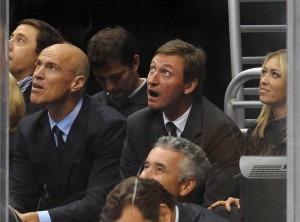 Amidst yet another slow start to a season, the Edmonton Oilers management almost made a major managerial mistake within the organization.
Mark Messier, a six time Stanley Cup champion, five of which with the Oilers and a member of the Hockey Hall of Fame, was largely considered by Oilers management to replace current head coach Dallas Eakins.
Considered by many as one of the best Oilers of all-time, Messier, currently a consultant with Edmonton, had been rumoured to be a top candidate for NHL coaching positions, most recently with his former Vancouver Canucks and New York Rangers.
However, the Oilers decided to not make such a drastic coaching change for the time being, as such a decision which would have disastrous to the current Oilers team which has spent more than a year acclimating themselves to Eakins' fitness based, defense first style of play.
Consistency is the Name of the Game
Since the departure of Craig MacTavish following the 2008-09 season, the Oilers have endured a carousel of coaching changes. In the past five seasons prior to the start of 2014-15, the Oilers have had four different coaches, and with them, four different styles of hockey Oilers players have been forced to learn.
Pat Quinn, Tom Renney, Ralph Krueger and now Dallas Eakins, a trend with zero consistency that does not allow a team and its players to fully grasp and implement a coaches playing system.
When looking around the NHL, it is coaches who have been with their teams the longest that tend to be the most successful. This is because a long tenure allows for a coach to fully implement and perfect a desired style of play within their respective teams.
For example:
Mike Babcock (Detroit Red Wings): Coach Since: 2005 | Winning Percent: .654% | Stanley Cups: 1
Claude Julien (Boston Bruins): Coach Since: 2007 | Winning Percent: .637% | Stanley Cups: 1
John Quenneville (Chicago Blackhawks): Coach Since: 2008 | Winning Percent: .655% | Stanley Cups: 2
Todd McLellan (San Jose Sharks): Coach Since: 2008 | Winning Percent: .654% | Stanley Cups: 0
These coaches are currently the longest tenured coaches in the NHL, and as a result, have garnered the most success.
Therefore, it would clearly be a mistake for the Oilers to make a coaching change early into Dallas Eakins' second season with the team. To this point, Eakins is still teaching his players how to play an accountable, defensively responsible style of hockey.
Given Edmonton is such a fantastic hockey market, the desire to win as soon as possible is understandable, yet is unsustainable. All fans, including Oilers fans, want to support a great team year in and year out, and although it is painful at the moment, the coaching system currently in place, if given time to develop, will allow the Oilers to do exactly that.
It is an unrealistic thought that the arrival of a new head coach, such as Mark Messier, could turn around a teams poor play in an instant. An NHL team with a relatively new head coach requires time to acclimate itself to a new style of hockey, an enduring process which is ultimately beneficial in the long run.
Great Players don't Necessarily make Great Coaches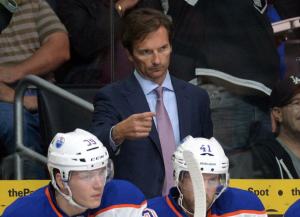 Case in point, Wayne Gretzky.
Yes, being a great NHL player means you have a superior understanding of the game, yet it does not necessarily mean that you have the ability to teach and implement a desired, successful style of play.
Gretzky, who by common knowledge is the best player to ever play the game, is a prime example of this. In his four seasons spent coaching the now Arizona Coyotes, Gretzky failed to reach the playoffs. In total, Gretzky's winning percentage surpassed .500% in only one season, while his career winning percentage as a coach was a mere .472%
At the end of the day, Oilers fans should be pleased that Dallas Eakins is still the head coach in Edmonton.
As we have seen, the key to building a successful NHL team over the long term starts with consistency behind the bench. A long tenured coach is able to successfully teach his players how to win, and can help players make adjustments to their playing style along the way.
The quick fix idea of bringing in a former star player to coach an NHL team is a decision which has gone down in flames on more than one occasion in league history. The belief that a former star player can step in and make drastic changes which result in a reversal of a teams play is simply unrealistic and is not a path the Oilers can take if they hope to be competitive on a consistent basis.
Brett Slawson is a four-year veteran of The Hockey Writers who covers the Toronto Maple Leafs, NHL prospects, and the OHL's Mississauga Steelheads.
Contact Brett on Twitter @brettslawson92, or by email at brett_slawson@hotmail.com.