The last 12 months of hockey for Chris Kreider were a whirlwind. At this time one year ago, Kreider was sitting in a classroom, and preparing for his junior season at Boston College.  The 2011-12 season was a memorable one for the 21-year-old. Kreider recorded 45 points in 44 games for BC, while helping them win a NCAA title. And that wasn't enough for the Rangers' first round draft pick in 2009, as he signed with the Rangers just before their playoff run.
Although there were some who weren't sure how big of an impact Kreider would have on the Rangers in the postseason (myself included), he silenced those critics by scoring five goals in 18 games.
After Kreider's outstanding performance in the playoffs, both the Rangers' organization and fans alike can't wait to see what he will do going forward. Rangers head coach John Tortorella spoke with Stan Fischler from MSG.com a few days ago, and talked about working with the rookie this season.
"I'm really anxious to see how Chris does in camp," the Rangers' head coach told Fischler. "I'll do a lot more coaching with him than I could do during the playoffs. He's got to learn to be a pro and not miss any steps along the way. Plus, I want him to get to know me."
Under Tortorella's watchful eye, there's a very good chance that Kreider will do something that no Ranger has done since fellow BC product Brian Leetch in 1988-89: win the Calder Trophy as the NHL's Rookie of the Year.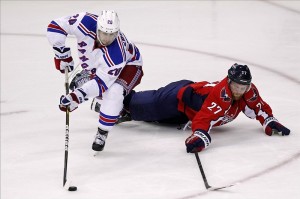 There are a number of impressive players in this year's rookie class, such as Edmonton's Nail Yakupov, Florida's Jonathan Huberdeau, and Columbus' Ryan Murray. However, Kreider has a few advantages on them.
One of those advantages is that even though Kreider has yet to play in a regular season NHL game, he has the experience of the Rangers' playoff run last year. Despite not having any NHL experience, Kreider stepped right into the lineup for a Rangers team that finished atop the Eastern Conference in 2011-12 and didn't look out of place.
Kreider didn't look out of place in the playoffs because of another advantage that he has on some of the other rookies in the league: his physical ability. Kreider's impressive performance in the playoffs was due in large part to his unique combination of size and speed.
The 21-year-old is listed on the Rangers' official website as 6'3" and 230 pounds. He already has the size of an NHL veteran, and his skating ability and quickness could already be among some of the best in the league.
Kreider's ability last year forced Tortorella to give him an opportunity among the Rangers' top-six forwards in the playoffs. Even though some his fellow rookies will get a chance to be in their team's top-six rotation of forwards, particularly Yakupov and Huberdeau, the top-six rotation that Kreider is amongst in New York is one of the best in the league.
Throughout the season, the BC product will get a chance to be on a line with some combination of Rick Nash, Brad Richards, Marian Gaborik, Ryan Callahan, Derek Stepan, and Carl Hagelin. By playing with these players on a team that is already built to win, Kreider will get many scoring opportunities, and won't have the pressure of having to the go-to-guy offensively. Although, even if he isn't looked at as the go-to-guy, his numbers at the end of the year could say otherwise.
As mentioned before, everybody associated with the Rangers can't wait to see what Kreider will do in 2012-13 and the years to come. The only hardware that the Rangers are focusing on heading into training camp is the Stanley Cup, which is how it should be. But, it certainly wouldn't disappoint anyone in the organization (or surprise anyone either), if Kreider is chosen as the NHL's Calder Trophy Winner next June.