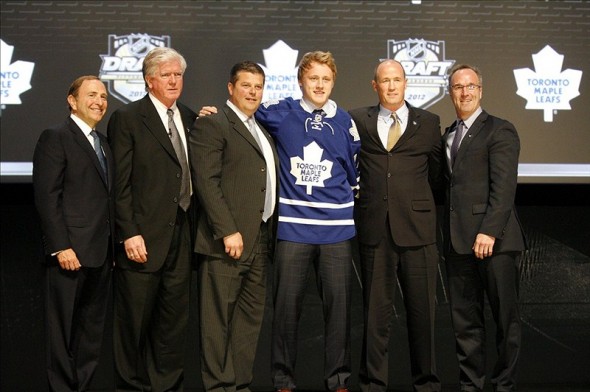 Toronto Maple Leafs defence prospect Morgan Rielly is having a tremendous season with the WHL's Moose Jaw Warriors and he is certainly putting on a show at the 2013 World Junior Hockey Championships. You would think that would be enough for the Maple Leafs to welcome him on to their roster if the lockout ends in time to salvage part of the 2012-2013 NHL season, but it is not.
For the sake of a fair argument, let's begin with the positives of how Rielly has played this season.
The 18-year-old Leafs prospect has had a nice bounce back campaign in 2012-2013 after playing in just 18 games before suffering a devastating knee injury last season. Rielly has notched seven goals and 28 points in 33 games this season, making him the eighth-highest scoring blue liner in the league.
Not only has he succeeded in his own league but he is also proving his worth on the international stage with Team Canada, having managed four points and a plus-three rating in two games thus far. As everyone knows, representing Canada at the annual World Juniors tournament goes with plenty of expectations, something that Rielly has handled well. That is tremendous news for Leafs general manager Brian Burke and head coach Randy Carlyle, who will need to be able to rely on him at times in a pressure-packed hockey market.
Now let's think; if the NHL season had started on time, the Maple Leafs brass would not have known how Rielly would play at the junior and international levels this season. So let's remove all of the above positives from the situation and consider the Leafs' other options─realistically there are three others─all of which would have been more safe back in October: Mike Kostka, Jesse Blacker and Korbinian Holzer.
There seems to be little chance of Mike Komisarek seeing much NHL time once the league begins play, with the possibility of an amnesty buyout looming (there is no doubt he would be the Leafs' amnesty choice).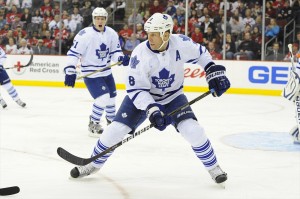 Cody Franson is in a similar situation as Komisarek. Franson is not under contract with the Leafs although it is believed the two sides will resume contract negotiations once a new collective bargaining agreement is agreed upon.
With that, the Leafs have five spots on defence filled. The team's depth chart on the back end should look a little something like this once hockey is a go:
John-Michael Liles – Dion Phaneuf
Jake Gardiner – Carl Gunnarsson
???? – Mike Komisarek/Cody Franson
Who would fill that third pairing position: Rielly, Kostka, Blacker or Holzer? There is no doubt the best options are Kostka, Blacker and Holzer, with the latter possibly being the best choice.
Holzer is slowly but surely coming around for the Leafs. They have shown to be believers in Holzer by calling and recalling him up to the big club on multiple occasions, even giving him time to play in a couple games during the 2010-2011 season. His skating and physical style of play will help him make a strong case to be on the Leafs' roster when the time comes. The fact that he has more experience than Blacker and Rielly doesn't hurt either.
Blacker is another Leafs defence prospect who is just about ready to make the transition to the big show. As Billy Courtice of the National Post wrote back in January, Blacker is really making his stamp with the Marlies. Once considered trade bait by some, Blacker is now seen as a untouchable defence prospect.
Finally there is Mike Kostka. The 27-year-old defenceman has 28 points in 29 games in his first season with the Marlies, making him the third-highest scoring defenceman in the American Hockey League. Just how much the Leafs believe in Kostka has yet to be seen as they have not had a chance to show the fans and media what they think of the late blooming defenceman, a seasoned AHL veteran.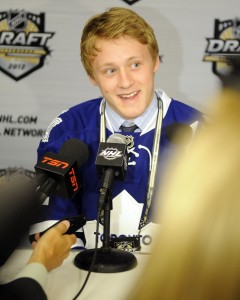 If you would like to compare the experience of these three over Rielly, especially Kostka, then let's put this all into perspective: Rielly would have recently attended his high school prom this past summer. Throw him into the NHL? No.
It is not just relative experience that is holding Rielly back, though. We also have to look at the developing Rielly has yet to do. He appears to be well on his way to becoming a regular NHL defender, but he doesn't quite yet have the defensive talents to hold down a spot in the NHL.
The concern here, even after a solid performance in junior hockey and playing well in the World Junior tournament up to this point, is that throwing Rielly into the NHL would cause him to be exposed defensively as he continues on his path of development. This is what we saw with Luke Schenn, who began his NHL career on the right foot given his age but was never able to fully shape his talents the way he was expected to in Toronto. This, of course, led to his trade to the Philadelphia Flyers.
At his age, nothing should be a lock for Morgan Rielly when it comes to his NHL career; he has yet to even step foot on the ice for an NHL training camp. Because of that, good play at the junior and international levels should not guarantee him a spot with his NHL team, especially when there are other options for the team to look into.
Twitter: @LukasHardonk | Email: lukas.hardonk@gmail.com | Lukas' archive
For every Leafs article on THW, follow @THW_MapleLeafs on Twitter.
Check out Maple Leafs Central, a THW Network site.