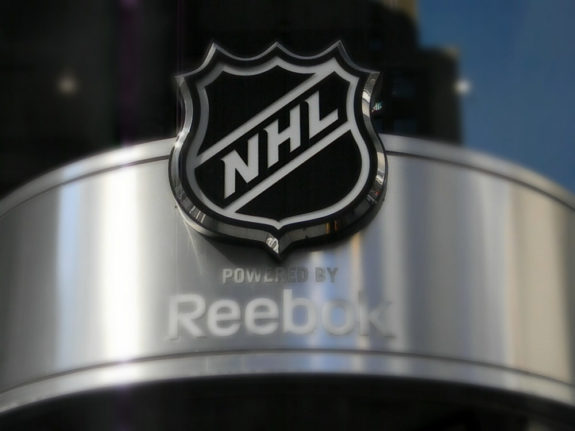 With a new CBA proposal from the NHL firmly in the hands of the NHLPA, there is once again hope that the 2012-13 NHL season will finally commence.
While not perfect, the latest proposal demonstrates a willingness by the NHL and the owners to once again sit down at the negotiation table, which is a step in the right direction.
Early indications suggest the NHL and NHLPA will have a conference call on Saturday, followed by a face-to-face meeting on Sunday. There will likely be plenty of negotiating to do on both sides, but at least they will be talking.
Here's a look at some of the findings in the latest proposal:
Ability for Clubs to retain/allocate Salary and Cap Charges in the context of Player Trades within specified parameters.
Toronto Maple Leafs general manager Brian Burke has long endorsed the idea of allowing teams to trade cap space. The ability to trade cap space would allow more movement at the trade deadline, which is severely limited right now.
Modification to "Four-Recall Rule" to remove limitation on "number of transactions" following the Trade Deadline; replace with limitations on the total number of Recalls on roster at any one time after the Trade Deadline.
The modification of the "four-recall rule" is another area Burke has endorsed. This would make it easier for teams to augment their rosters after the trade deadline.
Implementation of a weighted Draft Lottery in which all non-Playoff teams compete for opportunity to choose first overall in the annual Draft.
This could be good for all teams involved. Despite measures to ensure all NHL teams compete at the highest level for the entire 82-game season, there are still whispers that some teams are "tanking" at the end of the season in order to secure a better draft position.
Allowing every non-playoff team to have a shot at the first overall pick would all but eliminate any suggestion of "tanking". Of course, it would make it more difficult for the lesser teams to rebuild, but it would also put more focus on player development and proper scouting, which has been so important since the salary cap was instituted.
Allowing all the non-playoff teams to get a shot at the number one pick would be a step in the right direction. Heck, why not go a step further and give every team a shot at the number one pick?
Improvements to existing Performance Enhancing Substances Program, including but not limited to the expansion of Prohibited Substances List to include illegal stimulants.
This is long overdue. While the issue of substance abuse is not widespread there are cases where it gets out of hand, ultimately resulting in the death of several NHL players.
Increased testing for PED's and illegal substances is in the best interest of the players, owners, and the game of hockey. The bottom line is that drugs have no place in the game of hockey; the implementation of this program will help ensure players stay clean and identify those in need of help at an earlier stage.
Each club will be entitled to execute up to one "Compliance Buy-Out" prior to the 2013/14 season pursuant to which payments made to the Player will not be charged against the team's Cap, but will be charged against the Players' Share.
Just about every NHL team would like a mulligan on at least one contract. In Toronto the likes of Mike Komisarek might be on the chopping block, in Montreal Scott Gomez would likely be on the way out, while the New York Islanders would have to consider using this clause on goaltender Rick DiPietro.
Of course, the players will not want the buy-out to count against their share, but you can't have everything.
Formation of new "NHL/NHLPA Equipment Working Group" to study, promulgate and enforce minimum standards for protective equipment utilized by NHL Players.
Forming a group comprised of representatives from both the NHL and NHLPA to study equipment is a no-brainer.
More robust League-wide Revenue Sharing Program (increased pool from approximately $150 million to $200 million) with creation of Industry Growth Fund to improve the long-term revenue generating potential of the League and low-grossing Clubs. Formation of active Revenue Sharing Oversight Committee on which NHLPA will participate.
Given the state of some of the NHL franchises finances this is badly needed. The goal of the players and the owners should be to have a strong league from top to bottom; league-wide revenue sharing and the creation of the Industry Growth Fund should help the bottom feeders.
Clubs can operate with an effective Upper Limit of $70.2 million in 2012/13; must come into compliance with $60 million Upper Limit for the start of the 2013/14 season.
This would be a steep decline, one which may be objected to by the players and some of the owners who currently run their teams at or near the cap limit.
Ten-Year Agreement (through 2021/22 season); Parties have mutual opt-out right after 8 years.
You cannot be going back to the negotiating table every 5-6 years; therefore, a ten-year agreement with a mutual opt-out after eight years seems reasonable.
$300 million in "Make-Whole" payments (outside the system) to compensate Players for the reduced value of Player contracts in the early years of the new CBA.
No contractual "roll backs" of Player Salaries.
 The NHLPA has fought hard for this. If the owners are willing to implement a $300 million "make-whole" it would be a huge victory for the players, and a sign that the owners are willing to give back. The inclusion of no contractual "roll backs" is yet another huge achievement for the players.
Maximum contract length of 6 years subject to a Club's ability to re-sign its own Player for a term of up to 7 years (provided the Player played his last full season with the re-signing Club). In addition, year-to-year Salary variability will be limited (up or down) to no more than 10% of the value of the first year of a multi-year SPC.
The NHL said they would "die on the hill" on this issue and have now moved off of their maximum five-year deal. On the surface, this one looks to be a sticking point for the players. They do not want to be held to a maximum salary or number of years, but with the League giving back on this issue the players may be willing to bend somewhat.
How many players actually have contracts over six or seven years? According to capgeek.com, there are currently 42 NHL players with contracts of seven years or more, most of which are elite players.
With that in mind, maybe this is something the NHLPA would consider. After all, the stars of the game will always get their money and their teams will always have a leg up on the competition when it comes to re-signing them.
Joint (NHL/NHLPA) Committees, including but not limited to the formation of new "Owner-Player Relations Committee," with broad-based participation from Owners and Players intended to foster and establish better understanding and stronger working relationships.
This would give both sides the opportunity to have an on-going dialogue to discuss any issues, which should make the negotiating process a lot less painful next time around.
Addressing issues at an earlier date would give both sides more time to implement changes and establish a much needed working relationship.
Let's face it, both sides distrust the other; perhaps this committee would change this over time.
The key to all of this is that the NHL and NHLPA abandon their collective "take it or leave it" stance and actually sit down and negotiate.
Clearly, if this latest proposal is simply dismissed, there is no hope in H-E-Double-hockey-sticks that a new CBA will be formed, which will mean no hockey in 2012-13.
Here's hoping cooler heads prevail and both sides find a way to compromise.