Guest post by Eldon MacDonald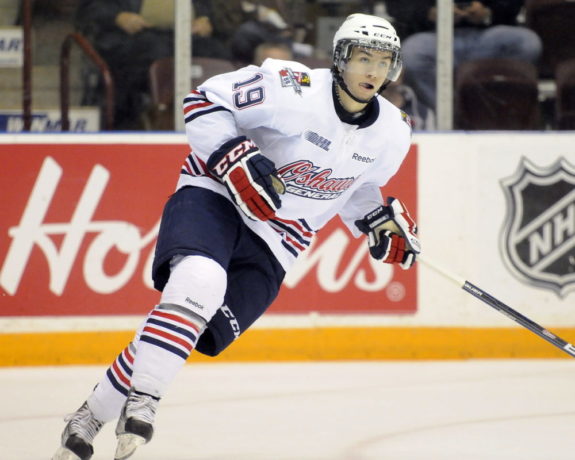 This is the last in a series of nine postings of the top 90 prospects for the 2013 NHL draft.
Background
1. Round 3, about a 24% success rate: The historical success rate for players ranked in round 3 is 24%. This means that in a normal year 7 to 8 of the players below aren't going to make it as an NHL regular.
2. Vitals: The vitals reading left to right are:
Shoots
Position
Height and weight
Birth date
Citizenship
League
Team and player number
3. Rankings: Check out some of the web sites listed below if you want a different perspective on the rankings:
Round 3 –81 to 90 – Historical success rate of about 24%
81. Motte, Tyler:
a – Vitals: L – LW – 5'10, 190 – 10-Mar-95 –USA– USHL –USAU18 #43
b – Rank: NHL-USA-12; THR-CR-53
c – Commentary: Mr. Leader – Great skating ability, good agility, a scorer, a hard worker, a leader on and off the ice.Tyler is a player you can count on, no matter what the situation.
82. Cassels, Cole:
a – Vitals: R – C – 6'0, 178 – 4-May-95 –USA– OHL– Oshawa #19
b – Rank: NHL–OHL-13; OHL-OHL-16
c – Commentary: Mr. Playmaker – A competitor and a playmaker like his Dad, former NHLer Andrew Cassels. Cole is more a two-way player than his Dad. Will likely be a third-line at higher levels as he exhibits good defensive instincts and plays fairly physical for a player his size. Needs to add weight and strength to continue to be effective at higher levels.
83. Maletta, Jordan:
a – Vitals: R – RW – 6'3, 215 – 30-Apr-95 – CAN – OHL –Windsor#13
b – Rank: NHL-OHL-Unranked; OHL-OHL-14
c – Commentary: The Big Body Promise – The bod that scouts love to see in a      power forward. He has decent skating skills and the hands to compliment the size component. However, Jordan needs to show a lot more consistency and determination in his game for him to deliver on the promise of that big body presence with a decent skill-set.
84. DeKort, Jordan:
a – Vitals: R – G – 6'4, 182 – 8-Aug-95 – CAN – WHL –Windsor#80
b – Rank: NHL–OHL-Goalie-4; OHL-OHL-HM
c – Commentary: Mr. Positional  – Jordan has that big body presence that NHL scouts drool over in goaltenders these days. More of a positional type goalie, Jordan possesses the calmness that top goalies need to have. Still a back-up with the Spitfires, Jordan has impressed every time I have seen him.
85. Vannelli, Tommy:
a – Vitals: R – D – 6'2, 175 – 7-Feb-95 –USA– HS MN –Minnetonka#3
b – Rank: NHL– Unranked
c – Commentary: Mr. D USA – Tommy Vanelli is a decent-sized high school blueliner who came out at the 2012 Ivan Hlinka tournament; many said he was the best defenseman for TeamUSA. The combination of skating, vision, breakout passes, defensive acumen will likely see thisMinnesota high schooler rise in the draft as the season goes on.
86. Johnson, Luke:
a – Vitals: L – C – 5'11, 178 – 19-Sep-94 –USA– USHL –Lincoln#
b – Rank: NHL-USA-8; TSN-74
c – Commentary: The Johnson Team Kid – NHL Central Scoutings David Gregory told NHL.com, "The one thing you notice right away about him is how he moves his skates, especially with the puck. He's a guy that does not change in what he does or what he accomplishes when he's skating without the puck versus when he's skating with the puck. He's very impressive that way. He gets to top speed almost instantaneously. It's not like he needs any length of the ice to get going. You have a lot of confidence in a guy translating to the next level when he has that skating ability. You're not worried about, is he able to handle the pace of the game?" Luke is the son of Steve Johnson who was drafted in the first round of the 1987 supplemental draft. His Dad also coached Lincoln from 1996 to 2006 and his uncle Chad did the same in 2010.
87. Burnside, Josh:
a – Vitals: L – LW – 5'11, 176 – 11-Feb-95 – CAN– OHL -Mississauga– #15
b – Rank: NHL-OHL-20; OHL-OHL-20
c – Commentary: Mr. Afterburner  – Speed to burn, the energy and common sense to use it effectively. He is your typical late bloomer because he played defense until recently and is just gaining junior A size. Will likely be a defensive specialist at the next level but he has also the hands to contribute offensively
88. De Jong, Nolan:
a – Vitals: L – D– 6'2 180 – 25-Apr-95 – CAN – BCHL –Victoria#6
b – Rank: NHL-Unranked
c – Commentary: Mr. Poise  – A good-sized D with the poise, hockey sense, reach,      positioning of a veteran, along with the ability to contribute offensively. Needs to be more physical to make the package work at higher levels. Won a silver medal with Canada West at the 2012 World Junior A Challenge atYarmouth,NS
89. Desrosiers, Philippe:
a – Vitals: R – G – 6'1, 187 – 16-Aug-95 – CAN – QMJHL –Rimouski#30
b – Rank: NHL–QMJHL-Goalie 2
c – Commentary:  Mr. G –1st string goalie with the Rimouski Oceanic, with a decent size, agility and ability to work in difficult in-close situations.
90. Malone, Sean:
a – Vitals: L – C – 5`11, 185 – 30-Apr-95 – USA– USHL –USAU18 #13
b – Rank: NHL–USA-14
c – Commentary: Mr. Overdrive – Sean Malone has that explosive first gear, that overdrive seemingly found only in high-performance cars and afterburner NHL forwards types. He also possesses a great pair of hands. However, what sets him apart from most is his character and drive. On the slight side, Sean needs to add some weight and strength to be able to compete effectively at higher levels.
Honourable Mentions:
QMJHL – Gravel, Maxime – D –Rimouski – R – 6`0, 182 lb.
QMJHL – Etchegary, Kurt – C –Quebec – L – 5,11, 185 lb. (injured)
OHL – Harpur, Ben – D –Guelph – L – 6`5, 208 lb.
WHL – Houck, Jackson – RW – Vancouver
WHL – Burke, Brian – G –Portland – L – 6`3, 174 lb.
SWE – Hendricksson, Alexander – W – R – Farjestad J20 – 6`2, 190 lb.
SWE – Cederholm, Anton – D – L – Rogle J20 – 6`2, 203 lb.
CZE – Kokes, Martin – D – HC Litvinov U20 – L – 6`2, 189 lb.
FIN – Aaltonen, Miro – C – Blues – L – 5`10, 169 lb.
US HS – Hill, Tyler – LW – Hotchkiss HS – L – 6`6, 225 lb.
Previously posted:
31 to 40