Guest post by Eldon MacDonald
Part 3: 21 to 30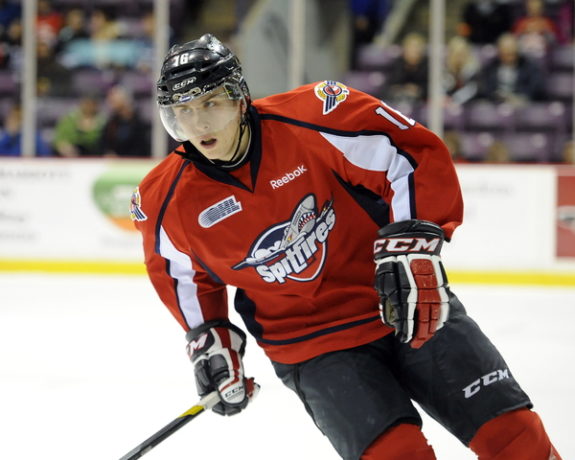 This is the third in a series of nine postings of the top 90 prospects for the 2013 NHL draft.
There are a few things that you should be aware of in the 21-30 category:
a – There is a lot of fluidity in the rankings and not much difference in the possibilities for the players in the 21 to 45 range in terms of where they get selected in Newark, New Jersey come next June. In the next couple of posts you will see that the rankings are all over the map for this group of players.
b – This 21-30 range is a group I usually fail at, if you consider failure to be that the NHL did not draft your selection in the 1st round. However, if you consider success as who will be the best NHL player in the long-term, then the results can reveal a different story. Go ahead, you be the judge: here is the list of players I ranked in the first round for the 2011 NHL Entry Draft that the NHL drafted in the 2nd round. If you click on the player's name, you will get the original article I wrote about them for the 2011 NHL Entry Draft (my ranking and where they were drafted are noted below).
(i)            Kucherov, Nikita – Me = 23; NHL = 58 to Tampa Bay; 2012-13 stats: Rouyn-Noranda QMJHL– 7-6-6-12-0(+6). I still think Stevie Y got away with one here. And yes, he is on the preliminary roster of Russia for the 2012 U20 tournament.
(ii)          Khokhlachev, Alexander – Me = 25; NHL = 40 to Boston; 2012-13 stats: Moscow Spartak KHL – 23-2-3-5-18-(-1). The jury is still out on this guy but I still like his chances.
(iii)         Saad, Brandon – Me = 25; NHL = 43 to Chicago: 2012-13 stats: Rockford AHL – 15-5-4-9-2. This guy will be in Chicago this year if we have NHL hockey this year.
(iv)         Grimaldi, Rocco – Me = 27; NHL = 33 to Florida: 12-13 stats: University of North Dakota – 14-5-6-11-6. Hasn't played much since the draft due to injury but I still believe this guy has what it takes to be an NHLer. He is on Team USA's preliminary roster for the 2012 U20 tournament so I am sure we will be seeing a lot of him just after Christmas.
(v)          Jenner, Boone – Me = 29; NHL = 37 to Columbus; 12-13 stats: Oshawa 30-27-19-46-28-(+13) – Much improved since the draft, a player who will look good in a Team Canada uniform if the NHL doesn't start up. Columbus is going to be real happy with this guy.
(vi)         Ritchie, Brett – Me = 30; NHL = 44 to Dallas; 12-13 stats: Niagara Falls 32-27-23-50-25-(+28). Ditto to what I said about Boone Jenner. One of my personal favourite prospects; Dallas has a real steal here.
c – I thought this was going to be easy but it just seems to get harder and harder to satisfy yourself that you have the rankings correct, or at least in the ball park. The two biggest question marks I had in the 21 to 30 group were Artturi Lehkonen and Valentin Zykov. With Artturi, the question came down to size as he certainly has the skills and results to be 1st round material. However, the combination of a solid body, not being a perimeter player and the fact that he has not yet completed the gym work to add weight and strength in his draft year (unlike most North American players) leads me to believe that the best is yet to come from Artturi and we will see Artturi's name called on Day One of the 2013 NHL draft. For Valentin, the question was one of consistency. He certainly has the size and skills for round one but has shown too much disparity between his best games and his average games.  However, an improved consistently of late enticed me to count him as a 1st rounder.
Background
16 to 30 has 76% success rate: This means 2 to 3 of the players below are not going to make it to the show.
Vitals: The vitals reading left to right are:

Shoots
Position
Height and weight
Birth date
Citizenship
League
Team and player number
Rankings: I have listed some alternative rankings to give you some more information so you can make your own rankings, should you wish. You should check out some of the web sites listed below if you want a different perspective on the rankings:
Round 1 – 21 to 30 – Historical success rate of about 76%
21. Dickinson, Jason
a – Vitals: L – C/W – 6'2, 176 – 4-Jul-95 – CAN – OHL – Guelph #11
b – Rank: NHL–OHL-6; CR-THW–33; HP-16; ISS-14; McK-16; THG-22; THN-25; TSN-17; OHL-OHL-5
c – Commentary: The Promise – This is a player who has shown the promise of much greater results. Tall at 6'2, slick hands with a compact stride, excellent vision, good in traffic, and can be one of those difference-maker type players. Show us the consistency and intensity, Jason, and top 10 is not out of reach.
d – Twitter: jdickinson_11
22. Lehkonen, Artturi
a – Vitals: L – LW – 5'10, 163 – 4-Jul-95 – FIN – FIN-1 – KalPa #62
b – Rank: NHL–FIN-3; CR-THW–27; HP-20; ISS-13; THG-24; THN-16; TSN-19
c – Commentary: Mr. I Score Goals – Fast, furious, loves to score goals but makes those delicious passes as well, great puck skills, small but not weak, hard-worker, and having considerable success in top Finnish men's league at 17. Oh yeah, and his vision is elite. Top goal tournament goal scorer at the 2012 World U18 Championship and he is on Team Finland's preliminary 2012 U20 roster.
d – Twitter: @arsilehkonen
23. Rychel, Kerby
a – Vitals: L – LW – 6'1, 200 – 7-Oct-94 – CAN – OHL – Windsor #16
b – Rank: NHL–OHL-3; CR-THW–18; FC-25; HP-24; ISS-20; McK-24; THG-17; THN-29; TSN-22; OHL-OHL-6
c – Commentary: The Very Good Son – Goal scorer (41 in his pre-NHL Draft eligible year), good down-low, nice hands and can play the gritty, hands-dirty game too. Started slow this year but after his line mate, Josh Ho Sang, a potential Top 10 pick in 2014, scored his first goal, the line sort of took off. How high he will go is a story yet to be told. He is the son of former NHL enforcer and Windsor Spitfire GM, Warren Rychel. Kerby was a gold medal winner on Team Canada at the 2012 Ivan Hlinka Tournament.
d – Twitter: @Krychs
24. Compher, JT
a – Vitals: R – C – 6'0, 165 – 8-Apr-95 – USA – USHL – USA U18 #7
b – Rank: NHL-USA-1; CR-THW–19; FC-22; ISS-29; McK-22; THG-27; THN-20; TSN-21
c – Commentary: Mr. Energy – Drive hard, play hard, create energy, hit the corners, put up some offense, play shutdown hockey, play a good defense, be a pest – that's JT Compher in a nutshell. JT projects as a two-way forward with a solid NHL future after he adds a little more weight and strength. Gold medal winner with Team USA at the 2012 U18 World Tournament.
d – Twitter: @Jcomph7
25. Zykov, Valentin:
a – Vitals: R – RW – 6'1, 215 – 15-May-95 – RUS – QMJHL – Baie Comeau #73
b – Rank: NHL–QMJHL-3; TSN-28
c – Commentary: The Russian High Note – When he is on a roll, he plays at such a high note that Everest and K2 seem possible – size, skating, shot, drive to the net, more irritating than black flies in Labrador, a one-man wrecking crew, and top 10 material. Unfortunately, Valentin does not always play on such a high note. Not that he is bad or disappears at other times; it is just that there is such a high level of disparity in his level of play. Lately, he has playing with greater consistency which is why I have him ranked in the top 30. However, it is those high notes which would even make Celine Dion proud that causes the excitement around this guy.
26. Thompson, Keaton  
a – Vitals: L – D – 6'1, 165 – 14-Sep-95 – USA – USHL – USA U18 #6
b – Rank: NHL-USA-5; CR-THW–41; FC-17; ISS-22; TSN-24
c – Commentary: Mr. Impressive – The smooth and easy of defense; fluid, consistent, calm under pressure, one and out passes, can join the rush, and not afraid of the rough stuff. A player who has been increasingly impressive so far with hints of what he can develop into. Go ahead, Keaton, add some weight and strength and see where this game can take you.
d – Twitter: KThomps48
27. Fasching, Hudson
a – Vitals: R – RW – 6'2, 214 – 28-Jul-95 – USA – USHL – USA U18 #22
b – Rank: NHL–USA-3; CR-THR–21; ISS-24; McK-25; THN-19; TSN-69
c – Commentary: Mr. Special – Power forward in the making with excellent size, good skating and decent hands, makes this player special. Go ahead, Hudson, add some every game consistency and drive, and you can turn that special into extra special.
d – Twitter: @Hfasching22
28. Carrier, William
a – Vitals: L – LW – 6'2, 198 – 20-Dec-94 – CAN – QMJHL – Cape Breton #28
b – Rank: NHL-QMJHL-7; CR-THW-23; McK-27; TSN-44
c – Commentary: Mr. Turn and Burn – Power forward who likes to burn through defenses who has a solid physique, is solid on his skates, loves to drive the net, plays good defense, is solid no matter who the opponent may be and has that every game consistency and drive. Top of the line player on not so stellar a team (two GMs fired already this year and it isn't even Christmas).
29. Bowey, Madison:
a – Vitals: R – D – 6'1, 194 – 22-Apr-95 – CAN – WHL – Kelowna #4
b – Rank: NHL–WHL-10; CR-THW–29; FC-26; HP-22; THG-29; TSN-40
c – Commentary: The Next One – Skating, vision, good in all zones, likes to join the rush, strong upper-body strength and plays on a good team which is known for developing high-end defensemen such as Shea Weber, Josh Gorges, Tyler Myers, Luke Schenn amongst others.
d – Twitter: @m_bows4
30. Santini, Steve
a – Vitals: R – D – 6'2, 205 – 7-Mar-95 – USA – USHL – USA U18 #16
b – Rank: NHL-USA-4; CR-THW–56; FC-23; HP-18; ISS-16; THG-23; THN-24; TSN-33
c – Commentary: Mr. Impact – The big hitter; Steve can play down and gritty or up on the power play. Santini is a very good skater with excellent hockey sense; the combination of size and skating make this guy a player to watch.
Next Up:
Part 4: 31 to 40
Previous:
Chris is THW's senior draft/prospect analyst and a Managing Editor. Watch for "The Next Ones" Prospect Profile series, exclusive rankings, mock drafts, as well as the annual THW NHL Entry Draft Guide. Follow @ChrisRalphYQ on Twitter as he infiltrates, dissects and analyzes all happenings of hockey prospects and the NHL entry draft. Email: cralph[at]thehockeywriters[dot]com