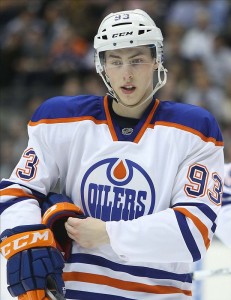 Don't worry, Oiler fans. Ryan Nugent-Hopkins is only going to Calgary for one very important reason: Team Canada's selection camp for the World Junior Championships.
With the NHL still in lock-out mode, fans are looking elsewhere for their hockey fix, whether it be European leagues, junior, College or minor. The World Junior tournament provides some of the best hockey of the season, and some countries may have players available that they otherwise wouldn't have had the NHL been running as scheduled.
The Edmonton Oilers faithful have enjoyed watching some of their best young players flourish in the American Hockey League, and they'll be able to see a former first overall pick get the chance to shine on one of the game's biggest stages.
Ryan Nugent-Hopkins, who has been playing with the Oklahoma City Barons, announced yesterday that he will in fact be attending Team Canada's selection camp, despite concerns about his shoulder. RNH was forced to end his season early last year to get surgery on his shoulder. He wasn't feeling totally right, and recently left OKC to get it evaluated. Thankfully, the shoulder has checked out fine, and the Nuge will be on his way to Calgary to play for a chance to represent his country.
"Growing up you dream about representing your country. It's a good chance to play for my country. It's going to be awesome to have that opportunity. We want to come back with the gold." (Edmonton Oilers Twitter)
If he makes the team, it will be the first time RNH will play for Canada at the World Juniors. He played at the under 18 tournament in 2010, and was even a part of the World Championships this past summer. Considering his talent and experience, there's a pretty good change that Nugent-Hopkins will finally get the chance to play in the tournament. He tried out in 2011, but didn't make the final cut.
Nugent-Hopkins has eight goals and 20 points in 19 games for the Barons, and sits in third place in team scoring. The highlight of the Barons season has been defenseman Justin Schultz, who leads the team with a whopping 32 points in 21 games. Jordan Eberle holds the team lead in goals with 13. OKC is currently tied for the final playoff spot in the Western Conference, a position they didn't quite expect to be in given the number of NHLers on their roster. Missing their third leading scorer won't help matters, but the opportunity to play on the world stage is an experience the Nuge simply cannot pass up.