Playing street hockey growing up, everyone wanted to be Wayne Gretzky (pre-retirement) or Eric Lindros (pre-concussion) or Jaromir Jagr (post-mullet). If our friends picked them first, our next choices were people from our hometown; maybe we'd played with them, or went to school together. Seeing them in the show instilled us with pride and happiness–if they scored or had a nice hit, we'd cheer just a little bit louder than normal.
The following are the pride of Buffalo, N.Y., in no particular order…some of whom are lucky enough to play for the team they grew up watching.
Kevyn Adams
Though born in Washington, D.C., Adams grew up in Clarence, New York, and played for six teams in his NHL career, winning the Stanley Cup in 2006 with Carolina. After finishing college hockey at Miami University, Adams was drafted 25th overall in 1993–but his best season only had him reach 29 points. Kevyn Adams is now back at home in Buffalo, as an assistant coach for the Sabres.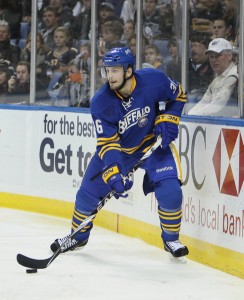 Patrick Kaleta
Drafted 176th overall in 2004, Kaleta is the longest serving Sabre from a Buffalo neighbourhood. Notorious for head-butting and being a pest around the net, Patrick actually does some good off the ice; he assists with the Helping Individuals To Smile Foundation, providing gifts to families in need during the holidays around the Buffalo-Niagara area.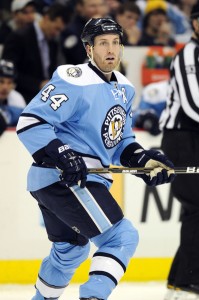 Brooks Orpik
The Penguins' alternate captain was born in San Fran, but raised in Amherst, New York. His brother, Andrew, was drafted in the 7th round by Buffalo in 2005. Brooks played hockey at Boston College, winning the NCAA Championship in 2001. He also helped the Penguins win Lord Stanley in 2009, and Team USA towards a silver at the 2010 Olympics.
Aaron Miller
Aaron Miller may be the most decorated Buffalo born player. Prior to receiving his business degree from the University of Vermont, the Rangers took him 88th overall in the 1989 Draft. Known for his strong defensive play, Miller was selected as part of the silver-winning Team USA at the Salt Lake Olympics in 2002. He also technically won the Cup twice with Colorado, but only played enough games with the Av's in 2001 to be counted as part of the championship team.
Jack Brownschidle
Starting his career for the Fighting Irish, Brownschidle was drafted 99th overall in 1975. The Buffalo native played 10 years in the NHL, for St. Louis and Hartford and represented Team USA at the Ice Hockey Worlds in 1975 and 1979. If you Google him, he probably has the nicest fro of anyone on this list.
Todd Marchant
Staying home at Clarkson University, Marchant played three seasons there before being drafted by the Rangers in 1993. A strong penalty killer and speedy skater in his prime, he won the Cup with the Anaheim Ducks in 2007, where he is now the Director of Player Development. In off-seasons, Marchant hosts a hockey clinic for kids in Amherst, with donations going towards disadvantaged children in Western N.Y.
Todd Krygier
Due to his father's job, Krygier moved all over the U.S. as a kid, including Buffalo, N.Y. He played NCAA at the University of Connecticut, and was selected by the Whalers in 1988. He reached the Cup Finals with Washington 10 years later, but that's as close as he would get in his 12-year career. He now coaches high-school hockey in Michigan.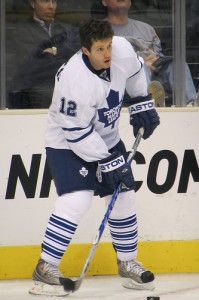 Lee Stempniak
He grew up playing hockey on a friend's rink, who would let him play 'til the wee hours. The Athol Springs native played NCAA at Dartmouth and served as team captain before being drafted by the Blues in 2003. He scored 27 goals and 25 assists in 2007, but has had trouble finding his offensive touch since.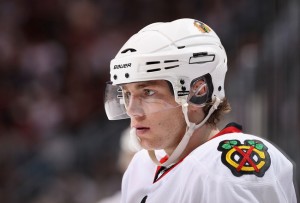 Let's go Bills!

— Patrick Kane (@88PKane) October 9, 2011
Patrick Kane
Buffalo cab drivers may not think too highly of him, but everyone else in town considers this Calder Trophy kid a hero. The 1st overall pick in 2007 not only scored the Stanley Cup winning goal for the Blackhawks in 2010, but won silver with Team USA at Vancouver the same year. Did I mention he was also on the cover of a video game? The duo of Kane and Toews has revitalized Chicago; Madison House can keep on cheering.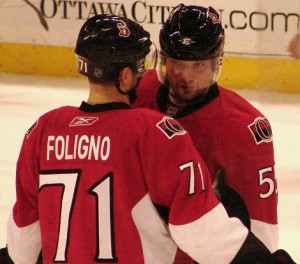 Nick & Marcus Foligno
Their father even played for the Sabres. Nick was drafted 28th overall in 2006 while Marcus was picked 104th overall by Buffalo. Both played junior for the Sudbury Wolves of the OHL, and both hold dual American-Canadian citizenship. Marcus, more popular with Buffalo fans as a hometown player (and as a strapping, tall-glass of water for the ladies), was named NHL Rookie of the Month last March; he finished the season with 13 points in 14 games.
https://twitter.com/marcusfoligno/status/260954827599802368
Being so close to Canada, it's easy to see how all these Buffalo-born players get their start in the game. And although Buffalo is full of professional athletes and alumni, I'd pick these 10 gentlemen to play on my street hockey team any day. Maybe fellow Buffalonian Rob Gronkowski too–every team needs an annoying enforcer, right?