By Mike Miccoli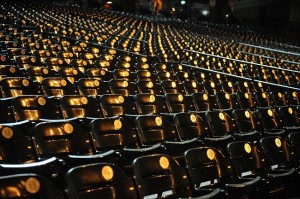 I err on the side of caution with almost everything so bear with me when I say this.
When the NHL comes back, whenever that might be, you will too. And so will you. And you. And you in the back there…you, too.
It's been a long 104 days without the NHL in our lives. We've missed Opening Night, one of the greatest days of the year for hockey fans. We missed a 2011-12 Stanley Cup Championship banner raising in Los Angeles and the subsequent talks of a championship hangover when the Kings fail to go undefeated in the first month of the season. We missed what could have been the most bizarre 24/7 yet between the Detroit Red Wings and Toronto Maple Leafs, filled with awkward Phil Kessel moments and more insight on why Pavel Datsyuk is utterly peculiar off the ice but a pure magician on the ice.
Most importantly, we missed a lot of hockey at the professional level in North America. (I hope that's politically correct enough for all of those AHL, NCAA and International and Junior hockey fans.) So while there's still hockey being played that could be enjoyed, it's not the NHL.
There are a lot of folks to blame for this. Blame Gary Bettman and Bill Daly. Blame the Fehr brothers. Blame the owners and the players, too. It's been ugly watching a sport that has gained so much momentum since the last work stoppage in 2004-2005 descend so quickly. Again.
Every bit of optimism that pops up whenever a new proposal is submitted by either the NHL or the NHLPA is usually squashed when one side balks, throws their collective arms up in the air and stomps off like a child who doesn't get what he or she wants. This has been the tone for the past few months. So with all NHL games cancelled through January 14 and what seems to be a last ditch offer put on the table by the NHL, it's time to decide the fate of the 2012-2013 season.
Put it this way: if this doesn't go well, hope is gone. For real this time. But if all goes well and a new Collective Bargaining Agreement is made, there could be time to salvage a 48-game season, similar to the one that was played in 1995 when the New Jersey Devils won their first Stanley Cup.
This brings me back to my original point: when the NHL resumes, fans will return. And to be honest–they should.
Throughout these 104 bleak days, fans have been bitter and they have every right to be. Season ticket holders have been screwed over horrifically by organizations in what could only be considered as a 'damned if you do, damned if you don't' scenario. But even after the creation of all the fan-movement, anti-lockout Twitter accounts and those who say they'll protest whatever is left of the 2013 season, fans will come back.
Take the Boston Bruins for example. Jeremy Jacobs has been portrayed league-wide as a nefarious villain in the lockout. His name, almost among all other NHL owners, has been mentioned as one of the biggest obstacles for both sides reaching an agreement on the CBA. When the Bruins play their next game, what will be their first since April, every single one of the TD Garden's 17,565 seats will be filled. Moreover, it's going to be the hottest ticket since the 2011 Stanley Cup Final. If you think for one instance that fans will protest the NHL when it returns, you're sourly mistaken. Of course, there will be plenty of "Jacobs sucks" chants but when hockey is back, it's back.
Other teams around the NHL will be similar. The New York Rangers will have no problem filling Madison Square Garden with fans dying to see the beastly lineup that was put together over the offseason. Fans will flock to see Zach Parise and Ryan Suter in their new Minnesota Wild jerseys just as the Pittsburgh Penguin fans will want to see Sidney Crosby again. There are a dozens of other examples, too. Maybe some NHL towns won't be as lucky but the disappearance in fans attending and watching games will not be noticeable, even if everyone thinks otherwise.
In reality, fans are doing more than just supporting the organizations who decided to close up shop for four months of the season, they're supporting everyone else affected by the lockout. By returning to the games, they're supporting the local bars and restaurants who have been doing without major income from fans who look for somewhere to before, after or while watching a game. They're supporting the stadium workers who saw their time cards cut in half without hockey. They're supporting the charities and other goodwill that the organizations and players are able to do together. It's more than just a game, you know; it always has been.
So if the season is saved, go to a game for those reasons, if for nothing else. Go watch one at your local bar with a bunch of friends. Drop the grudge and be able to enjoy the same game that you've loved for so long. Otherwise, what's the difference between the whining and moaning the NHL and NHLPA are both doing now and what fans will do boycotting the game they wanted back so badly?
Maybe the NHL does have everyone by the balls. We're probably to blame, too.
To me and many others, hockey is still the greatest sport in the world. To watch all of the progress made in recent years disappear would do more than just damage the game for a few. Hockey does a lot of good for many and like it or not, the NHL plays a big role in the accessibility and growth of the sport, especially in North America.
So when can we drop the puck, guys?
Follow Mike on Twitter for more hockey news, updates and commentary.