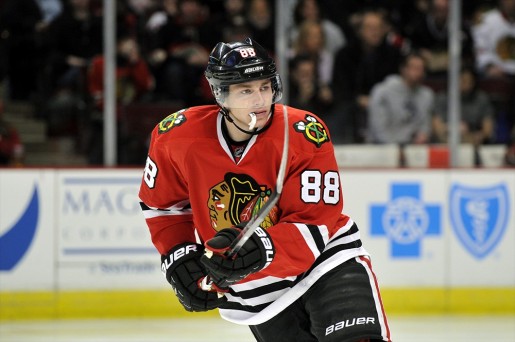 Since he was selected first overall back in 2007 by the Chicago Blackhawks, Patrick Kane has managed to become a very polarizing figure in the Windy City. Not in an Alfonso Soriano type of way, but reviews surrounding him from the fans are mixed nonetheless.
Some realize how young Kane still is, while others expect more production from him, and they expect it now. Those who fall under the latter tend to point towards Kane's off-the-ice behavior and supposed laziness on it in order to rationalize his consistencies over the past couple of seasons.
The 24-year-old Patrick Kane burst onto the scene as a rookie in 2007-08, finishing with 72 points and playing in all 82 games that year. He came back with 70 the following year and 88 in the third season, setting his career mark as the Blackhawks won their first Stanley Cup in 61 years.
In the two seasons that have followed since the Hawks won the Cup, Kane's performance, as well as the team overall, has taken a sizable dip. Whether because of injury, or swapping positions, o a different factor, he hasn't really been the same player. one wouldn't be entirely out of line to wonder if we've already seen Kane hit his peak has a hockey player.
But while that not be an entirely outlandish question, it'd be hard to believe that the Blackhawks have already seen the best that Kane has to offer. He is still only 24 after all. The fact that a 66-point campaign this past season is considered disappointing tells you just how high the expectations are for Kane and how far his game is actually capable of going. It's also not very difficult to explain his 2011-2012 struggles.
The Hawks squad of the past year was a mess at various points throughout the year. They dealt with injuries up and down the roster and massive inconsistency. In the middle of that was Patrick Kane, attempting to transition to center and do entirely too much with the puck on his stick.
The question isn't so much whether or not Patrick Kane is capable of taking his game up to the next level, reaching the 90-point mark and possibly flirt with 100, so much as it is how the Hawks can help him reach that type of level. It starts with the lineup, both where he lines up and who is around him.
First, knock it off with Kane at center. Sure, the extra open ice could be beneficial to him. But Kane's not big and he's not strong enough defensively. Just end this experiment. On the top line next to Jonathan Toews is where he belongs and is where he is most effective. Then add some scoring depth behind him so he doesn't feel like he has to score every point every night.
There is a hope among the Blackhawk faithful that a summer full of more headlines about what Kane does away from the arena, on top of playing in Europe, where a larger rink and different style of play could prove beneficial, will help him in the long run, and add some extra motivation.
There is a reason that the Blackhawks' front office has chosen not to deal Kane, despite all of the rumors and reports to the contrary. He is a supremely talented offensive player. And the sooner the Hawks put him in a position to succeed again, the sooner we could see him return to that game-changing level that we've seen from him in the past.