Guest post by Eldon MacDonald
This is the fifth in a series of nine postings of the top 90 prospects for the 2013 NHL draft.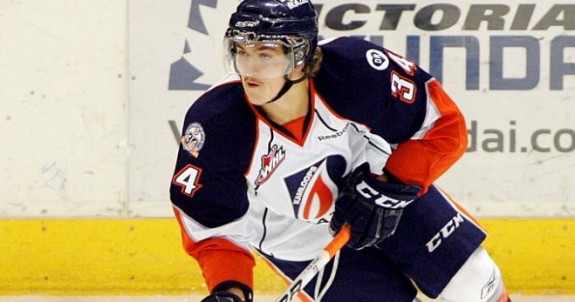 Background
Historically, players selected in the range of 41 to 50 have about a 29% success rate in terms of making it to the NHL as a regular: The historical success rate for players ranked 31 to 45 is about 33% and the corresponding success rate for players ranked 46 to 60 (as well as round 3) is 24%. If you average the two, you get a success rate for players ranked 41 to 50 of about 29%. This means that in a normal year 7 to 8 of the players below aren't going to make it as an NHL regular.
Vitals: The vitals reading left to right are:

Shoots
Position
Height and weight
Birth date
Citizenship
League
Team and player number

Rankings: Check out some of the web sites listed below if you want a different perspective on the rankings:
Round 2 – 41 to 50 – Historical success rate of about 33%
41. Hartman, Ryan
a – Vitals: R – C/RW – 5'11, 182 – 20-Sep-94 – USA – OHL – Plymouth #21
b – Rank: NHL–OHL-11; CR-THW–42; TSN-30; OHL-OHL-11.
c – Commentary: Mr. Irrititant – Irritating, gritty, aggressive, versatile player who tries to play the power forward game without the power forward body. Ryan has the skills to add even more offense than he has shown to date – skating, passing, excellent release, and hockey sense. He makes those around him better which is why it is not a surprise that he has been invited to try out for the USA U20 Team which will compete at the U20's to be held in Russia later this month. Ryan already has won gold with the USA U18 team last spring. Add a little more weight and strength, Ryan, and you will be able to pursue your dream all the way to the NHL.
d – Twitter: RHartzy18
e – YouTube video: Courtesy of USAHockeyHQ
42. Hurley, Connor:
a – Vitals: L – C – 6'1, 172 – 15-Sep-95 – USA – MN HS – Edina HS #43
b – Rank: NHL–Not ranked; CR-THw–52; FC-21; HP-28; TSN-38.
c – Commentary: Mr. No-Look Pass – The top US high schooler eligible for the 2013 NHL entry draft. Highlight reel goals, no-look passing, good skating, excellent vision, good with and without the puck, good work ethic are all components of Connor's game. He needs to add some strength and weight. He is committed to Notre Dame.
43. Bigras, Chris:
a – Vitals: L – D – 6'1, 189 – 22-Feb-95 – CAN – OHL – Owen Sound #24
b – Rank: NHL–OHL-10; CR-THW-37; HP-27; TSN-61; OHL-OHL-9
c – Commentary: Mr. Responsible – Solid positional type of defenseman and good passer of the puck. Chris makes intellectually sound decisions with the puck as he is as good a student on the ice as he is off the ice, where he was Owen Sound's student of the year for 11-12. He won a gold medal on Team Canada at the 2012 Ivan Hlinka tournament.
d – Twitter: @Chris_Bigras
e – Youtube video: Courtesy of THNTV
44. Klimchuck, Morgan
a – Vitals: L – LW – 5'11, 180 – 2-Mar-95 – CAN – WHL – Regina #18
b – Rank: NHL–WHL-5; CR-THW–34; THN-26; TSN-27
c – Commentary: The Shooter – An aggressive shoot-first kind of guy with the speed, compete level and hockey sense necessary to be effective. Morgan is good down low for a moderately-sized guy and has the work ethic that bodes well for the next level.
d – Twitter: @morganklimchuck
e – YouTube video:
45. Sorensen, Nick
a – Vitals: R – RW – 6'1, 175 – 23-Oct-94 – SWE – QMJHL – Quebec #94
b – Rank: NHL-QMJHL-16; CR-THW–49; TSN-56.
c – Commentary: Mr. All-In – Nick is a skill player with good defense acumen and works well his line mates. In short, he is a player that every team would want. Skating, shooting, passing, trench-work, defense, Nick has that all-in drive necessary to be an NHLer. Nick was also just named to the preliminary roster for Team Sweden at the U20s starting later this month.
d – Twitter: @NickSorensen94
e – Youtube video:
46. Arnesson, Linus  
a – Vitals: L – D – 6'2, 190 – 21-Sep-94 – SWE – SWE-2 – Djurgården #8
b – Rank: NHL-SWE-6; TSN-55
c – Commentary: Mr. Insurance – From Craig Button's top 10 list for the 2011 Ivan Hlinka tournament (just ahead of Alex Galchenyuk) to top defenseman for Sweden at last month's U20 Four Nations Tournament per The Hockey News, it is little wonder that Linus Arnesson is on Team Sweden's preliminary roster for this month's U20 Worlds to be held in Ufa, Russia. Linus is a calm, reassuring, mistake adverse kind of presence on Djurgården defense (in the second-tier Swedish professional league, Allsvenskan). He is more of a big, mobile shutdown type of guy who is helpful on the PK.
d – Twitter: @ArnessonLinus
47. Martin, Spencer
a – Vitals: L – G – 6'2, 192 – 8-Jun-95 – CAN – OHL – Mississauga #30
b – Rank: NHL-OHL-Goalie-1; FC–30; HP-25; ISS-Goalie-2; THG-25; TSN-41; OHL-OHL-10
c – Commentary: Mr. Dare Me – Big, athletic, shows composure and a strong level of compete, good rebound control and loves to challenge the shooters. Spencer was on Team Canada for the 2012 U18 Words.
d – Twitter: @S_Marty95
e – YouTube video: Courtesy of OHLSteelheads
48. Buchnevich, Pavel
a – Vitals: L – C – 6'0, 165 – 17-Apr-95 – RUS – MHL – Cherepovets #89
b – Rank: NHL–RUS-4; CR-THW–43; TSN-37;
c – Commentary: Mr. Moves – Pavel has the moves, the passing, the hands, the shot and the hockey IQ. He possesses decent size but needs to fill out; a high-talent for sure. He was on Russian squad at the 2012 Ivan Hlinka.
d – YouTube video: Courtesy of hockeysemin
49. McAdam, Eamon
a – Vitals: L – G – 6'2, 185 – 24-Sep-94 – USA – USHL – Waterloo #35
b – Rank: NHL-USA-Goal-1; TSN-48
c – Commentary: Mr. All Angles – Decent sized goalie with significant international experience including a silver medal for Waterloo (USHL) at the Junior Club World Cup in Omsk, Russia in August 2012, where he was named top goalie. He followed that up with a gold medal last month in Yarmouth, NS for Team USA at the World Junior A Challenge. Al Jensen, goalie specialist for NHL Central Scouting, told NHL.com, "He relies mostly on his size and angle play, is very good at getting his body in front of shots and has a good strong butterfly … he doesn't leave many holes for shooters. He's very strong in his crease when players cut hard to the net or when trying to gather any loose pucks. Technically he's good at retrieving back to his post and very good at directing his rebounds out of danger."
d – Twitter: EamonMac35
e – YouTube video: Courtesy of USHLinteractive
50. Lipon, JC
a – Vitals: R – RW – 6'0, 181 – 10-Jul-93 – CAN – WHL – Kamloops #34
b – Rank: NHL–WHL-13
c – Commentary: The Makeover – Skill, drive, compete, the shot, the vision: it was always there. However, few have the determination, drive, mindset and effort of this overager to make a complete makeover to become a mini (6'0, 181 lb.) power forward who fights not only with his fists but for the puck, wherever it is. His line with Colin Smith and Philippe Bozon has been the top line in the WHL this season. He was just named to the final roster for Team Canada for the U20s this month.
d – Video: Courtesy of hockeyfightsplus
Previously Posted:
Part 1: 1 to 10
Part 2: 11 to 20
Part 3: 21 to 30
Next Up:
Part 6: 51 to 60