The Minnesota Wild and Winnipeg Jets are only two games into their best-of-seven series, yet it feels like it's already over. Head coach, Bruce Boudreau is "sick" of hearing about being the underdog. Now the entire hockey world gets a view as to why the Wild deserved to be called the underdog. This was a series that Minnesota had no business of winning in the first place, because Winnipeg is truly a great team who have real Cup aspirations. They are so talented that, after two playoff games, you can pretty much stick a fork in their opponent.
Wild Play, No Heart
The two road games so far have been almost unbearable to watch. Six straight years of being content with mediocrity has begun to eat away at fans in the State of Hockey. The Wild can't get many scoring chances, even shots are becoming an unrealistic expectation. The consistency is admirable, dumping the puck in and exiting the zone before possession can be maintained is a frequent occurrence. After it fails, the team continues to dump the puck in and surprisingly still no puck possession.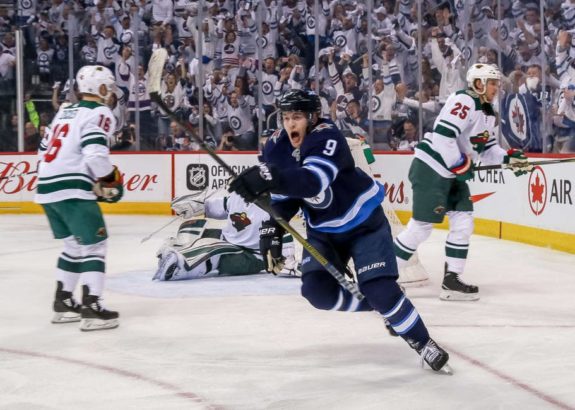 I have previously said that the loss of Chris Stewart would not come to haunt the Wild until the postseason rolled around. Well the postseason is here and the Wild are getting bullied on the ice. Winnipeg keeps throwing big bodied players to check the Wild's skaters and they have absolutely no reason to stop. Minnesota's roster is filled with fast and undersized players. This is not a team built to defend themselves and every year it has been a major concern.
Related: Wild Make Minor Tweaks for Playoff Push
Minnesota general manager Chuck Fletcher made a horrendous move in letting Stewart go and that evidence is on display whenever the words "Stanley Cup Playoffs" are on the ice. It would make sense to let him go for a young skater if that guy is going to be a 20-goal scorer, but was Luke Kunin going to be that guy?
Fletcher decided to move on from Stewart to allow Kunin to be called up to the roster. Then, of course, the major injury to Kunin that has kept him sidelined ever since made the move even more disastrous. Now the Wild are stuck with Jordan Greenway, but at least the kid has thrown three hits in the playoffs so far to pair with an assist and a plus/minus of plus-one.
Wild Goal Scorers: STILL Missing
The Wild had a 40-goal scorer and a 30-goal scorer during the 2017-18 regular season. In the playoffs, Jason Zucker has managed no points and a plus/minus of minus-three. Eric Staal has fared much better with no points and a plus/minus of minus-one. It doesn't stop there either, with Nino Niederreiter, Matt Dumba, Charlie Coyle, and Jared Spurgeon all having zero points to their names as well with a combined plus/minus of minus-eight.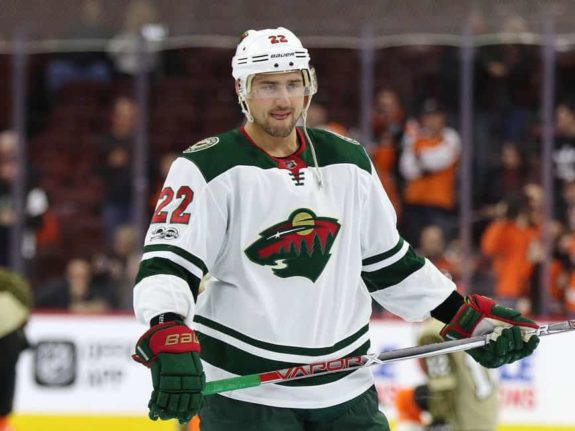 What could possibly be driving this disappearing act? Year after year on paper the Wild look like a team with depth spread across each and every line. The Wild have six players without negative plus/minus stats and five of them are at zero. Those players include Zach Parise, Mikko Koivu, Nate Prosser, Mikael Granlund, and Nick Seeler. Jordan Greenway is the only player on the Wild that has a plus/minus above zero in the playoffs. Parise has two goals and Koivu has two assists, Parise looks great and is playing how he should and Koivu can't really be blamed when he looks so much better than almost the entire roster.
Related: Wild Limping To 6th Straight Postseason
Bruce Boudreau, the Man for the Job?
Boudreau has been a top tier coach in the regular season for over a decade now. After leading both the Washington Capitals and Anaheim Ducks to multiple division titles and playoff appearances, he was let go from the organizations. He almost coached Minnesota to their first division title since 2007-08 just a season ago. It's not even certain that he is an improvement over Mike Yeo for coaching. Boudreau has a long history of failing in the postseason and it is well documented. This was all known information when the Wild hired him on.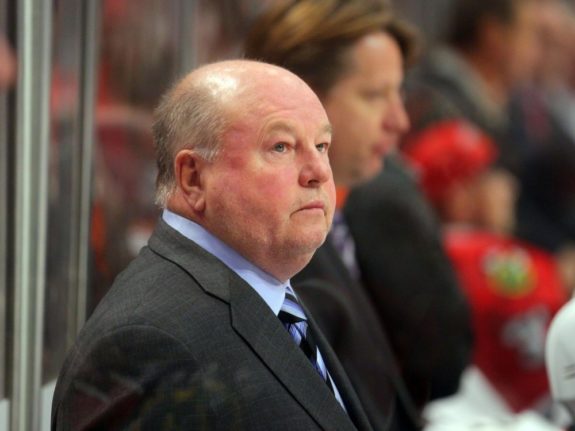 You can only blame the coach so many times before other areas have to be addressed. Fletcher will be on the hot seat very soon if some changes aren't made. The players deserve a large amount of the blame as well, because it's becoming very clear that this core of players does not have what it takes to move on to the next level.
Embarrassment for Minnesota
While watching the Wild falter yet again during their two contests so far in the playoffs, it looked as if the team had simply given up. Shots on goal are becoming as exciting as goals and the energy is just not on display. Can it be that the injury to Ryan Suter has completely broken this team and made them feel as if winning is impossible? Luckily for Minnesota sports fans, even if the Wild want to yet again fail to show up for the postseason, the Minnesota Timberwolves ended their fourteen year drought from the playoffs. After reading that sentence maybe the Wild simply making the playoffs feels a bit better.