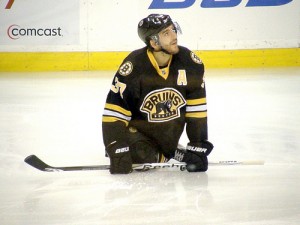 The Boston Bruins have been struggling since mid-January, going 9-10-1 over that stretch and suffering four shutouts in their last nine games. On top of that, the Bruins are without Nathan Horton indefinitely (concussion) and Rich Peverley (4 to 6 weeks, knee injury) and have seen a sharp drop in production from David Krejci, Tyler Seguin, Patrice Bergeron and Milan Lucic over the past month or so.
With the trade deadline looming, Boston GM Peter Chiarelli can do one of three things:
Make a minor deal or two that brings in a couple pieces (defenseman, top-9 winger)
Do nothing and hope everyone gets healthy and this team starts playing to its potential
Make a major deal to bring in a top-end player
Let's look at the possibilities of each, starting with the most probable – making a minor deal or two. Who might be on Chiarelli's radar?
Michael Ryder, RW, Dallas: The Bruins have struggled offensively, partly because their depth has been challenged with injuries. Ryder is a known quantity who played great in last year's playoff run and has 22 goals with Dallas this season. He understands the system, Claude Julien trusts him, and he can play any number of roles. The likelihood of this happening is slim, but would be an interesting deal.
Ales Hemsky, RW, Edmonton: He would be a nice replacement for Peverley until he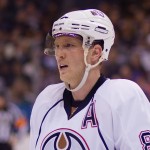 returns, and would likely be an upgrade over Benoit Pouliot once Peverley does get back in March.
Teemu Selanne, Anaheim: He is unlikely to move, but at 41, he can still put the puck in the net and has never won a Stanley Cup, so he might be willing to go. Anaheim would likely want Ryan Spooner and/or Jared Knight in return, though.
Lubomir Visnovsky, D, Anaheim: A solid offensive defenseman (yes he is a "puck-moving defenseman") who can also play some defense. Had 68 points last year, but has struggled some this year. Maybe Joe Corvo and a prospect gets him.
Marek Zidlicky, D, Minnesota: Solid blueliner who hates playing for Mike Yeo, but his production has slipped and he still has another year at $4 million left.
Johnny Oduya, D, Winnipeg: A solid defenseman who would likely be just a rental as he is an unrestricted free agent at year's end. Also likely to take the least to get out of this list.
Do nothing and hope everyone gets healthy and this team starts playing to its potential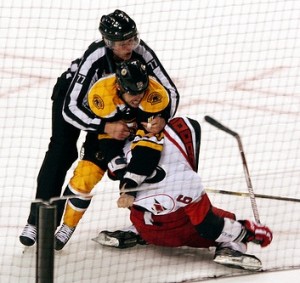 Obviously the Bruins have the talent to win the Cup, as most of this year's roster is back for a second run. A slump in February isn't a huge deal, but this slump has gone on for about a quarter of the season, and that has to be concerning. Chiarelli loves the make-up of this team, as evidenced by the fact he has resigned a majority of the players and offered deals to several others.
I think this is the most likely scenario, unless it is proven the Horton and/or Peverley will be out longer than thought – or someone else goes down. I think he'd love to find a taker for Corvo, but he's want someone in return (Visnovsky maybe?).
Make a major deal to bring in a top-end player
This is terribly unlikely, as it would mean two things: one, messing with the chemistry of a team that has proven it can win when it matters, and two, giving up players you do not want to give up (Tuukka Rask, Doug Hamilton, Ryan Spooner, Tyler Seguin, Jared Knight would all be on any trading partner's list for a big-impact player). David Krejci, who may or may not be someone the Bruins are willing to move, could be a possibility as well.
That being said, maybe this team needs the shake-up a major deal would provide.
Rick Nash, RW, Columbus: A top-flight scorer, he would help the Bruins' scoring woes and would ease the sting of Horton's injury, but getting Nash would require giving up Rask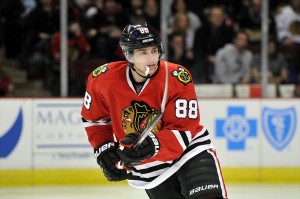 (even worse, Rask could end up in Philadelphia as part of a three-way deal) as well as the willingness to pay Nash $7.8 million. I doubt Chiarelli is willing to do that.
Patrick Kane, RW/C, Chicago: With Chicago struggling almost exclusively because of poor goaltending, Kane's name has been thrown out in trade rumors for Buffalo's Ryan Miller. If Boston was willing to dangle Rask and maybe a prospect, they could probably land the dynamic Kane. I would personally rather have Kane than Nash, even though Nash is a better scorer, because Kane does many things well and would fit in Boston's system much better.