Torey Krug is playing more minutes.
In 19 games, Krug has seen his time on ice jump from last season's two-month average of 20:11 to 22:05. He already surpassed the 25-minute mark in one game, recording 26:06 of ice time against the Dallas Stars in the Boston Bruins' 11th game of the season. That didn't happen at all last year.
It could be related to the Bruins' NHL-leading power play operating at a 33.9% conversion rate. Krug's 3:18 PP TOI/GP is second only to David Krejci's 3:19. And for a good reason, too. Krug's 19 shots from the point on the man advantage lead all Bruins.
But with more minutes comes more responsibility for the third-year defenseman. Krug's stepping up into a large role to fill the gaps on the Bruins' blue line but also because he's due for a new contract at the end of the season. And at this rate, it could be a pretty big one.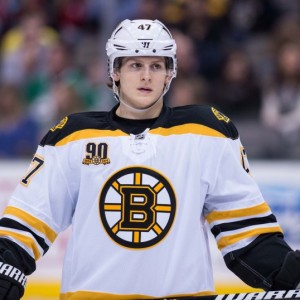 Same old story for the Bruins?
The Bruins have been in a situation like this before—a few times, in fact. In the last three seasons, the Bruins have dealt with defensemen with expiring contracts without much consistency based on value.
During the 2013-14 season, the Bruins re-signed the then-impending unrestricted free agent Dennis Seidenberg to a four-year deal. Then, they signed restricted free agent Kevan Miller to a cap-friendly two-year deal, and extended Matt Bartkowski for a season.
Exactly one year later, the Bruins signed RFA Krug to a one-year deal worth $1.4 million before trading Johnny Boychuk days before the 2014-15 season, the final year on his contract before UFA-status kicked in.
Krug got another one-year deal—this time worth $3.4 million—as a bridge contract halfway through the 2014-15 season. But Dougie Hamilton, also a RFA, was traded to Calgary in the offseason while Adam McQuaid, an UFA, was re-signed to a four-year deal. The Bruins let Bartkowski walk.
Mismanagement of the blue line have left the Bruins searching for viable options on defense. Pretty perfect timing for the last season of Krug's restricted free agent status.
Getting the most out of Krug
The three defensemen the Bruins have signed through 2016-17 will have an average age of 34. Krug turns 25 in April. Granted, the Bruins will have three other RFA defensemen—Colin Miller, Joe Morrow, and Zach Trotman—to re-sign along with the opportunity to get younger on the blue line through free agency and trades, but Krug is right there. The power-play specialist is the bridge between the veteran presence on the back end and the younger, inexperienced talent that still needs to be developed.
Krug is the puck-moving defenseman that the Bruins always needed and a big reason why the team's power play is as effective as ever. His 7 assists on the power play are tied for team-best with Krejci and Patrice Bergeron.
Production-wise, he's even better than last year. In 2014-15, Krug had 3–4—7 in 20 games through the end of November. This year? Krug has 1–12—13 in 19 games. Not bad for a typically slow starter. Though his goals are down, he's shooting more than he ever has, recording shots in all but two games.
While Krug is offensively-minded, he's actually producing at a better rate with lower offensive zone starts at even strength. Last season, Krug finished with 39.9% of his starts in the offensive zone, according to HockeyAnalysis. He's at 34.9% this season and is already halfway towards his 5-on-5 assists total from last year.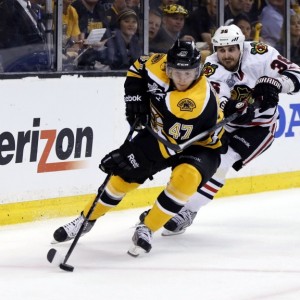 The one flaw against Krug is his defensive game. He's still not the shutdown kind of player the Bruins need and because of that, they could choose to address that by spending money elsewhere.
But hold that thought.
Krug is usually matched up against opposing teams' second or third lines and has played the most even strength minutes paired with McQuaid on the right-side. The pairing thus far might be one of the reason's why Krug's general positive CorsiFor numbers are dipping.
According to HockeyAnalysis, Krug's even strength CorsiFor when playing alongside McQuaid is 47.4%. Without McQuaid, it's 53.1%. But due to the Bruins' personnel on the blue line, the two are paired together by default, which seems…off. Chara and Seidenberg automatically assume more of a mentorship role, playing alongside sheltered, less experienced guys like Miller (Colin & Kevan), Trotman, and Morrow.
Surprisingly, McQuaid's best defensive numbers this season (54.2% CorsiFor) come when he's playing with Morrow, not Krug. Krug's best defensive partner not named Chara or Seidenberg? Fellow puck-moving defenseman Colin Miller. Though it's a small sample size, Krug has an even strength CorsiFor of 50.8% in the brief time played on the left side of Colin Miller.
Putting two offensive-first defensemen together isn't going to happen much under Claude Julien, but it's something to consider. Krug has played the most with McQuaid and Kevan Miller. He's not going to get better defensively that way.
Maybe Krug should be playing more of a leadership role on the ice, too. He's already doing it off the ice.
Determining contract length
The Bruins have faced a bigger offseason before, but with two of their best players this year—Krug and Loui Eriksson—up for new contracts, the team will need to take a more strategic approach.
Here's the shorter version: the Bruins will need to re-sign both. It's just a matter of the length for both.
With Krug, it's not easy to assign a comparable based on the fact that he's not a top pairing defenseman but is still a high point producer. Because of that, Krug's going to get more money. Krug's cap hit won't be anywhere near what Erik Karlsson or P.K. Subban is making, but maybe more in line with Justin Faulk's $4.83 million AAV number. Give or take.
Faulk signed a six-year, $29 million contract with Carolina at 22-years old. The de-facto #1 defenseman with the Hurricanes plays more minutes than Krug but spends time on the penalty kill—a special teams unit the Bruin doesn't occupy. Their point production numbers in even strength and on the power play are slightly similar.
While the number may be a little less than Faulk's $4.83 million AAV, the length is about right. Krug's not a franchise defenseman but has been as valuable as anyone on the blue line for the Bruins in the last two seasons, especially. A five or six year contract extension shouldn't be out of the question for a defenseman coming off of back-to-back one-year bridge deals. The deal will ultimately give Krug the second "A" to split with Krejci and a chance to mentor Colin Miller as another puck-moving defensemen.
It's time for the Bruins to start making the right choices again with their defensemen. Krug is the perfect place for them to start.
Follow Mike on Twitter for more Bruins commentary, news, and updates.
Mike Miccoli covers the Boston Bruins for The Hockey Writers and has been a credentialed member of the media for all Bruins' home games for the past five years. As a former player, coach and official, Miccoli has been around the game of hockey since the age of three. Along with his work on THW, Miccoli has also been published in the New England Hockey Journal, Improper Bostonian magazine and on BostInno.