Calgary's goaltending has been widely ineffective this season, ranging from Karri Ramo to Jonas Hiller to Joni Ortio. Ramo, 29, leads the three with 13 starts, 6 wins, 3.04 GAA and .901 SV%.
Hiller, 33, comes next with two wins, a 2.67 GAA and a .861 SV%. Then comes the 24-year-old Ortio with zero wins through two starts, a 4.27 GAA and an .868 SV%.
Those aren't exactly numbers you would expect from a blue-line that of consists of Mark Giordano, Dougie Hamilton, TJ Brodie, Dennis Wideman, Kris Russell, and Deryk Engelland.
Jimmy Howard and Jakub Kindl/Brendan Smith for Dennis Wideman
Jimmy Howard has lost the crease to Petr Mrazek and his days in Detroit are numbered. With five wins through 10 starts, 2.34 GAA, .917 SV% in addition to a shutout, Howard is a significant help to every category.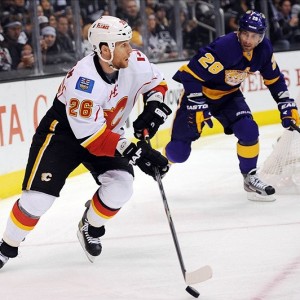 In return, Detroit brings in 32-year-old Wideman, a puck-moving defenseman that improves Detroit's defensive corps wholly.
With Howard's $5.292 salary cap hit (through the 2018-19 season) and Wideman's $5.25 cap hit (through the 2016-17 season), it's a financial swap both teams could get on board with.
Calgary's Gain
Calgary brings in a steady goalie to anchor the crease and tandem alongside Ortio when both Hiller's and Ramo's contracts expire at the end of this season. Detroit would have to toss in either Kindl or Smith to keep their blue-line from being overcrowded with the addition of Wideman.
But with Ladislav Smid only dressing for four games this season, coach Bob Hartley seems to have Smid in his doghouse and losing Wideman would force him into the lineup, so giving him the option of either Kindl or Smith instead would be another benefit to Calgary.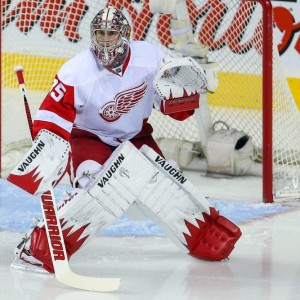 Signed through next season with a $2.4 cap hit, Kindl has five points (2 G, 3 A) through 17 games this season and his puck-moving ability would takeover for Wideman well enough.
Smith (also signed through next season, but with a $2.75 hit), has three points (1 G, 2 A) through 14 games this year and is a second option for Wideman's replacement.
The only problem for the Flames would be putting themselves in the position to place a goalie on waivers. But even if one were to be picked up off waivers, Calgary would still have Howard and Hiller and Ramo are both likely gone at the end of these season anyway.
Detroit's Gain
Detroit would have Wideman for the rest of this season and next, which isn't a bad idea for a defenseman that posted 56 points last season (15 G, 41 A) and currently has eight points (all assists) this season.
He's a hard-hitting, play-off type body that Detroit could really use. Detroit also brings in another proven powerplay worker and play-off performer. With 32 points (1 G, 31 A) in 55 playoff games, Wideman would be of even more if Detroit can extend their post-season streak to 25 years.
In addition to improving the blue line, Detroit rids itself of Howard's cap-hit and dedicates the future to Mrazek.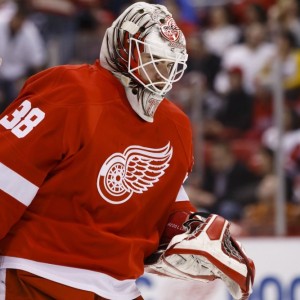 The only real problem is finding Mrazek's backup. One option is finding another trade partner and finding a potential fit. The other option is Griffins goalie Tom McCollum as Mrazek's back-up.
With just three games of NHL experience for McCollum, it would be a risky option; especially for a team that leads the NHL in back-to-back games this season. In those three games, McCollum has posted one win, 2.96 GAA and .879 SV%.
But, one of those games was a shaky NHL debut during the 2010-11 season and ignoring that debut from four years ago, McCollum played two games last season where he posted a 0.91 GAA and .960 SV%. If Detroit believes in how McCollum played last season, he would be an inexpensive, formidable answer.
Statistics compiled from Hockey-Reference, Spotrac and ESPN.
I offer opinions and insight on the Detroit Red Wings organization and its prospects.