Zach Parise became a part of arguably the biggest day in Minnesota Wild history when he signed a long-term deal with the franchise for big-time money on the same day as defenseman Ryan Suter. A team that hadn't made the playoffs since 2008 had suddenly put in a huge investment and had signed the two biggest NHL free agent targets on the market. Head coach Mike Yeo just needs to find someone to partner Suter on the top pair, but the job of placing Zach Parise into his forward line-up may be a more difficult one.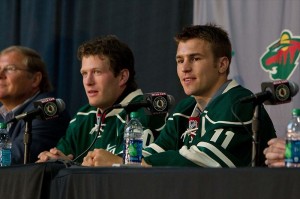 Yeo has made no secret about his desire to see a dominant top line featuring Parise, Mikko Koivu and Dany Heatley since the announcement of the free agent signing back in July. The trio certainly seemed to be on board with that idea skating together for much of the time during the informal practices at the Xcel Energy Center.
There is always plenty of debate over how a coach should balance his forward lines when a team adds an offensive superstar. The debate was had over Brad Richards and Marian Gaborik in 2011-12, it has been had in Pittsburgh with their 'Big Three', and it was had in San Jose when Heatley played with Joe Thornton and Patrick Marleau.
The reality is that there are no catch-all rules that can be applied here. Every line-up is different, and every group of players are different. Richards and Gaborik surprisingly just didn't quite seem to mesh for much of last season, while Pittsburgh Penguins' coach Dan Bylsma generally preferred to play his three superstars each in their favored position on separate lines.
There are no positional conflicts here. Koivu can center Heatley and Zach Parise quite happily. Intuitively, it seems to make sense and fit into Yeo's mentality to load his offense up at the top and for his lines to gradually have less and less offensive talent, while all still being expected to play responsibly on defense. Even a very basic analysis of the three players various playing styles seem to match up. Koivu is a playmaker, Heatley is a scorer and Parise is a balanced offensive player.
It seems that barring any unexpected chemistry problems, this will be the team's top trio on a permanent basis. However, things might not work out quite as simply as that.
Most Minnesota writers and bloggers are currently penciling in rookie center Mikael Granlund and Pierre-Marc Bouchard into the team's top six as part of a second line, which will be expected to provide offensive depth behind the team's 'big three'. Indeed, if those two are healthy and able to produce on a line with Devin Setoguchi, then Yeo's early line combinations with Zach Parise playing on the top line could well endure as the most consistent trios.
It might just be worth hedging some of those bets though. Bouchard played just one game in the 2009-10 season, he played 59 in 2010-11 and just 37 last year. Bouchard has not been cleared for full contact practice yet, though he has been symptom free for an extended period. Still, there must be some serious concerns about his ability to stay healthy and that is a situation that Minnesota will have to monitor in training camp and the early part of the season. There are also questions about how easily Bouchard will slide back into an NHL line-up having not played competitive hockey for over a year and not having the benefit of a full training camp or preseason action.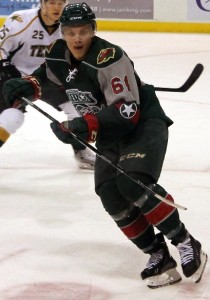 The other piece of Yeo's puzzle, which involves Zach Parise on the top line, is Granlund. Granlund is a young forward with superstar written all over him. He scored 51 points in 45 games in the SM-Liga last year as a 19-year old. Injuries limited him to just 21 games of AHL action with the Houston Aeros over the past three months, but he did not fail to impress. He scored 21 points in 21 games and was named the player of the month in October. The NHL is a different matter though, and Granlund's strength and determination will once again be seriously tested in what is expected to be an extremely dense schedule. As the lines are currently being constructed, there will be a lot of responsibility on the 20-year old to be the creative source on Minnesota's second line.
If the current plans fail, who could potentially be asked to step up to keep Zach Parise on the team's top line? The options are not exactly plentiful: there's 36-year old Matt Cullen, whose production has slipped gradually over the past few seasons. Physical grinder Cal Clutterbuck can add edge to a skilled line, but he has never scored more than 34 points in a season. Kyle Brodziak took a promising step forward scoring 22 goals and 44 points last season and will probably center an interchangeable second/third line with Granlund. Brodziak isn't an obviously strong candidate to anchor a second scoring line though.
The reality is that Zach Parise is the most obvious candidate from the team's top line to drop down and anchor a strong second line. Koivu is the team's clear top center, while Parise is a more balanced and independent winger compared against Heatley. He is a player who could potentially work with Granlund, or provide strength on the wings should injury or under performance ruin Yeo's dream plan.
It would be no surprise to see Zach Parise bouncing around different lines very quickly as teams make lots of adjustments in a dense schedule and try to find the right combinations.