TORONTO — William Nylander jumps on a loose puck during a power-play drill and rifles a shot inside the far post.
That lightning-quick release is on display again a couple minutes later, the puck on and off his stick in a split second for a pair of goals off the rush.
In between those sequences, however, the Maple Leafs winger is often hunched over, his stick on the tops of his knee pads as he tries to catch his breath.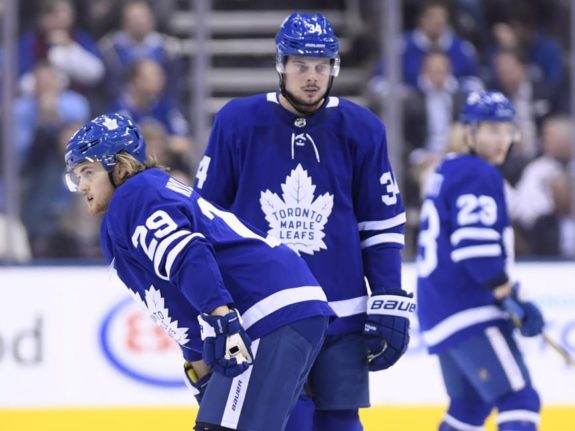 "There's eight exhibition games for a reason and training camp for a reason," Toronto head coach Mike Babcock said. "The league starts slow and goes faster and faster.
"It's hard to arrive late."
Nylander practised with his teammates for the first time Friday, a full week after the restricted free agent's prolonged contract impasse ended with a new deal worth US$45-million over the next six seasons.
The 22-year-old, who along with teammate Kasperi Kapanen was involved in a minor car accident later Friday that didn't result in any injuries, wound up playing in the Leafs' 5-4 overtime loss to the Detroit Red Wings on Thursday despite having not taken part in a full on-ice session with the club.
He was supposed to join the group Wednesday, but Toronto's bus had engine trouble following the previous night's victory in Buffalo and didn't arrive home until around 3 a.m.
Despite skating just twice on his own earlier this week with a Leafs assistant, Nylander insisted timing rather than conditioning was the issue in the 12 minutes 29 seconds he played against Detroit. But the Swede didn't see any action in the game's final 14:35 as Toronto pushed to tie after falling behind 4-1 through two periods.
"Would I do it any different (with Nylander) if I had the chance? No I'd do it exactly the same way," said Babcock, whose team saw its five-game winning streak snapped. "Did I expect him to be any different than he was? Not really.
"Do I think this is going to take some time? For sure, but I don't think Willy's too wound up about it. I'm not wound up about it."
Nylander practised alongside junior players in Sweden and briefly with a pro club in Austria during contract negotiations in hopes of staying fit, but that's nothing like being dropped into Game 29 of the NHL season after more than seven months off.
"It's just nice to get the first one," Nylander said. "Now I have a game and a practice in me. It feels a little better.
"It was pretty fast out there. The game was going pretty fast. It felt better and better as the game when on."
Leafs centre Auston Matthews, who played his fourth game back Thursday after missing 14 with a left shoulder injury, said it usually takes him a month to feel normal following an extended period on the shelf.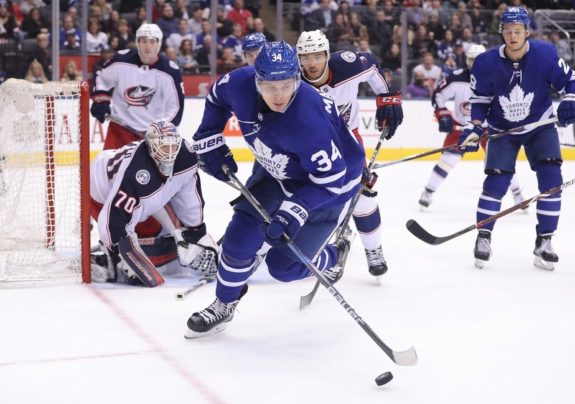 And despite his five goals and three assists since returning, the 21-year-old added even he's not yet 100 per cent.
"The first period's been really tough for me," Matthews said. "This is (Nylander's) first team practice. I don't know how I would feel if I was literally just jumping into a game from summer skates.
"That's kind of expected, especially for a guy that hasn't gone through training camp."
Nylander started with Matthews and Patrick Marleau on Thursday, but was moved to Nazem Kadri's line at practice.
Marleau, who got the day off, is expected to play the left side with Kadri and Nylander when the Leafs (20-8-1) open a five-game road trip against the Boston Bruins (14-10-4) on Saturday, while Matthews looks likely to skate with Kapanen and Andreas Johnsson.
The Leafs will be looking for a much better start against the injury-hit Bruins, who are without Patrice Bergeron, Zdeno Chara and Kevan Miller.
Boston beat Toronto 5-1 at TD Garden back on Nov. 10 — minus Matthews and Nylander, of course, in the second of a back-to-back — and also took last spring's first-round playoff series in seven games.
"They're a team that competes no matter who's in the lineup," Matthews said. "They make it hard on teams, especially in that building. No matter what, we've got to be prepared."
Kadri said adding Nylander to a top-end forward group that also includes John Tavares and Mitch Marner should present opponents like the Bruins a real challenge.
"It's just another great player you've got to worry about," said the centre. "Just being able to decide who's going to play against who is a tough decision for a lot of teams.
"That certainly gives us the advantage."
But it's an advantage Toronto might not fully realize for sometime as Nylander continues to work his way back.
"You may think you're in shape … I'm sure he's done everything he can on and off the ice," Kadri said. "But once you add the physical and contact component, it changes.
"He's a great player. He's going to be fine."
—
Follow @JClipperton_CP on Twitter
Joshua Clipperton, The Canadian Press