The consensus around the hockey community is that 3-on-3 overtime is a hit in the NHL. With a barrage of odd-man rushes almost every shift, tons of chances being generated and a decline in shootouts, it looks like 3-on-3 hockey is here to stay for the forseeable future, despite some distaste for the new format among some of the league's best players.
The four teams who have benefited the most from 3-on-3 overtime have varying degrees of success overall, showing that the new format might just be as much of a crap-shoot as the shootout, albeit with a slightly higher entertainment value.
Winners:
New Jersey Devils
Lee Stempniak has been one of the most effective forwards during 3-on-3, and he's helped the Devils to a perfect 3-0 record in overtime.
He scored the winner against the New York Rangers in New Jersey's first overtime game of the season and drew assists on the other two game winners. He's one of only 12 players to accumulate more than a point during overtime.
The New Jersey Devils have shocked the league through the first quarter of the season, and their overtime record has helped them grab a wild-card spot early on. A 5-7 record in regulation shows that the Devils have relied on overtime heroics to boost them up in the standings, with a 5-1 record in games settled after 60 minutes.
Calgary Flames
The Calgary Flames have taken a huge step back after their surprising performance last season. They have a league-worst two regulation wins in 19 games, and if not for their stellar overtime record they would be sitting in the NHL's cellar right now.
If there has been one positive among the chaos in Calgary, it's their perfect 4-0 overtime record. Another positive would be Johnny Gaudreau, who leads the NHL in 3-on-3 points so far this season. Like Stempniak, he scored Calgary's first overtime goal of the season  in a win over the Canucks, and he's set up two more in wins over Philadelphia and Detroit.
Calgary's speed has been an asset in overtime with young players such as Gaudreau and Sean Monahan, but their minus-1 scoring chance differential during 3-on-3 shows that they might be due for a loss in extra time.
Losers: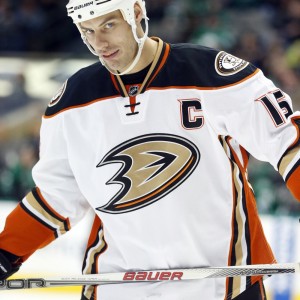 Anaheim Ducks
You can chalk up overtime woes as another reason why nothing has gone right in Orange County this season. The Ducks and their high-octane offence have seemingly forgotten how to score, not just in regulation but in overtime as well.
Two of their three overtime losses have come at the hands of divisional rivals whom the Ducks should be handling with ease. The Oilers and the Coyotes have both beat the Ducks in the extra frame, with their other loss coming at the hands of the Chicago Blackhawks. They have a minus-9 scoring chance differential in overtime, third worst in the NHL.
They are still winless the new overtime format, and have 1-4 record overall after 60 minutes. The Ducks set an all-time NHL record with 33 wins (33-1-7) in one goal games last season, but it appears that the Disney magic has run out in Anaheim.
Vancouver Canucks
The Canucks are currently writing the history books as the worst 3-on-3 overtime team in NHL history. They are by far the worst team in the extra frame with an abysmal 0-6 record. No other team has lost more than three games in overtime so far this season.
You would think the Sedins should have more success in the extra frame, but their lack of speed seems to be a detriment for them with the open ice. They are the only Canucks to play more than five minutes in overtime, with Daniel almost cracking the eight-minute mark.
#Canucks in O/T
More McCann/Hansen/Baertschi
Less Higgins/Horvat/Vrbata/Sedins
it's just not working

— Jeff Paterson (@patersonjeff) November 17, 2015
The 32-year-old Chris Higgins was also out on the ice during the Canucks' loss to Montreal on Monday. After he fired the puck wide in close on Montreal netminder Mike Condon, the Canadiens came back the other way as David Desjardins buried the puck after a feed from P.K. Subban.
It's a priority for the Canucks to get some points in overtime, especially for a team such as the Canucks who play in so many close games. Their lack of finish and ability to hold onto leads is sinking this team right now. They blew a 3-0 lead over Montreal during their loss on Monday night.
The Canucks are still showing competitiveness by hanging around in one-goal games, but they have an abysmal 2-5-6 in games decided by a goal. They are going to need to find a way to grab some points during overtime if they want to hold onto their slipping spot in the Pacific Division.
KPU Journalism Graduate. Trevor has been writing for The Hockey Writers since October 2014. He has contributed articles related to the Ottawa Senators, Vancouver Canucks, and other issues/stories regarding the game of hockey. Trevor currently lives in White Rock, B.C.