Winning is contagious. Winning also creates opportunities.
At this point of the season, the Arizona Coyotes appear to be the recipient of those variables associated with winning. Quietly flying under the NHL radar screen, the Coyotes could be in the middle of a substantial mid-season run.
After shutting out visiting Nashville 4-0 Saturday night, the Coyotes opened a critical seven-game home stand with a significant victory. With eight of their next 10 games in Gila River Arena, coach Dave Tippett indicated the coming weeks are crucial in the Coyotes' quest to gain both respectability and drive for a post-season slot.
"This is an important home stand, and it's good to start out with two points," he said after the Saturday game. "We have a major part of our schedule coming up. When you win, you get confidence and this is a confident group right now."
Coming into Saturday's home game against Nashville, Arizona posted a 6-1-2 record since losing at home against Columbus on Dec 17. While it's a given teams go through peaks and valleys, and ebb and flow during the course of the season, those which remain consistent usually capture championships.
After the game Saturday, the Coyotes passed the halfway mark of their season. With the win, they remain in second place in the Pacific Division, and manage to stay ahead of third-place Anaheim. At the same time, the competitive second half awaits, and the Coyotes recognize their immediate caliber of play and the level of confidence right now in the dressing room.
"There's a good feeling around the room," said left wing Tobias Rieder, who pumped in two goals against the Preds. "We're playing the same way as we did on the road trip (five out of a possible six points) and for me (against Nashville), the puck seemed to follow me. I was lucky to get a stick on it. I also like the way we're playing, fast and a fast game."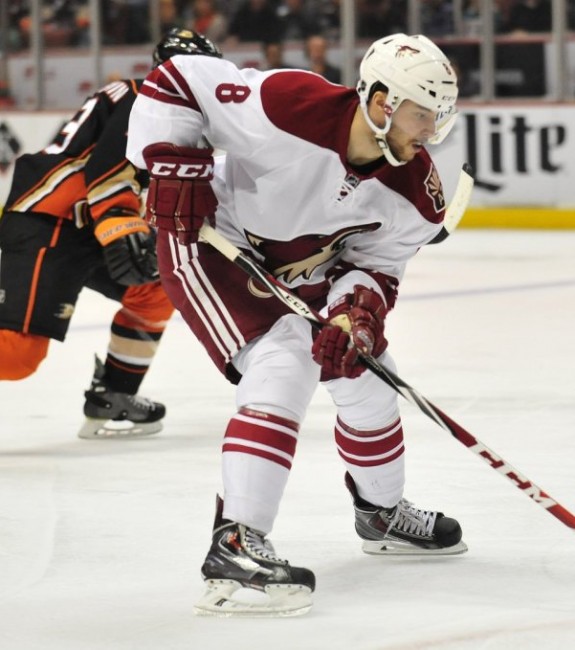 In recent games, the Coyotes have increased the tempo of their game. Skating with full force down the wings and winning what Tippett calls "battles in close places," the Coyotes are generating enough offense to win and Louis Domingue is keeping Arizona in games with strong, steady goaltending. Plus, Domingue is getting help from his teammates. The slot area around him, for the most part, is clear and that allows Domingue to see the first shot.
That was particularly true against Nashville, as Tippett remarked after the game, "the team is playing well in front of him and (Domingue) is doing what he is supposed to do."
In defeating Vancouver, Calgary and shutting out against Nashville for three straight victories, Domingue established is a rookie franchise record for consecutive wins at three. In his last eight starts, Domingue is 6-0-2 with two shut outs.
"Guys are playing well in front of me and clearing the puck," Domingue said after recording his second shut-out Saturday in 10 games played this season. "I'm not getting too excited out there because you can fall at any time. I'm taking one shot at a time and actually playing three games, one for each period, every game."
Strong Team Play
If the defense has elevated its' game and Domingue's play is keeping the Coyotes competitive, the team is scoring at opportune times. Against Nashville, Domingue's solid play around the net kept the game scoreless early, and then Arizona's special teams kicked into gear.
With Barret Jackson off for roughing early in the second period, Antoine Vermette knocked in a rebound in front at 3:35 and that was enough for Domingue. The Preds did not help themselves in this situation. That's because they were 29th overall in killing penalties in the NHL, and for Vermette, that was his 200th career NHL goal.
The win was the Coyotes seventh in their last 10 games and sets off this extended home stand in good stead.
"I know if we're not playing our best," Vermette said afterward. "We want to be consistent. We believe in our group right now but, in the end, we want to be consistent."
The Coyotes have six games left in the home stand and plenty of time to prove Vermette right or wrong. The next test comes this Tuesday night against Edmonton, who continues to play without Connor McDavid.