The initial World Cup of Hockey rosters were released last week.  The first 16 players were selected to play for their respective country or region in the case of team North America and team Europe.  Each team will add another seven players by June.
The Canadian National team roster is always loaded with talent and a lot of good players are left off the squad.  Buffalo Sabres center Ryan O'Reilly is a potential bubble player who could be added by the June deadline.  O'Reilly is by no means a favorite to be added to the club.  He'll be competing against players like Corey Perry, PK Subban, Claude Giroux, Brett Burns and Brad Marchand who have been left off the roster so far.
O'Reilly's Case
It appears that Doug Armstrong the General Manager for Team Canada was looking to bring back players to the roster who helped Canada win gold in the 2014 Olympics in his initial 16 players.  O'Reilly has never played for Canada in the Olympics. However, he has played for his country in the World Championships three times (2012, 2013 and 2015).  At the World Championships this past summer, he had his best showing recording ten points in ten games played.
The 25-year-old forward has consistently been one of the most productive Canadian born forwards over the past few years.  This season, O'Reilly is currently 21st in scoring among all Canadian born players and is ranked 14th in points per game.  Prior to his injury the Clinton, Ontario-native was playing the most minutes per game of any forward in the league.  O'Reilly is an excellent two-way center who can also play the wing if needed.  He's an excellent face-off guy who can take big draws for the Canadians late in a close game.  O'Reilly is near the top in face-off winning percentage this season as well at 57%.
For O'Reilly to earn a spot on the roster, I believe it'll be because of his two-way game and not his scoring.  The Canadian roster is full of talent and players who can put the puck in the net.  A solid depth defensive player could go a long way on the roster.
The Competition
As I stated previously, O'Reilly will be up against some talented players looking to earn one of the final seven roster spots.  In my opinion a few players are locks to added to the Canadian roster: Subban, Perry, Burns, Giroux and Marchand.  That would leave two additional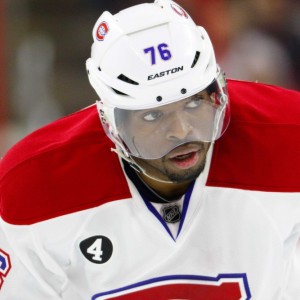 spots, barring any player dropping out.
For those final two spots O'Reilly will be up against elite players like Colorado's Matt Duchene, Edmonton's Taylor Hall, Calgary's Mark Giordano, Pittsburgh's Kris Letang and San Jose's Logan Couture.  It won't be easy for Armstrong to make his final decisions.  He'll need to look for the players that best fit the remaining needs of his roster, not necessarily the most skilled player.
When the final selections are made I believe that O'Reilly will be one of the players picked to play for Canada in the World Cup of Hockey this upcoming fall.  His two-way game will be too hard for the management team to pass up.  He'll provide excellent depth and secondary scoring to a loaded Canadian lineup.
Also Read: Jack Eichel and Sam Reinhart: NHL's Next Dynamic Duo?
<Photo courtesy of Amy Irvin / The Hockey Writers)