The quarterfinals are done and there were two absolutely classic World Juniors games, including Denmark giving Russia all they could handle and Canada getting eliminated in the quarterfinals for the first time since 1998. Here are 10 standouts from the quarterfinal round of the 2016 World Juniors.
The Flyers 1st round draft pick is an absolute beast. He's been one of Russia's most reliable players at both ends of the ice throughout the tournament so far. Saturday was no different.
It took a late goal to tie it and overtime to clinch it for Russia against the underdog Danes, but when the game was on the line, Provorov was on the ice. He assisted on both the late game-tying tally and the overtime-winner.
He's fantastic and may wind up being the best defenseman to come out of the 2015 draft. He looks that good.
Auston Matthews, Team USA
Matthews turned in another impressive performance in the U.S.'s 7-0 win over the Czech Republic. He scored a hat trick, moving him up to seven goals in the tournament, which leads all skaters.
Not only does he have the tournament lead, he's one goal from tying the all-time record for most goals in the tournament by an American, set by Jeremy Roenick in 1989. It's been a fantastic tournament for the 2016 draft eligible center. A few draft eligibles are really putting on a show and Matthews isn't being outmatched.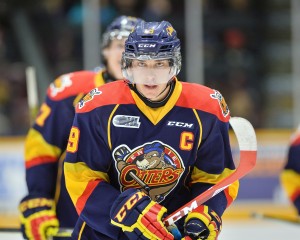 Strome and Marner both played very good games despite Canada getting eliminated in the quarterfinals for the first time since 1998.
It wasn't just that they contributed offense for the team, it was that they were both physical and created momentum for Canada when the momentum shifted in favor of Finland. Both played with a fire late in the game that was unmatched on the Canadian bench. That was tough with the seesaw scoring in the game and Finland having the crowd on their side.
Strome finished the game with a goal and a team-leading eight shots. Marner had two goals, was named player of the game for Canada and posted six shots, second only to Strome. Both of these guys showed some high-end skill in this tournament. Both could have the chance to redeem themselves next year.
Thomas Lillie, Team Denmark
Yes, they lost, but Denmark gave Russia a serious scare. Lillie was a big a part of that. He turned away 43 of 46 Russian shots for a .935 save percentage and a pretty solid tournament in a couple of tough matches.
The team proved more feisty than many projected, but a part of their success was having Lillie and Mathias Seldrup playing fantastic in net. They deserve some serious applause for giving Danish fans a thrill this tournament. It looked like they might beat Russia, they beat the Swiss and they held a lead against both Canada and the U.S. early in those games.
Joe Hicketts, Team Canada
Hicketts took a bad penalty late in the game for delay of game, but it's kinda hard to blame him for it. He shot the puck from his defensive zone out of play at the far end of the rink. If the boards are a normal height in the rink, that maybe doesn't go out.
Nonetheless, Hicketts had a very good tournament despite a couple blunders that just seemed to be bounces that didn't go his way, like tipping a goal in on Mason MacDonald in the tournament's opening game against the U.S.
Hicketts played well at both ends of the ice Saturday. While it's maybe an easy comparison because of Hicketts's stature, he reminded me of Jared Spurgeon, making simple plays in the defensive zone, moving the puck out when he could, activating in the offensive zone. He's cautious, but not scared to charge the net and race for the puck.
Signing him as an undrafted free agent is going to work out well for the Detroit Red Wings.
The Wild prospect didn't get the start against Canada, but had to come into the game in relief of Veini Vehilainen. It was obviously a shooting gallery on the ice, but when Kahkonen entered the game, Canada was pressing and it was looking bleak for the Finns.
But Kahkonen was solid in relief, only allowing two goals on 24 shots after Vehilainen allowed three on 10 shots.
Kahkonen has likely earned the right to be Finland's starter against Sweden, whose defense could prove to be less porous than the Canadian defense should the team get down early again.
With an injury to Kempe in the first game of the tournament and strong performances from Alexander Nylander and Dmytro Timashov, Kempe's performance has gone under the radar for Sweden. But he's been a physical presence and an offensive force.
Kempe was easily one of the team's more noticeable players on Saturday. He put up two points and now has three goals and six points in five games. I've sung his praises in previous days, but he's going to be a key piece of their success if Sweden is able to medal.
Winger Joel Eriksson Ek also had a pretty solid game for Sweden. He had a goal, but could have easily had three. It was a nice bounce back after being held out of the game against Canada so that he was healthy when the games started to matter again.
Patrik Laine, Team Finland
Laine and linemate Jesse Puljujarvi continue to put together a historic performance. Laine was maybe the better of the two this time. The 6-foot-4 17-year-old was a force, in the mix any time things were clicking for Finland.
His two goals and three points on the game puts him at 11 points in five games so far. That ties him for ninth all-time among U18 players at the World Juniors and he's got two games to go. Puljujarvi is already tied for fourth all-time.
The players above Puljujarvi? No real huge names. Just Eric Lindros, Wayne Gretzky and Jaromir Jagr.
With a shutout on Saturday, Nedeljkovic has put together a memorable tournament. His .954 save percentage is the best in the tourney and he's a huge part of bringing the U.S. to the semifinals.
With a 7-0 score you might think this game was more lopsided than it was (though it was lopsided). The U.S. only outshot the Czechs 35-28. The Czechs looked lackadaisical at times and didn't play with a lot of fire, but if they could have gotten one past Nedeljkovic at any point in the first two periods (they only took two shots in the third), it's easy to see how they could have rallied.
RELATED: Every NHL Team's Prospects at the World Junior Championships
More World Juniors Standouts
10 Standouts From World Juniors Day 6
7 Standouts From Worlds Juniors Day 5
8 Standouts From World Juniors Day 3
6 Standouts From World Juniors Day 1