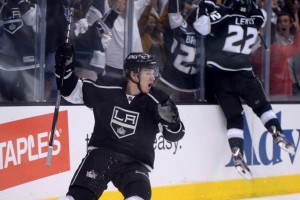 Last week, I wrote a piece enumerating
ten things that went wrong for the Los Angeles Kings this season
— things that ultimately torpedoed their efforts to make the postseason. Some were tangible, others esoteric, and by no means did each carry an equal impact. However, in the lukewarm stew of a non-playoff season, the combination was just toxic enough to bring down the defending champs.
It wasn't as if the Kings experienced an epic collapse. After all, they finished with a record of 40-27-15, good for 95 points in a very crowded Western Conference. A bounce here, a shootout goal (or five — man, were they bad in that department) there and they'd be beating up on a first-round opponent as we speak. As has been said more than a few times, the Kings were built for the playoffs.
The season did see some very good things happen, and as we complete the mourning process, it's worth pointing them out. Thus, the following are ten things that went right for the Kings this season:
#10 – Los Angeles allowed the fewest shots in the league
The loss of Slava Voynov took its toll on the defense and the injury bug was a factor as well, but L.A. still held opponents to the fewest shots (27.0) in the NHL.
Shots against may not be the only measure of a good defense — or for that matter, even the most important one — but it's still a clear sign Darryl Sutter's system is alive and well.
#9 – The Kings remain the premier possession team in the NHL
Check it out: Los Angeles was tops in the league in both Corsi For % and Fenwick For %, a spot they've been at (or near) for the past few seasons. It's a relevant stat, because of the top seven teams in Corsi For % this year, six made the playoffs.
One guess as to which team didn't, and I'll give you a hint: it rhymes with "Schwings".
#8 – L.A. finished the year 19-11-3
No, it wasn't enough to seal the deal, but as usual, the Kings played well in the last few months of the season.
How well? They posting a .611 winning percentage over their last 33 games, continuing a trend which has seen them win at a greater than .600 clip after February 1 in each of the past five years.
#7 – Jonathan Quick was Jonathan Quick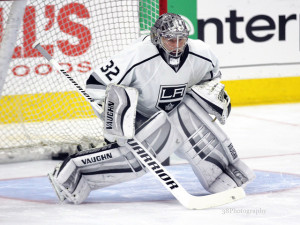 It doesn't seem likely that Quick will ever be a perennial contender for the Vezina, but despite a down season for Los Angeles, Quick recorded his second-highest number of wins (36), second-best save percentage (.918) and second-highest number of shutouts (6, which he's done two other times).
Quick gives up a few too many short side goals and is anything but a good puck handler, but when the chips are on the line, he's money.
#6 – Drew Doughty had his best season since 2009-10
He may not win the Norris, but Doughty played an astounding 29:00 per game and notched 46 points. His iCorsi was third highest amongst defensemen and 14th overall in the league.
Without question, Doughty had one hell of a year.
#5 – That 70s Line
Granted, its success was a bit fleeting because of Tanner Pearson's broken leg (otherwise known as a "lower body injury" these days), but Pearson, Jeff Carter and Tyler Toffoli made for one heck of a line. And when Pearson was out, Dwight King (#74) stepped in and helped keep the magic alive.
Plus, it spawned some pretty interesting tweets:
Cartttt!!!! #LAKINGS #Gkg #that70sline pic.twitter.com/nEZnnRxJ0d

— Katie Covert (@ktcovert73) March 6, 2015
https://twitter.com/_hockeyStuff/status/562007374756872195
https://twitter.com/Bailey63Aguilar/status/553397574330105856
#4 – Jeff Carter
Speaking of Carter, he quietly had his best season in Los Angeles, scoring 28 goals and 62 points — pretty solid numbers on a team not exactly known for its offense. It was his best year since 2010-11.
#3 – Jake Muzzin is becoming a star
The former fifth round selection of the Pittsburgh Penguins saw his career trajectory rocket upward last season. A couple of years ago, he split time with the Kings and the Manchester Monarchs; last year, he scored ten goals and 41 points while playing 22:42 per night.
With Doughty and Muzzin just 25 and 26, respectively, the Kings' blue line is in good shape for years to come.
#2 – Tyler Toffoli had a breakout campaign
With 23 goals and 49 points, Toffoli looked every bit the sniper he was touted to be when the Kings selected him #47 overall in the 2010 draft. He has fantastic hands, great vision and a nose for the net.
All of those traits were evidenced by this incredible goal against the Edmonton Oilers:
#1 – The Kings will have a good pick in a very deep draft
If they were going to have a down season, at least it was during one in which the draft class is considered ridiculously strong.
Prospects that could fall to #13 include Nick Merley, Timo Meier and Pavel Zacha. Whether it's one of them or somebody else, Los Angeles will undoubtedly nab a player who can help them return to the playoffs sooner than later.
What do you think? Is there someone or something else you think deserves mention as a positive postscript for the 2014-15 season? Post your thoughts below, or message me @McLaughlinWalt.
Walter McLaughlin is a Los Angeles Kings correspondent for The Hockey Writers. He is an avid sports fan, having followed the Kings since living in L.A. in the mid-1970's, as well as suffering through Seattle sports teams' general futility. He has a Bachelor's degree in Finance and has worked in community banking for over 25 years, specializing in SBA loans. He is married and has two daughters.