1. No Goals in Regulation = Two Wins
From the department of stats you didn't really ever think about: Chicago became the first team since overtime was re-introduced in the 1983-84 season to post back-to-back shutout overtime wins. They played both the Anaheim Ducks and the Tampa Bay Lightning to a 1-0 overtime victory this week. Even stranger? Both of those goals were scored by Jonathan Toews.
Those are some weird games, and they've lent themselves to another interesting historical moment. Those games also helped Chicago become the first Stanley Cup Champion to blank both their Stanley Cup opponent and their Conference Championship opponent in their first meeting of the following season.
2. Those Struggling Ducks
Anaheim is having a rough start to the season. Through the season's first eight games the Ducks scored just six goals. That's the fewest goals a team has scored through the first eight games of a season in the modern NHL.
The last team to score six was the 1930-31 New York Americans (who later became the Brooklyn Americans). The 1928-29 Pittsburgh Pirates also scored only six.
The only team worse? the 1927-28 Pirates, who scored just four goals through those eight contests.
The Ducks are also the first team since those same 1930-31 Americans to be shutout in five of their first eight games. That's particularly ugly for this squad, as opposed to if this was happening to the Sabres, because the Ducks were only shutout four times in the entire 2014-15 season.
In the midst of that slump they were shutout two nights in a row and that helped stretch a scoreless streak to 133 minutes and 20 seconds.
3. Strombone Shorty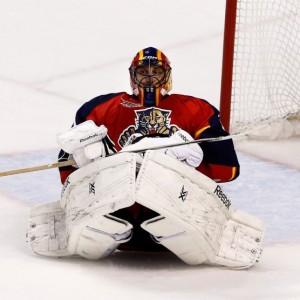 With a win this week Roberto Luongo hit 404 career wins. That's the most among active goaltenders and put him past the great Grant Fuhr, who retired with 403 wins. Luongo climbs into sole possession of ninth place all-time.
Next up? He can get to eighth place, tying Glenn Hall, with just three more wins.
The all-time leader is Martin Brodeur with 691 wins.
4. Lucky Duck
The Anaheim Ducks may still be struggling, but Andrew Cogliano is providing a nice — if momentary — bright spot. He played his 633rd career game this week, which sees him pass Andy Hebenton for the second most consecutive games ever to start a career. Hebenton played 630 consecutive games from 1955 to 1964.
Cogliano has a ways to go to set the all-time mark though. Doug Jarvis played 964 consecutive games, never missing a single game from his first to his last.
. @PR_NHL @AnaheimDucks pic.twitter.com/2gKFQmT34q

— Ducks Worldwide (@DucksWwide) October 27, 2015
5. The 1,400 Mile High Club
Jarome Iginla played his 1,400th career game this week. That puts him in some elite company. Only 35 players have ever crossed that threshold, with Shane Doan (1,405) and Jaromir Jagr (1,559) being the only active players above him.
Even crazier? The all-time leader is Gordie Howe with 1,767 games in his career. If Jaromir Jagr hadn't left for Russia in the middle of his career, he could have cross 1,800 already.
Additionally, Iginla scored his 180th power play goal on Sunday, passing Mark Messier and taking sole possession of 26th place all-time in power play goals scored.
6. Still Burglin' Ham
Andrew Hammond's weirdly virtuosic start to his career hasn't stopped, even if hamburgers aren't being tossed onto the ice any more and the lifetime of free McDonald's wasn't quite as advertised. This week he became the first goaltender in NHL history to win 21 of his first 27 games.
HUGE save by Hammond. 🍔🍔🍔

— Ottawa Senators (@Senators) October 31, 2015
7. Stammer Time
With a power play goal on Sunday, Steven Stamkos passed Martin St. Louis to move into second place all-time in Lightning history with 97 power play goals. Stamkos now only trails Vincent Lecavalier (112).
8. What Does a Pirate Call a Gyro?
With a shutout against the Calgary Flames on Thursday, Jaroslav Halak has moved into a fourth place tie for most career shutouts among active goaltenders. He's now tied at 38 with Jonathan Quick. Above him sits Roberto Luongo (68), Henrik Lundqvist (55) and Marc-Andre Fleury (39).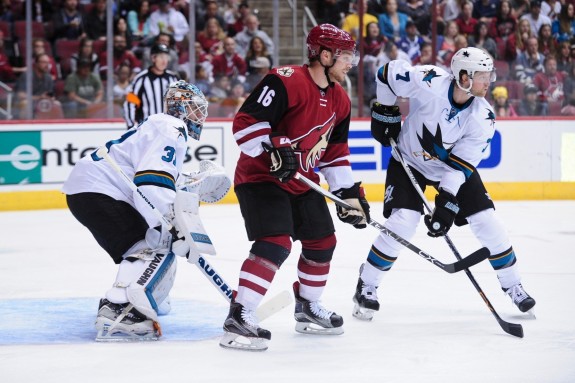 9. Domi Next
Max Domi is off to an incredible rookie season. This week he became just the fourth player in Jets/Coyotes franchise history to record at least 10 points through the first nine games of a rookie season.
The guys whose club he joined? Dale Hawerchuk, Teemu Selanne and Dave Christian.
10. Don't Forget Parayko
Big rookie defenseman Colton Parayko has been one of the most surprising rookies to emerge this season. This week he recorded 10 shots and a game-winning goal for the Blues. He became just the 10th defenseman since 2000 to put up 10 or more shots and a goal in a single game. That's a list that includes Al MacInnis, Erik Karlsson (twice), Sheldon Souray, Alex Pietrangelo, Shea Weber, Brad Stuart, Christian Ehrhoff and Ed Jovanovski. Not bad company for a 22-year-old kid.
He's the only rookie on that list and he's the first rookie to put up 10 shots in a single game since April 6, 2006 when Alex Ovechkin did it.
Parayko recorded 10 SOG, setting a new Blues single-game rookie record. The last rookie to do that? Alex Ovechkin. pic.twitter.com/TTnLvdTqUb

— St. Louis Blues (@StLouisBlues) October 30, 2015
11. Shooting Stars
With a 9-2-0 start, the Dallas Stars have equalled the best start in franchise history. (Also done in 2006-07 and 1996-97.)
To go along with that, Jamie Benn is the third player in Stars / North Stars history to grab 17 or more points in their first 10 games of a season.
12. Z
In a game against the Ottawa Senators this week, Henrik Zetterberg reached a couple of personal milestones, hitting 500 career assists with an apple on a first period goal from Tomas Tatar. Then he reach 800 career points in the second period when he set up Gustav Nyquist for another marker.
In both cases he's just the seventh player to hit those marks in a Detroit Red Wings jersey.
Watch him talk about those milestones via the Detroit Free Press.
13. Speed Demon
Jason Zucker broke a franchise record when he scored a goal just 10 seconds into a game against the Winnipeg Jets on October 25. This week he scored again off the opening face-off with only 18 seconds elapsed since puck drop.
According to Elias, Zucker is the first player to score a goal in the first 20 seconds of a game twice in a calendar month since Joe Sakic did it in 2000.
Jets, Trouba burned by Zucker just 10 seconds into game vs. Wild: https://t.co/gSp4Vy91M0 https://t.co/Lijd9apaMy gif via @myregularface

— JetsNation (@NHLJetsNation) October 25, 2015
RELATED: The 12 Best NHL Stats This Week (from last week)
Dustin Nelson writes about news and the Minnesota Wild for The Hockey Writers.