In one of my more recent columns, I discussed why the San Jose Sharks will win the Pacific division. A large part of my reasoning is a strong belief in two particular areas of the lineup. Every contending team needs a solid second pair of defense and a quality third forward line. Unlike the majority of last season, the Sharks will be strong in both of these areas in 2015-16.
Couple of points to remember when discussing the Sharks. A year ago, Brent Burns was re-adjusting to defense for the first time in two years and often played alongside a raw 19-year-old rookie in Mirco Mueller who was rushed into the NHL. This is how the Sharks started the season. They also began the season and played through the trade deadline with James Sheppard as their third line center. Despite having a weak second pair and weak third line, the Sharks were in second place in the division at the end of January. They closed out the month of January with three straight wins against Chicago, Los Angeles and Anaheim.
San Jose has also largely retained the same elite core that finished with 111 points in 2013-14. They haven't lost any of their high-end skill guys offensively nor defensively. Sure Patrick Marleau had a significant down year last season, but the rest of their top guys like Joe Thornton, Joe Pavelski, Logan Couture, Marc-Edouard Vlasic and Burns are all still likely to have great years next season.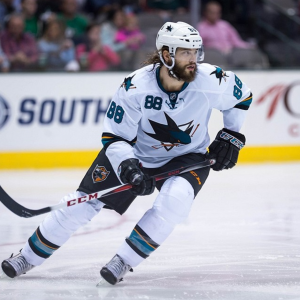 One might recall the Sharks posted the fifth best goals against average in the league two seasons ago, allowing a mere 2.35 GAA. This upcoming season, they have a better blue line on paper than they ended up having that season. Despite falling back down to a 2.76 GAA last year (24th overall), the Sharks could very easily bounce back up into the top six or seven teams defensively. This brings me to strong belief No. 1 and that is the makings of a tremendous second defense pair.
Elite 2nd Pair of Brent Burns & Paul Martin
Burns was simply a mistake waiting to happen in the defensive zone last year. After two years up front at the forward position, all his natural forward instincts remained intact as he made risky play after risky play. Forwards can get away with turnovers on a regular basis. As a defenseman though, forced passes are a recipe for disaster. Along with the giveaways, Burns' defensive instincts needed severe polishing as he was routinely out of position, mesmerized by the puck and not marking his man. His poor goals-for percentage of 47.8 despite an otherwise quality Corsi-for percentage of 53.4 goes to show the defensive mistakes made throughout the season.
However, Burns did improve defensively as the year went along and by all accounts he played terrific at the World Championships on the blue line. While yours truly doesn't put as much stock in that performance as others have, it is still a positive sign nonetheless.
As a natural forward, Burns is such a scoring machine and physical menace on the forecheck that putting him back on the blue line irks many pundits. Forwards who can skate, score and hit like he can are incredibly rare. Contrary to the popular belief that top offensive defensemen are harder to find than forwards, Burns the forward is much harder to find than Burns the defenseman.
Despite the fact I prefer Burns to be up front, he has always had the ability to be an excellent top-four puck moving defenseman. In his first year as a Shark, Burns didn't score a whole lot but he was much more defensively sound. The Sharks scored 54.8 percent of the goals with Burns on the ice as a defenseman in 2011-12. There is no reason Burns can't eventually get back to that type of blue line performance. Not to mention he put up that even strength performance with defense partners far worse than his current projected partner, Paul Martin.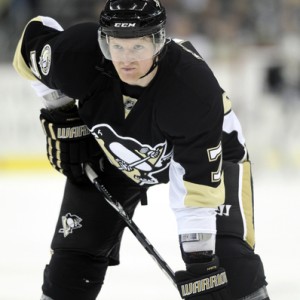 Even if Burns doesn't make big improvements defensively in his second year back on the blue line, the Sharks defense is still likely to be in the top half of the league. Martin is still considered an elite shut-down defenseman that can play big minutes. In games where the Sharks end up trailing and need Burns' offense on the ice for big minutes, Martin will be there to bail him out defensively. The veteran may be 34-years old this upcoming season but he still skated well over 20 minutes a night for the Penguins last season. Martin skated an average of 22:47 last year (more than Vlasic), second on the Penguins behind only Kris Letang. Not to mention almost all Penguins followers rave about Martin's play last season.
Martin is a first pair quality shut-down defenseman that will be playing the second hardest defensive minutes when he usually plays the hardest. Last season Martin posted an amazing 60.2 goals-for percentage playing against the other team's top lines. With the Sharks, Vlasic and Braun will be the pair receiving those assignments. If Burns cleans up his defensive game, something he is definitely capable of, he and Martin should dominate their competition as one of the best second pairs in the league.
Stud 3rd Line Center Chris Tierney
Now for strong belief No. 2. Twenty-one-year old Chris Tierney morphed from a white Shark to a great white Shark in the blink of an eye last season. OK, maybe not a blink of an eye, but after being sent down to the AHL in the middle of last year, Tierney came back up to the NHL a much better player. Tierney dominated the AHL competition, scoring a point-per-game clip (29 points in 29 games) and came back to the show with a vengeance. Not only did he score 19 points in 29 games after his recall, but 14 of those 19 points came in his final 18 games.
It is certainly a stretch to expect Tierney to duplicate the 14 in 18 run to end last season over 82 games this upcoming season, but the 19 in 29 pace is well within reach. That would be an 82-game pace of 54 points. That is a very repeatable performance for Tierney for a number of reasons. First and foremost is that his defensive game is sound, he is already a responsible two-way player, something that has been his reputation since his junior days. Furthermore, his elite set up skills are not contingent on other players making plays for him, he is the one who makes things happen. On a similar note, it is not as if Tierney's hot finish to last season came riding the coattails of better players. No, no, he made his linemates on the third line better.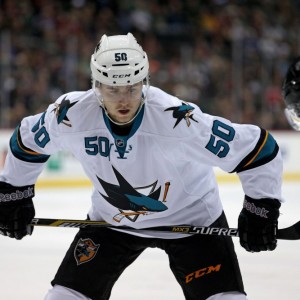 Tierney spent most of the second half of his NHL season with Matt Nieto and Tommy Wingels on his wings. Nieto is not known as a great finisher but with Tierney as his most frequent center, Nieto scored six goals over his final 18 games. That's a 28 goal, 82-game pace. Between Wingles and Nieto, Wingels is actually known as a better finisher, but only scored two goals in his last 18 games on that line. In other words, Tierney probably deserved a few more assists than he got in his second half push.
Going into this season, Tierney's likely to remain in the third line center role, and his linemates will be at worst the same quality of Nieto and Wingels. Therefore, Tierney should see similar competition as he did in the spring of last season. A sophomore slump is always a possibility, but unlike Tomas Hertl, there are currently no concerns over Tierney's health heading into year two. With Nieto likely to have a better year than he did last year production wise, and Tommy Wingels being a consistent 15 goal scorer, I expect Tierney to have a big year centering the third line next season.